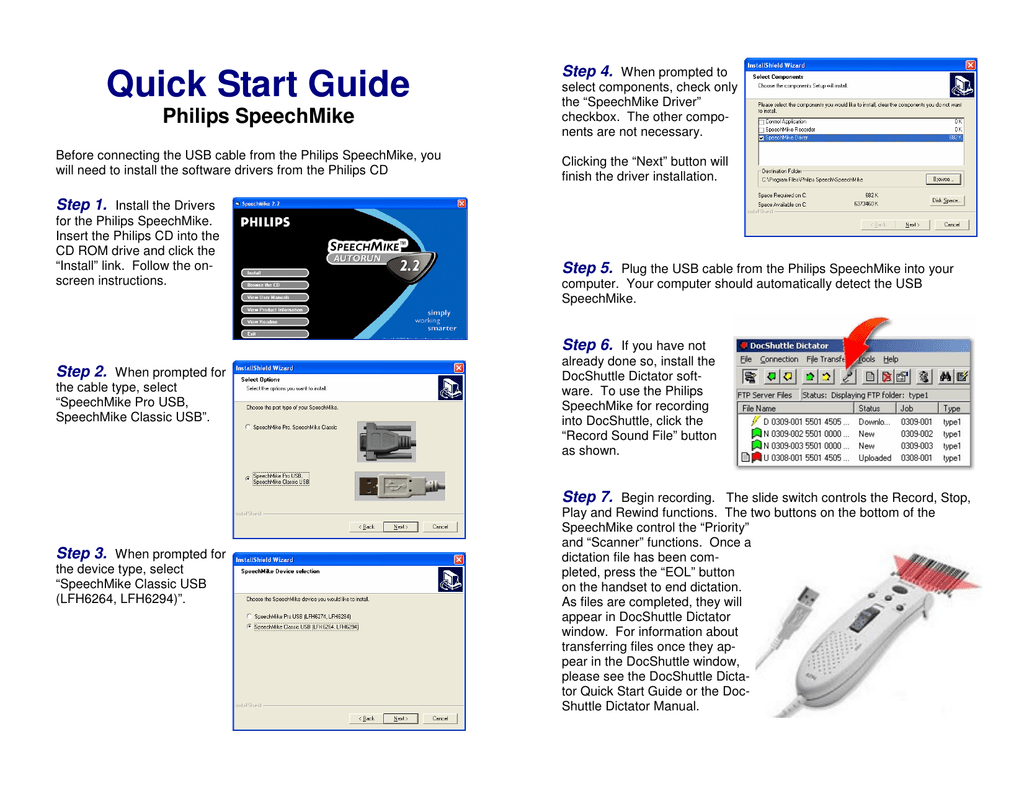 Quick Start Guide
Philips SpeechMike
Before connecting the USB cable from the Philips SpeechMike, you
will need to install the software drivers from the Philips CD
Step 1. Install the Drivers
for the Philips SpeechMike.
Insert the Philips CD into the
CD ROM drive and click the
"Install" link. Follow the onscreen instructions.
Step 4. When prompted to
select components, check only
the "SpeechMike Driver"
checkbox. The other components are not necessary.
Clicking the "Next" button will
finish the driver installation.
Step 5. Plug the USB cable from the Philips SpeechMike into your
computer. Your computer should automatically detect the USB
SpeechMike.
Step 6. If you have not
Step 2. When prompted for
the cable type, select
"SpeechMike Pro USB,
SpeechMike Classic USB".
already done so, install the
DocShuttle Dictator software. To use the Philips
SpeechMike for recording
into DocShuttle, click the
"Record Sound File" button
as shown.
Step 7. Begin recording. The slide switch controls the Record, Stop,
Step 3. When prompted for
the device type, select
"SpeechMike Classic USB
(LFH6264, LFH6294)".
Play and Rewind functions. The two buttons on the bottom of the
SpeechMike control the "Priority"
and "Scanner" functions. Once a
dictation file has been completed, press the "EOL" button
on the handset to end dictation.
As files are completed, they will
appear in DocShuttle Dictator
window. For information about
transferring files once they appear in the DocShuttle window,
please see the DocShuttle Dictator Quick Start Guide or the DocShuttle Dictator Manual.

* Your assessment is very important for improving the work of artificial intelligence, which forms the content of this project