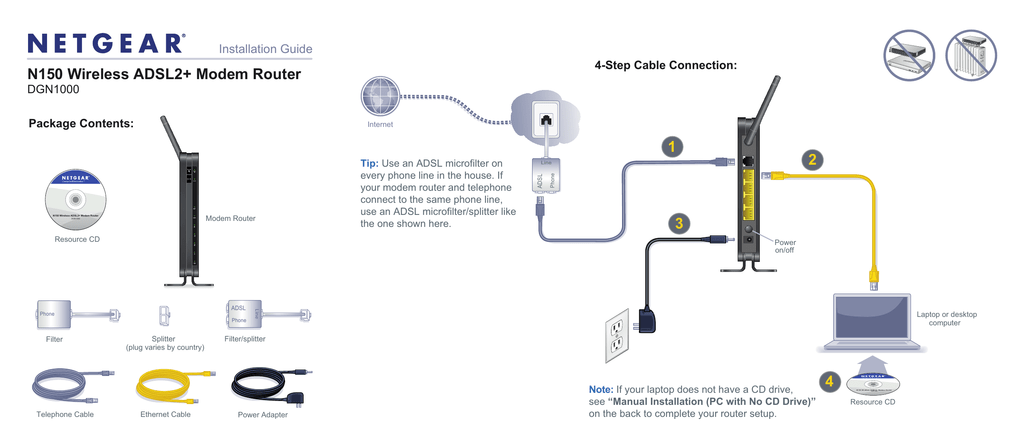 Installation Guide
4-Step Cable Connection:
N150 Wireless ADSL2+ Modem Router
DGN1000
Package Contents:
Internet
1
N150 Wireless ADSL2+ Modem Router
Modem Router
DGN1000
Resource CD
ADSL
Phone
3
Phone
Splitter
(plug varies by country)
Ethernet Cable
Line
ADSL
Telephone Cable
2
Line
Power
on/off
Phone
Filter
Tip: Use an ADSL microfilter on
every phone line in the house. If
your modem router and telephone
connect to the same phone line,
use an ADSL microfilter/splitter like
the one shown here.
Laptop or desktop
computer
Filter/splitter
Power Adapter
Note: If your laptop does not have a CD drive,
see "Manual Installation (PC with No CD Drive)"
on the back to complete your router setup.
4
Resource CD
Manual Installation
(Linux, Mac, or PC with No CD Drive)
1.
Follow Steps 1 - 3 to connect the DGN1000 modem router to your computer.
2. Check that the power LED is green, and if not, power on the modem router and
wait for the power LED light to turn green.
Set up Internet Connectivity
1.
Type http://www.routerlogin.net in the web browser address bar. Press Enter.
2.
Type admin for the user name and password for the password. Click OK.
Preset Wireless Security
This product has a preset unique Wifi Network Name (SSID) and WPA/WPA2PSK passphrase that are located on the label on the bottom of the product. The
default SSID and passphrase are uniquely generated for every device to protect
and maximize your wireless security.
NETGEAR recommends that you do not change the WiFi Network Name (SSID)
and WPA/WPA2-PAK passphrase. If you change these settings during the
installation process, the information on the bottom of the product does not apply.
3. Select Setup Wizard in the top-left corner and make sure Yes is selected under
Auto-Detect Connection Type. Click Next to complete the Setup Wizard.
4.
Connect Wireless Devices to Your Router
Choose either the manual or WiFi Protected Setup (WPS) method to add wireless
devices and other equipment to your wireless network.
Manual Method
1.
Open the software tool that manages your wireless connections on the device
(laptop computer, gaming device, iPhone) that you want to connect to your
router. This tool scans for all wireless networks in your area.
2.
Look for your network and select it. If you did not change the name of your
network during the setup process, look for the default WiFi Network Name
(SSID) and select it. The default WiFi Network Name (SSID) is located on the
product label on the bottom of the router.
3. Enter the passphrase and click Connect. The default passphrase is located on
the product label on the bottom of the router.
Select Basic Settings to see your settings.
4.
Repeat steps 1 – 3 to add other wireless devices.
WPS Method
WiFi Network Name (SSID)
WPA/WPA2-PSK Passphrase
If you changed the default wireless settings, record them here:
If your wireless device supports WPS (Push 'N' Connect), follow these steps:
1.
Press the WPS button on the router. It looks similar to
2.
Within 2 minutes, press the WPS button on your wireless device, or follow the
WPS instructions that came with your wireless device. The device is now
connected to your router.
3.
Repeat steps 1 - 2 to add other WPS wireless devices.
Wireless Network Name (SSID) ______________________
Wireless Security Passphrase _______________________
Note: If your Internet Service Provider (ISP) requires you to log in, enter your ISP
login information when prompted. The ISP login is not the same as the router login.
If you do not have your ISP login information, contact your ISP and record it here:
ISP user name: __________________________
To retrieve your passphrase, type http://www.routerlogin.net and log in with the
user name admin and your password (default is password). Select Wireless
Settings to retrieve your passphrase.
February 2012
Note: WPS does not support WEP security. If you try to connect a WEP client to
your network using WPS, it will not work.
For complete DoC go to the NETGEAR EU Declarations of Conformity website at
http://support.netgear.com/app/answers/detail/a_id/11621/.
Do not stack equipment, or place equipment in tight spaces, in drawers, or
on carpets. Make sure your equipment is surrounded by at least 2 inches of
air space.
ISP password: ___________________________
.
This symbol was placed in accordance with the European Union Directive 2002/96 on the Waste
Electrical and Electronic Equipment (the WEEE Directive). If disposed of within the European Union,
this product should be treated and recycled in accordance with the laws of your jurisdiction
implementing the WEEE Directive.
For GNU General Public License (GPL) related information, go to
http://support.netgear.com/app/answers/detail/a_id/2649.
©2012 by NETGEAR, Inc. All rights reserved. NETGEAR and the NETGEAR logo are registered trademarks of
NETGEAR, Inc. in the United States and/or other countries. Other brand and product names are trademarks or
registered trademarks of their respective holders. Information is subject to change without notice.

* Your assessment is very important for improving the work of artificial intelligence, which forms the content of this project