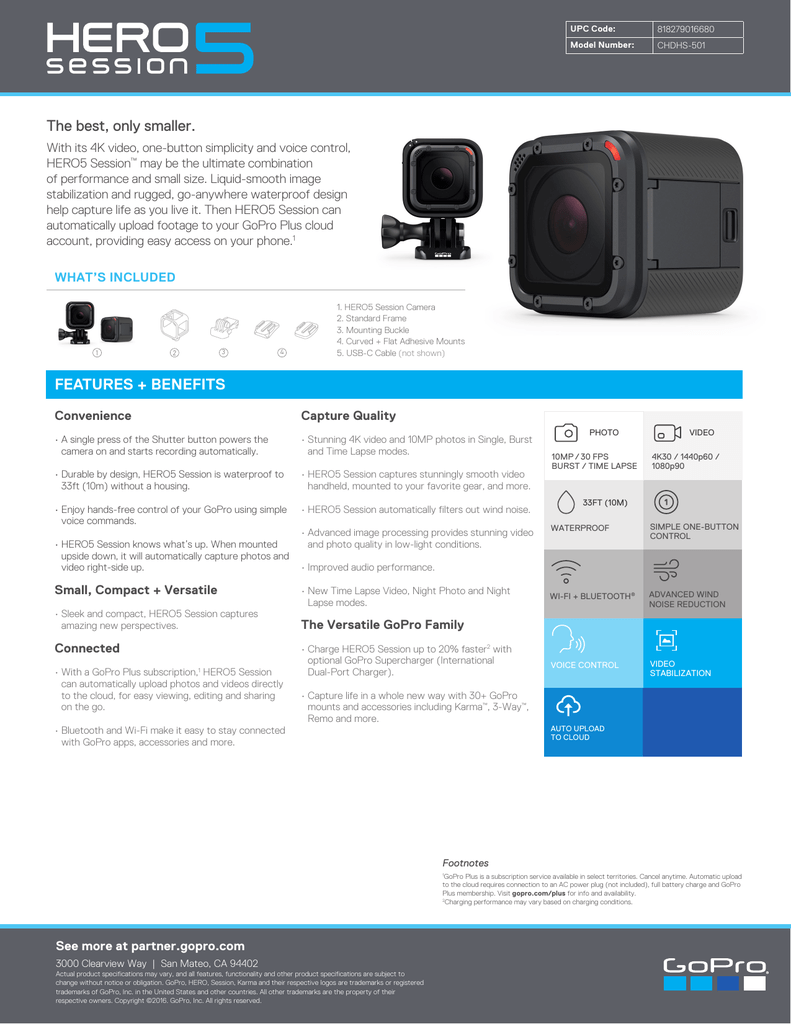 UPC Code:
818279016680
Model Number:
CHDHS-501
The best, only smaller.
With its 4K video, one-button simplicity and voice control,
HERO5 Session™ may be the ultimate combination
of performance and small size. Liquid-smooth image
stabilization and rugged, go-anywhere waterproof design
help capture life as you live it. Then HERO5 Session can
automatically upload footage to your GoPro Plus cloud
account, providing easy access on your phone.1
WHAT'S INCLUDED
1
2
3
4
1. HERO5 Session Camera
2. Standard Frame
3. Mounting Buckle
4. Curved + Flat Adhesive Mounts
5. USB-C Cable (not shown)
FEATURES + BENEFITS
Convenience
Capture Quality
• A single press of the Shutter button powers the
camera on and starts recording automatically.
•S
tunning 4K video and 10MP photos in Single, Burst
and Time Lapse modes.
• Durable by design, HERO5 Session is waterproof to
33ft (10m) without a housing.
•H
ERO5 Session captures stunningly smooth video
handheld, mounted to your favorite gear, and more.
• Enjoy hands-free control of your GoPro using simple
voice commands.
• HERO5 Session automatically filters out wind noise.
• HERO5 Session knows what's up. When mounted
upside down, it will automatically capture photos and
video right-side up.
Small, Compact + Versatile
• Sleek and compact, HERO5 Session captures
amazing new perspectives.
Connected
• With a GoPro Plus subscription,1 HERO5 Session
can automatically upload photos and videos directly
to the cloud, for easy viewing, editing and sharing
on the go.
•A
dvanced image processing provides stunning video
and photo quality in low-light conditions.
PHOTO
10MP / 30 FPS
BURST / TIME LAPSE
VIDEO
4K30 / 1440p60 /
1080p90
33FT (10M)
WATERPROOF
SIMPLE ONE-BUTTON
CONTROL
WI-FI + BLUETOOTH®
ADVANCED WIND
NOISE REDUCTION
VOICE CONTROL
VIDEO
STABILIZATION
• Improved audio performance.
•N
ew Time Lapse Video, Night Photo and Night
Lapse modes.
The Versatile GoPro Family
•C
harge HERO5 Session up to 20% faster2 with
optional GoPro Supercharger (International
Dual-Port Charger).
•C
apture life in a whole new way with 30+ GoPro
mounts and accessories including Karma™, 3-Way™,
Remo and more.
AUTO UPLOAD
TO CLOUD
• Bluetooth and Wi-Fi make it easy to stay connected
with GoPro apps, accessories and more.
Footnotes
GoPro Plus is a subscription service available in select territories. Cancel anytime. Automatic upload
to the cloud requires connection to an AC power plug (not included), full battery charge and GoPro
Plus membership. Visit gopro.com/plus for info and availability.
2
Charging performance may vary based on charging conditions.
1
See more at partner.gopro.com
3000 Clearview Way | San Mateo, CA 94402
Actual product specifications may vary, and all features, functionality and other product specifications are subject to
change without notice or obligation. GoPro, HERO, Session, Karma and their respective logos are trademarks or registered
trademarks of GoPro, Inc. in the United States and other countries. All other trademarks are the property of their
respective owners. Copyright ©2016. GoPro, Inc. All rights reserved.
VIDEO
RESOLUTION
FPS (NTSC/PAL)
FIELD OF VIEW (FOV)
4K
30, 25
Wide
2.7K
48,1 30, 25, 24
SuperView™, Wide, Medium, Linear
2.7K (4:3)
30, 25
Wide
1440p
60, 50, 48, 30, 25, 24
Wide
1080p
90,2 60,3 50,3 30, 25, 24
SuperView, Wide, Medium, Linear, Narrow
960p
100, 60, 50, 30, 25
Wide
720p
120,2 60, 50, 30, 25
SuperView, Wide, Medium
Footnotes
1
Available in Medium FOV only.
Available in Wide FOV only.
Available in SuperView, Wide and Linear FOV only.
2
3
PHOTO
PHOTO + NIGHT
PHOTO
10MP (Wide)
BURST
10MP @ 30 fps
TIME LAPSE
0.5, 1, 2, 5, 10, 30,
60 second intervals
NIGHT LAPSE
Auto (default), 4, 5, 10, 15, 20,
30 second intervals;
1, 2, 5, 30, 60 minute intervals
GOPRO APPS
Capture and create stunning videos on the go. Our mobile and desktop apps make it easy. Get the free GoPro apps at
gopro.com/apps.
CAPTURE
Live preview, playback
+ full camera control.
QUIK™
Awesome edits made easy.
QUIK | Desktop
Auto import and upload your footage to the cloud. Simple
storytelling tools and a large library of soundtracks make it
easy to create awesome videos.