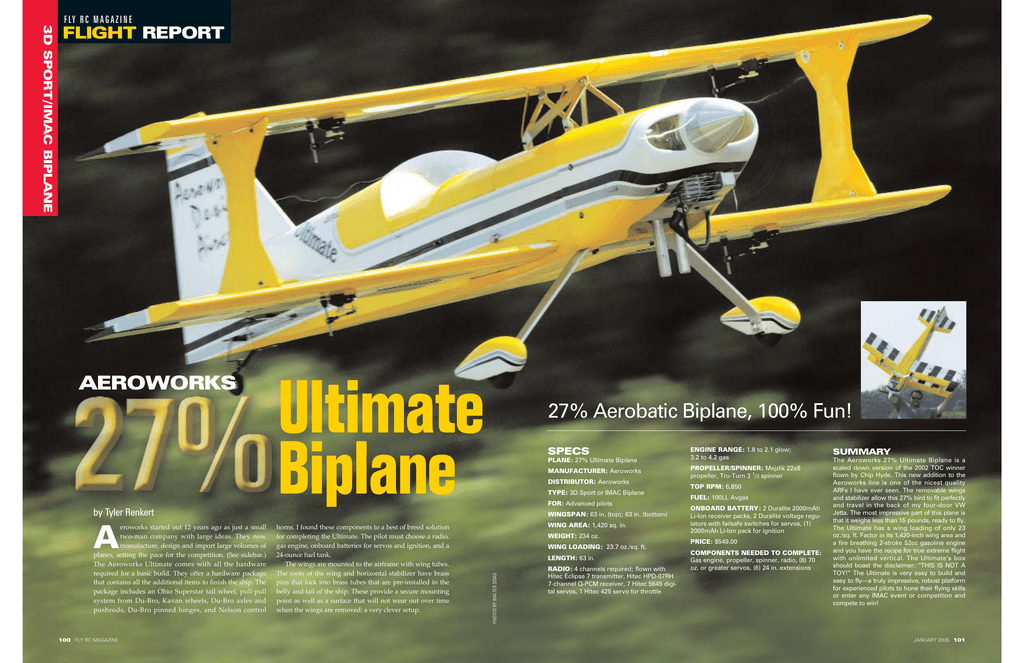 F LY R C M A G A Z I N E
AEROWORKS
Ultimate
Biplane
27% Aerobatic Biplane, 100% Fun!
SPECS
PLANE: 27% Ultimate Biplane
MANUFACTURER: Aeroworks
DISTRIBUTOR: Aeroworks
TYPE: 3D Sport or IMAC Biplane
FOR: Advanced pilots
by Tyler Renkert
eroworks started out 12 years ago as just a small
two-man company with large ideas. They now
manufacture, design and import large volumes of
planes, setting the pace for the competition. (See sidebar.)
The Aeroworks Ultimate comes with all the hardware
required for a basic build. They offer a hardware package
that contains all the additional items to finish the ship. The
package includes an Ohio Superstar tail wheel, pull-pull
system from Du-Bro, Kavan wheels, Du-Bro axles and
pushrods, Du-Bro pinned hinges, and Nelson control
A
100 FLY RC MAGAZINE
WINGSPAN: 63 in. (top); 63 in. (bottom)
horns. I found these components to a best of breed solution
for completing the Ultimate. The pilot must choose a radio,
gas engine, onboard batteries for servos and ignition, and a
24-ounce fuel tank.
The wings are mounted to the airframe with wing tubes.
The roots of the wing and horizontal stabilizer have brass
pins that lock into brass tubes that are pre-installed in the
belly and tail of the ship. These provide a secure mounting
point as well as a surface that will not wear out over time
when the wings are removed: a very clever setup.
WING AREA: 1,420 sq. in.
WEIGHT: 234 oz.
WING LOADING: 23.7 oz./sq. ft.
LENGTH: 63 in.
PHOTOS BY WALTER SIDAS
3D SPORT/IMAC BIPLANE
FLIGHT REPORT
RADIO: 4 channels required; flown with
Hitec Eclipse 7 transmitter, Hitec HPD-07RH
7-channel Q-PCM receiver, 7 Hitec 5645 digital servos, 1 Hitec 425 servo for throttle
ENGINE RANGE: 1.8 to 2.1 glow;
3.2 to 4.2 gas
PROPELLER/SPINNER: Mejzlik 22x8
propeller, Tru-Turn 3 1/2 spinner
TOP RPM: 6,850
FUEL: 100LL Avgas
ONBOARD BATTERY: 2 Duralite 2000mAh
Li-Ion receiver packs, 2 Duralite voltage regulators with failsafe switches for servos, (1)
2000mAh Li-Ion pack for ignition
PRICE: $549.00
COMPONENTS NEEDED TO COMPLETE:
Gas engine, propeller, spinner, radio, (8) 70
oz. or greater servos, (6) 24 in. extensions
SUMMARY
The Aeroworks 27% Ultimate Biplane is a
scaled down version of the 2002 TOC winner
flown by Chip Hyde. This new addition to the
Aeroworks line is one of the nicest quality
ARFs I have ever seen. The removable wings
and stabilizer allow this 27% bird to fit perfectly
and travel in the back of my four-door VW
Jetta. The most impressive part of this plane is
that it weighs less than 15 pounds, ready to fly.
The Ultimate has a wing loading of only 23
oz./sq. ft. Factor in its 1,420-inch wing area and
a fire breathing 2-stroke 52cc gasoline engine
and you have the recipe for true extreme flight
with unlimited vertical. The Ultimate's box
should boast the disclaimer: "THIS IS NOT A
TOY!" The Ultimate is very easy to build and
easy to fly—a truly impressive, robust platform
for experienced pilots to hone their flying skills
or enter any IMAC event or competition and
compete to win!
JANUARY 2005 101
AEROWORKS 27% ULTIMATE BIPLANE
ENGINE
Aeroworks recommends a 50cc gas engine.
(I had a 50cc engine in my first Mini Bike!)
The detailed instruction manual from
Aeroworks features a Brison 3.2 ci engine
(52cc). The large engine box accommodates
this class of engine very easily with plenty of
room under the cowl to fit the Pitts style
muffler. (See sidebar.)
SERVOS
The hand polished Brison 3.2 mounts very easily
to the stock engine box.
I opted to use Hitec 5645MG digital servos,
which produce 168 ounces of torque at 6V.
This bird requires one servo per aileron (4),
two for the elevator and one for the rudder.
The throttle servo does not need to be high
torque, but it does need to be reliable. I chose
a Hitec 425 to control the carburetor butterfly. I believe you can never have too much
power when it comes to servos. (See sidebar.) The Du-Bro heavy-duty servo arms
direct the torque from the servos to the control surfaces.
RADIO
My Eclipse 7 was up for the challenge to
channel these powerful servos. I used the
HPD-07RH 7-channel Q-PCM receiver so I
could use the QPCM mode for ultra secure
radio connection. This receiver also provides
two channels, so my redundant Duralite battery packs plug right in. Since I needed to
control two elevator servos, I set up one of
the custom mix features. I used channel 2 for
elevator and then I programmed channel 7
to be the slave to 2. This allows both servos
to work in unison for pinpoint control. I also
used flaperons to control all four ailerons.
The left and right side servos each met a
separate Y harness: the left group was
plugged into channel 6 while the right side
was plugged into channel 1. This allows me
to dial in precise throw for each set of
ailerons and set the deflection so that the
ship will axial roll as if on a wire.
BATTERIES
Left: The Hitec 5645MG is coupled to the Nelson control horn for precise, no slop control. Right: The
huge fuselage provides ample room for the redundant Duralite battery system. The Hitec servo rests in
the center with the Du-Bro pull-pull system controlling the huge rudder.
I chose to use the redundant Duralite battery
system to power the servos and the ignition.
This large ship will demand a lot from the
servos and I wanted to make sure there was
plenty of power to spare. I used two
2000mAh Li-Ion cells with switched regulators to dial the 7.4V down to a usable 6V for
the servos. Lightning response and extra
torque is provided by the 6V current. The
redundant power supply will assure that
there is always power to the servos if one
pack fails. The ignition for the Brison engine
is hooked into a 2000mAh Li-Ion battery and
a non-switched regulator. (See sidebar.)
SMOKE SYSTEM
Sullivan products have a great product—the
Skywriter. This direct drive system uses a
microprocessor so you can set the amount of
smoke oil that is released into the muffler. I
had to use a 16-ounce tank with the Sullivan
aluminum stopper and special tubing that
The Sullivan Sky Writer is mounted to the
engine box with servo screws for a clean install.
102 FLY RC MAGAZINE
AEROWORKS 27% ULTIMATE BIPLANE
can be used in gasoline applications. The
plumbing was easy to set up, and the pump
can be screwed into the fuselage or just ziptied in place. Great gobs of smoke!
TIPS FOR SUCCESS
Building this ship is very easy due to the well
laid out instructions and pictures of the components. The Ultimate is 90% finished when
she arrives: you only have to hinge the control surfaces, install the control horns, wing
tube and radio, and glue the rudder in place. I
took my time and the ship was ready after 16
hours of work.
HARDWARE AND ACCESSORIES
When you purchase this ship, you should
also get the accessory package from
Aeroworks. The components work perfectly
and there is no need to re-engineer anything.
I think the nicest part of the hardware is the
Nelson control horns. When installed, they
become part of the airplane as if they were
built up with the kit. I found them to be very
easy to adjust and rock solid.
Reluctant to use them, I contacted
Aeroworks about the CA hinges. They recommend I use them. Aeroworks has used
CA style hinges in their ARFs and kits for
many years and have had great success
with them. Even Chip Hyde's 42% TOC
Winning Ultimate Biplane used CA style
hinges. Having experience with the Du-Bro
pinned hinges, I prefer to use them. I will
use epoxy to glue them in place.
HINGING
ENGINE BOX
The Ultimate comes with CA hinges resting
in the precut slots of the control surfaces.
Epoxy, Epoxy, Epoxy. Do not be shy: coat
the box with 30-minute Z-Poxy and make
Flight Review and 3D
by Dave Baron
SMOKE ON!
AIRBORNE
The Brison engine had been run at the factory
and adjusted, so all I had to do was mount the
Mejzlik 22x8 propeller. I wanted to use a carbon
fiber blade from Mejzlik to squeeze every ounce
of energy from the Brison powerplant. I set the
throws per the instruction manual and found the
performance best in 3D mode—40-45% deflection. Use your dual rates to shift on the fly, from
normal mode to 3D (behind the power curve
mode).
The Ultimate needs only 1/3 throttle to be airborne in about 20 feet to begin its climb out.
The first order of business, after a quick trim,
was to roll inverted on a 45 degree upline (per
Chip Hyde's instructions in the manual) to check
the CG. It should only require a small amount of
down elevator to maintain the line; we were
perfect!
I found the rolls to be axial and precise and
the tracking was perfect. This ship will groove.
Since this was my first biplane, I thought it
would be a different flight experience than my
single wing ships, and it was...better! The wing
area is massive and following the plane through
its maneuvers was very easy. The bright yellow
looks awesome in the sky!
The loops were very easy and precise inside
and out. They were any size we wanted as the
plane is capable of pure vertical climb outs or
lazy slow flight, your choice. I asked Fly RC Chief
Test Pilot Dave Baron to wring the ship out.
104 FLY RC MAGAZINE
TAKEOFFS—Bipes like this one have a higher center
of gravity than a similar sized monoplane. Nothing
makes this stand out more than at takeoff and landing!
Any time you induce motion, but are not yet flying, hold
some backpressure on the stick to keep the tail down
on the ground. The most important reason is that with a
blast of power, the tail rises before the rudder has
authority in yaw. The result is the loss of tracking and
the dreaded ground loop (and the missing covering
under the wing tips to remind you of your mistake!).
There is so much power with this model that it is in
the air just after it moves. It all happens quickly, but you
still need to be on your toes, and ready to compensate
for torque and "P" factor with a little right rudder to
keep it on proper runway heading.
FLIGHT—This ship is true, and it is a tribute to
Aeroworks' experience in building TOC winning designs.
It points really well, (the ability to go a straight line when
you let go of the sticks at any attitude,) and yet has a
wing loading that gives you performance with no surprises. I especially like the inherent drag of a biplane design.
When you throttle back, the airspeed begins to fall immediately. This makes many maneuvers better, and landing
approaches much more comfortable.
AEROBATICS—Tumbles and snaps are just plain fun
with a biplane. Its compact shape makes for outrageous acceleration in tumbles. I like to think of it like
being a kid on a rope swing, accelerating the rotation
by pulling your legs in under your torso, and seemingly
doubling the rate of rotation. Bipes just start out life
with their legs tucked in! The Ultimate knife-edged
especially well. I think that there is something about the
pressure balance on the fuselage, with a wing on top
and bottom, that allows knife edge to require only a bit
of rudder and very little coupling. Hovering was solid,
and if there were more time on the engine, we would
have gone for the classic "Tail Touching Shot."
LANDING—Due to the drag discussed earlier, you
enjoy the ability to truly let power control altitude. Let
altitude bleed off at low throttle, and then adjust the
throttle to arrest the descent, and provide the necessary air flow for deep long flares. Landings are the best
when power is held in until touchdown, and then cut
after you are firmly down. If you have ever been to an
air show and watched the full-scale super bipes land, it
is always with power!
AEROWORKS 27% ULTIMATE BIPLANE
HITEC FACTS:
DURALITE FACTS:
Hitec's line of servos is very diverse, ranging from park flyer to giant scale. The digital
5645MGs are the latest generation from
Hitec. They are programmable and utilize
Hitec's unbreakable gear train. The dual ball
bearings coupled with a 3-pole ferrite motor
create a powerful, smooth, and reliable
servo. The torque is rated at 143 ounces at
4.8V and 168 ounces at 6V. Speed is .23
and .18 respectively. The 5645s are a great
choice in the Aeroworks 27% Ultimate
Biplane.
Duralite Batteries has been an innovator in light, high-energy battery systems for RC applications
since 1998. With planes and helicopters getting larger and more complex, and the new digital servo
technologies demanding more and more current, it only stands to reason that the Lithium power systems are a great alternative. Lithiums are lighter and have a higher energy density than the older
technologies.
Duralite produces complete systems for the hobbyist. During the development of new products, team pilots do the initial testing. This process is invaluable and leads to constant product
improvement and development. Although this is costly and time consuming, it results in higher
product satisfaction and reliability.
I used a dual battery system in the Aeroworks Ultimate. A 2-cell 2000mAh Li-Ion battery and voltage regulator are plugged into the receiver. A second identical system is plugged into a separate
channel to offer a backup in case one battery should have a malfunction. The voltage regulators are
integrated into the failsafe switch harness that reduces the voltage from 7.4V to 6V. The ignition is
powered by a non-switched regulator connected to a single 2000mAh Li-Ion battery. Before each
flight, I use a Duralite load tester on the cells. The load tester places a one-amp load on the cells and
gives you a true reading of their voltage under load.
The Duralite system gives you that power you require for your digital servos while adding minimal
weight to your ship.
AEROWORKS FACTS:
Aeroworks was started 12 years ago by two
avid RC modelers looking for a better quality and performance product than was available. Rocco and Kevin, owners of
Aeroworks, designed their own version of
what an aerobatic plane should be.
Competing and winning with their designs
soon drew attention to their planes. Pilots
looking for that same winning performance
began placing orders and, before long,
Aeroworks was born.
Aeroworks is the only manufacturer to
have won the Tournament of Champions
four years in a row. Their ships have competed and won in every class of high-level
competition flown today. At the last TOC in
2002, Aeroworks was the first manufacturer
to introduce an ARF able to compete at
such a high level competition. Chip Hyde
flew the Aeroworks 42% Ultimate to first
place, proving that ARF aircraft not only are
competitive and well built, but here to stay.
BRISON FACTS:
The Brison engine line has been around for over 15 years and is manufactured in Texas. Gary Allison
has created an impressive line of engines that caters to the large-scale market. I chose the 3.2ci (52cc)
gas engine for the Aeroworks Ultimate Biplane strictly because of his reputation in the marketplace.
The Brison 3.2 is different from other engines in many ways. The cylinder has a Nikasil professional
grade liner inside. Nikasil is used by Porsche and Husquevarna in their engines as well. This liner lets
oil adhere better to the cylinder walls for improved lubrication and less oil consumption. Brison recommends a 100-1 mixture as opposed to 50-1 for most other similar engines.
The crankcase is 6061-T6 aluminum bar stock that is beautifully hand polished to a mirror finish.
The crankshaft is machined from 4140 steel that is heat treated to allow more flexibility than a forged
crankshaft could offer. Gary is so confident in his engine that he offers a crash warranty on the crankshaft! In addition, the head has a 1000-hour life expectancy.
The ignition is from C+H ignition products. This CDI (capacity discharge ignition) is very reliable
and lightweight; no magneto or flywheel is required! This adds to the engine's fantastic power to
weight ratio. There's even a throttle-coupled spark advance that allows this engine to idle down to a
whisper.
Speaking of whispers, the Pitts-style muffler from Bisson is IMAC legal, coming in at 96 dB. Look to
Brison for your next large project and you will have one less component to worry about in your airplane.
ship actually flies stronger with a
forward CG, and the limits are very
broad so it is easy to work with.
competition. This ship changes the rules.
Now you can jump into scale flight and not
break the bank; no trailer required! =
Links
CONCLUSION
sure those joints are secure. This is not a
glow plane! There are serious forces at work
here and you must make sure that box is
solid. This box is very sound and comes with
triangle stock to sure up the joint, but you
must build it correctly to avoid potential
problems.
CG
The CG is very important and it should be
perfect if you follow the instructions. The
106 FLY RC MAGAZINE
I am thrilled with my Ultimate! It
was quick to build, awesome to fly,
and it looks tremendous. This has
been my favorite project so far. It
definitely attracts attention at the
field with its bright colors and the
cool factor a biplane
brings with it. The
Ultimate is ready for competition
if I so choose, or it's ready to go
skywriting at the local field and
just have a ball. This ship is one
that will be in my hangar for
many years to come.
I would especially recommend
the Aeroworks Ultimate to any
pilot out there who has seen a
large scale ship and thought it
was only for extreme pilots and
Aeroworks, www.aero-works.net,
(303) 366-4205.
Brison R/C Engines, www.brisonaircraft.com,
(972) 241-9152.
Duralite Batteries, www.duralitebatteries.com,
(877) 744-3685.
Hitec RCD USA, Inc., www.hitecrcd.com,
(858) 748-6948.
Mejzlik propellers, distributed by Desert
Aircraft, www.desertaircraft.com,
(520) 722-0607.
Sullivan Products,
www.sullivanproducts.com,
(410) 732-3500.
Tru-Turn, www.tru-turn.com,
(281) 479-9600.
ZAP and Z-Poxy are manufactured by
Pacer Technology, www.zapglue.com.
For more information, please see our
source guide on pg. 177.