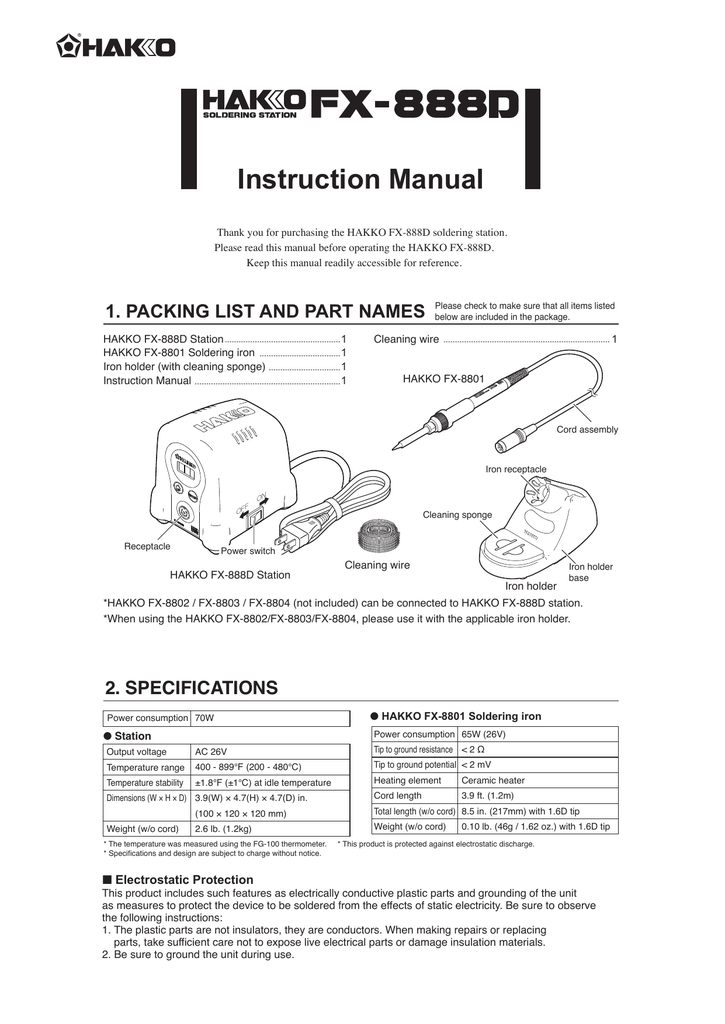 Instruction Manual
Thank you for purchasing the HAKKO FX-888D soldering station.
Please read this manual before operating the HAKKO FX-888D.
Keep this manual readily accessible for reference.
1. PACKING LIST AND PART NAMES
HAKKO FX-888D Station
HAKKO FX-8801 Soldering iron
Iron holder (with cleaning sponge)
Instruction Manual
1
1
1
1
Please check to make sure that all items listed
below are included in the package.
Cleaning wire
1
HAKKO FX-8801
Cord assembly
Iron receptacle
F
ON
OF
Receptacle
Power switch
HAKKO FX-888D Station
Cleaning sponge
Cleaning wire
Iron holder
Iron holder
base
*HAKKO FX-8802 / FX-8803 / FX-8804 (not included) can be connected to HAKKO FX-888D station.
*When using the HAKKO FX-8802/FX-8803/FX-8804, please use it with the applicable iron holder.
2. SPECIFICATIONS
Power consumption 70W
● Station
Power consumption 65W (26V)
Output voltage
AC 26V
Temperature range
400 - 899℉ (200 - 480℃)
Temperature stability
±1.8℉ (±1℃) at idle temperature
Dimensions (W × H × D) 3.9(W) × 4.7(H) × 4.7(D) in.
(100 × 120 × 120 mm)
Weight (w/o cord)
● HAKKO FX-8801 Soldering iron
2.6 lb. (1.2kg)
* The temperature was measured using the FG-100 thermometer.
* Specifications and design are subject to charge without notice.
■ Electrostatic Protection
Tip to ground resistance < 2 Ω
Tip to ground potential < 2 mV
Heating element
Ceramic heater
Cord length
3.9 ft. (1.2m)
Total length (w/o cord) 8.5 in. (217mm) with 1.6D tip
Weight (w/o cord)
0.10 lb. (46g / 1.62 oz.) with 1.6D tip
* This product is protected against electrostatic discharge.
This product includes such features as electrically conductive plastic parts and grounding of the unit
as measures to protect the device to be soldered from the effects of static electricity. Be sure to observe
the following instructions:
1. The plastic parts are not insulators, they are conductors. When making repairs or replacing
parts, take sufficient care not to expose live electrical parts or damage insulation materials.
2. Be sure to ground the unit during use.

* Your assessment is very important for improving the work of artificial intelligence, which forms the content of this project