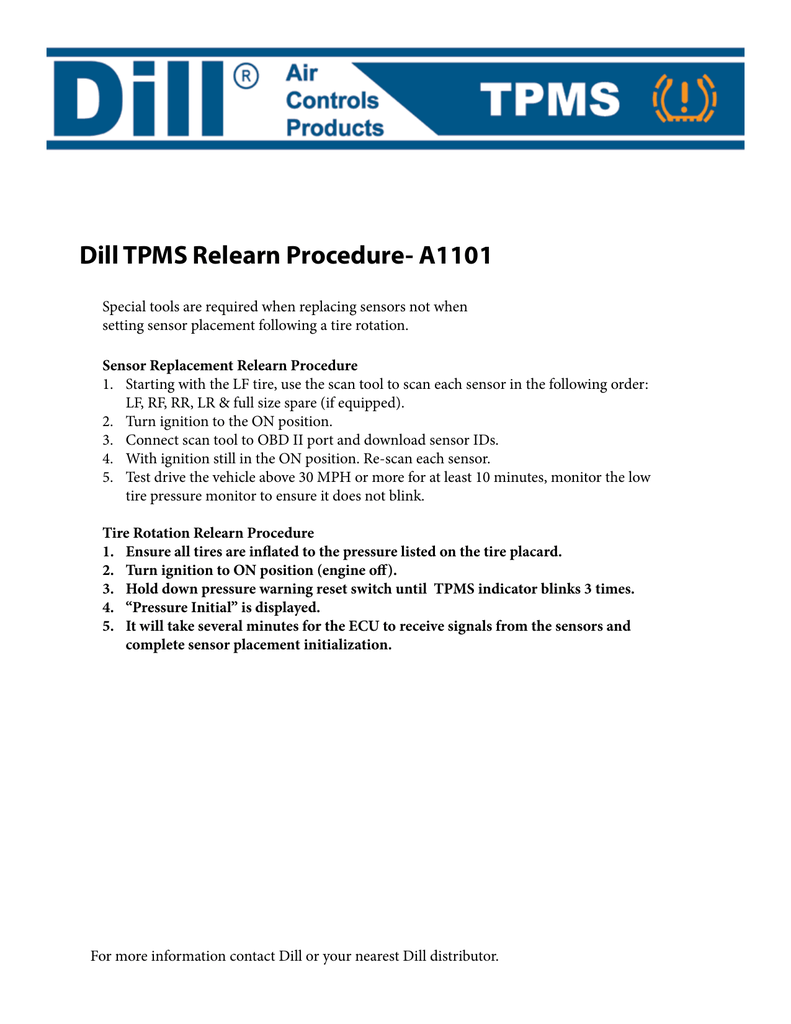 Dill TPMS Relearn Procedure- A1101
Special tools are required when replacing sensors not when
setting sensor placement following a tire rotation.
Sensor Replacement Relearn Procedure
1. Starting with the LF tire, use the scan tool to scan each sensor in the following order:
LF, RF, RR, LR & full size spare (if equipped).
2. Turn ignition to the ON position.
3. Connect scan tool to OBD II port and download sensor IDs.
4. With ignition still in the ON position. Re-scan each sensor.
5. Test drive the vehicle above 30 MPH or more for at least 10 minutes, monitor the low
tire pressure monitor to ensure it does not blink.
Tire Rotation Relearn Procedure
1. Ensure all tires are inflated to the pressure listed on the tire placard.
2. Turn ignition to ON position (engine off).
3. Hold down pressure warning reset switch until TPMS indicator blinks 3 times.
4. "Pressure Initial" is displayed.
5. It will take several minutes for the ECU to receive signals from the sensors and
complete sensor placement initialization.
For more information contact Dill or your nearest Dill distributor.

* Your assessment is very important for improving the work of artificial intelligence, which forms the content of this project