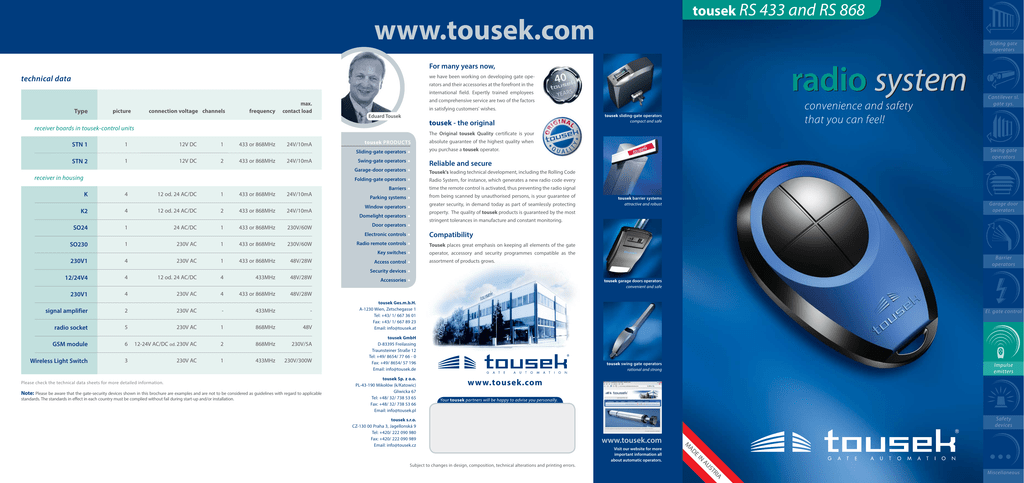 tousek RS 433 and RS 868
www.tousek.com
Sliding gate
operators
For many years now,
radio system
we have been working on developing gate ope-
technical data
rators and their accessories at the forefront in the
international field. Expertly trained employees
Type
picture
connection voltage channels
frequency
and comprehensive service are two of the factors
max.
contact load
convenience and safety
that you can feel!
in satisfying customers' wishes.
Eduard Tousek
tousek - the original
receiver boards in tousek-control units
tousek sliding-gate operators
compact and safe
Cantilever sl.
gate sys.
The Original tousek Quality certificate is your
STN 1
1
12V DC
1
433 or 868MHz
24V/10mA
tousek PRODUCTS
Sliding-gate operators i
STN 2
1
12V DC
2
433 or 868MHz
24V/10mA
receiver in housing
K
4
K2
4
SO24
1
12 od. 24 AC/DC
12 od. 24 AC/DC
1
2
433 or 868MHz
433 or 868MHz
24V/10mA
24V/10mA
Swing-gate operators i
1
433 or 868MHz
230V/60W
1
230V AC
1
433 or 868MHz
230V/60W
230V1
4
230V AC
1
433 or 868MHz
48V/28W
12/24V4
4
12 od. 24 AC/DC
4
433MHz
48V/28W
230V1
4
230V AC
4
433 or 868MHz
48V/28W
Swing gate
operators
Reliable and secure
Tousek's leading technical development, including the Rolling Code
Folding-gate operators i
Radio System, for instance, which generates a new radio code every
Barriers i
time the remote control is activated, thus preventing the radio signal
Parking systems i
from being scanned by unauthorised persons, is your guarantee of
Window operators i
greater security, in demand today as part of seamlessly protecting
tousek barrier systems
attractive and robust
Garage door
operators
property. The quality of tousek products is guaranteed by the most
stringent tolerances in manufacture and constant monitoring.
Door operators i
Electronic controls i
SO230
you purchase a tousek operator.
Garage-door operators i
Domelight operators i
24 AC/DC
absolute guarantee of the highest quality when
Compatibility
Radio remote controls i
Tousek places great emphasis on keeping all elements of the gate
Key switches i
operator, accessory and security programmes compatible as the
Access control i
Barrier
operators
assortment of products grows.
Security devices i
signal amplifier
2
230V AC
-
433MHz
-
radio socket
5
230V AC
1
868MHz
48V
GSM module
6
12-24V AC/DC od. 230V AC
2
868MHz
230V/5A
Wireless Light Switch
3
230V AC
1
433MHz
230V/300W
Please check the technical data sheets for more detailed information.
Note: Please be aware that the gate-security devices shown in this brochure are examples and are not to be considered as guidelines with regard to applicable
standards. The standards in effect in each country must be complied without fail during start-up and/or installation.
Accessories i
tousek garage doors operators
convenient and safe
tousek Ges.m.b.H.
A-1230 Wien, Zetschegasse 1
Tel: +43/ 1/ 667 36 01
Fax: +43/ 1/ 667 89 23
Email: info@tousek.at
El. gate control
tousek GmbH
D-83395 Freilassing
Traunsteiner Straße 12
Tel: +49/ 8654/ 77 66 - 0
Fax: +49/ 8654/ 57 196
Email: info@tousek.de
tousek Sp. z o.o.
PL-43-190 Mikołów (k/Katowic)
Gliwicka 67
Tel: +48/ 32/ 738 53 65
Fax: +48/ 32/ 738 53 66
Email: info@tousek.pl
tousek swing gate operators
rational and strong
Impulse
emitters
www.tousek.com
Your tousek partners will be happy to advise you personally.
www.tousek.com
Visit our website for more
important information all
about automatic operators.
IN
IA
R
ST
AU
Subject to changes in design, composition, technical alterations and printing errors.
Safety
devices
E
AD
M
tousek s.r.o.
CZ-130 00 Praha 3, Jagellonská 9
Tel: +420/ 222 090 980
Fax: +420/ 222 090 989
Email: info@tousek.cz
Miscellaneous
tousek transmitter
your key for more comfort and security
GSM MODULE NEW
- your mobile phone becomes a transmitter
set up and equip
- as you like it
Code pad Torcody
The code pad enables a safe opening of
your residential door or garage door
without any disturbing search for your
key. Easy to use with your own adjustable 5-digit code.
transmitter
433 MHz
each transmitter is unique p
picture
1
Receiver boards
4
Receiver in housing
And cable connector
The receiver board can be plugged directly onto the tousek control board. It
is supplied in the 2-channel version
with the tousek Sets.
Radio receiver with socket for DINmounting
in black or white
6
more safety through Rolling Code p
Wall transmitter
self learning technology – user friendly and fast p
The wall transmitter has a flat and
modern design. It can be easily mounted directly onto a wall.
range until 200 m p
transmitter
868 MHz
For other brands
with 1 or 2 channels.
Radio receiver with housing
For other brands with 4 channels.
dimension 1:1
transmitter incl. holding clip
2
Gate, door, light - you´ve got it in your hand!
Example of usage 1
– one transmitter, four functions
Example of usage 2
– one gate, many collective users
With a 4 channel transmitter you have 4 assignable radio channels
which can be programmed individually. Each of the four buttons has
its assigned function (as shown in example).
The assignment of the transmitter buttons can be chosen by each
user individually. Also the configuration of several transmitters can
be different (as shown in example 2). One transmitter can actuate
indefinite receivers at the same time (see entrance gate).
The antenna is delivered incl. mounting
bracket and 3m or 5m coax cable for an
extended range of up to 200m.
A simple call is enough (e.g. with shortcut button), no SMS necessary to open gate
No call charges since there is no phone connection
Built-in 2 channel receiver suitable for tousek RS868 radio system
Two entrances, one to which a SMS can be assigned, e.g. for telling the gate position (open, closed)
button 1 opens the common entrance gate
for all house residents
button 2 opens the garage door of corresponding
house owner
With the signal amplifiers the radio signal range can be extended. It includes
a transmitter and receiver unit and can
be plugged into a 230V power socket.
Antenna
gate opens, gate closes
– a simple call is enough
button 1 open the garden gate
button 2 open the garage door
button 3 turn on the light
button 4 deactivate the alarm
Signal amplifier
Delete and add mobile phone number easily with SMS
Delete and add transmitters easily with SMS or on the GSM Module
3
Radio controlled light switch
5
Radio socket
The radio controlled light switch can
be used to switch different users (also
energy saving lamps). With ist small
built design it is suitable for all conventional installation sockets (also for
subseqent installation).
The easiest way to upgrade an existing
garage door operator to the tousek
radio system. Simply plug the radio receiver into the socket of operator, connect the cable to the button entrance
and program the transmitter.
The System
Rolling Code
2-channel/4-channel transmitter
Is known for its diversity and is suitable for all
mounting modes.
The code of the transmitter changes with each
signal/impulse sent. This is called the Rolling
Code system.
The amount of channels designates at the same
time the amount of buttons as well as functions
of the transmitter.
With this permanent change of the code each
code is only used once and is therefore
unique. The scanning of the code is not of any
use. This is what makes the Rolling Code so
safe.
With a 2-channel transmitter you can actuate
e.g. with button 1 the courtyard gate and with
button 2 the garage gate. With a 4 channel
transmitter you can control four functions (e.g.
gate, light/lamp, garage door and alarm).
tousek transmitters are compatible with any
of the receivers with same frequency (433 MHz
or 868 MHz) of the tousek product portfolio.
Available either with 2 or 4 buttons. All radio
receivers and transmitters are equipped with
self-learning technology and Rolling Code.

* Your assessment is very important for improving the work of artificial intelligence, which forms the content of this project