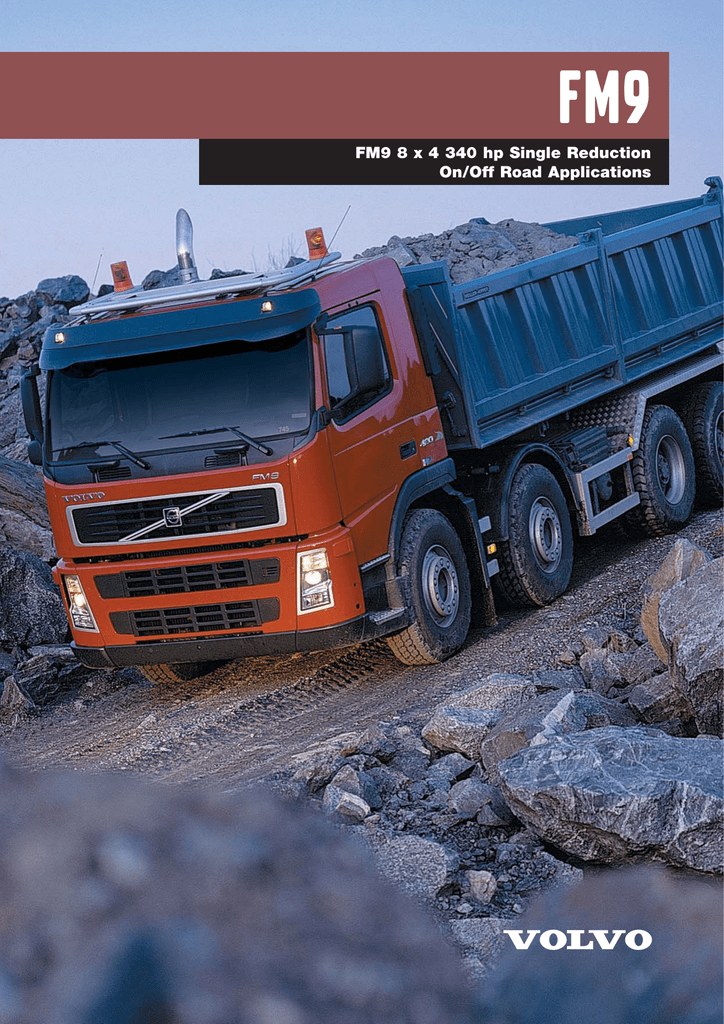 FM9
FM9 8 x 4 340 hp Single Reduction
On/Off Road Applications
VOLVO FM9 8X4
Rigid - Single Reduction
Model Code: FM 84R B2CR
9005
4590
3012
1170
510
1793
1360
1370
5100
1175
Cab 2474
4888
DIMENSIONS (mm)
Theoretical wheelbase
Turning circle between kerbs
Turning circle between walls
4 888
20 408
22 056
MASS (kg)
Vehicle mass (Tare)
Front axle mass (Tare)
Rear axle mass (Tare)
Front axle capacity (GA)
Rear bogie capacity (GAU)
Gross vehicle mass (GVM)
Gross combination mass (GCM)
Permissible front axle mass (A-Front)
Permissible rear axle mass (AU-Rear)
Permissible max vehicle mass (V)
Permissible max drawing vehicle mass (D/T)
9
6
3
16
21
37
60
15
18
33
60
469
269
199
000
000
000
000
400
000
400
000
ENGINE
Turbo-charged, inter-cooled, six cylinder, directinjection diesel engine with electronic control of fuel
delivery and injection timing. Centrally located fuel unit
injectors, controlled by an overhead camshaft.
Type designation
D9A340, EM-EC01
Power output
250 kW @ 1900 r/min
Max engine speed
2100 r/min
Max torque output
1600 Nm @ 1200 - 1400 r/min
No. of cylinders
6
Cylinder bore
120 mm
Stroke
138 mm
Displacement
9.4l
Compression ratio
18.5:1
Exhaust brake output at 2300 r/min
140 kW
Exhaust brake output (VEB) at 2300 r/min
264 kW
Economy engine speed
1200 - 1800 r/min
Engine oil capacity incl. filter
26l
Number of oil filters
2 full-flow, 1 by-pass
Cooling system, total volume
36l
Cooling capacity
48ºC, ATB
Clutch CS43B-OR
Asbestos free single dry plate of diaphragm type,
hydraulic with power assistance.
Plate diameter
430 mm
Total facing area
2000 cm2
Gearbox - VT2214B
14-speed range change and splitter gearbox with twelve
synchronised forward gears, two crawler gears and four
reverse gears. Top gear High is direct.
Max Engine torque
2200 Nm
Forward gears
12
Crawler gears
2
Reverse gears
4
Ratios
low
high
Crawl
16.86
13.51:1
1st
11.13
8.92:1
2nd
7.16
5.74:1
3rd
4.68
3.75:1
4th
2.97
2.38:1
5th
1.91
1.53:1
6th
1.25
1.00:1
Reverse high
4.02
3.22:1
Reverse low
15.06
12.09:1
Oil capacity
14.3l
Rear Axles and Final Drive - RTS2370A
Rear axle casing casted. Tandem bogie with single
reduction and differential lock between wheels and
between axles.
Technical gross combination mass
70 000 kg
Ratio
4.50:1
Oil capacity
20 + 14l
SPECIFICATION SHEET
CHASSIS
Frame
Ladder type chassis with a constant frame width of
850 mm from behind the cab. Side rail members are
U-channel shaped and made of high-strength steel.
Section height
300 mm
Flange width
90 mm
Web and flange thickness
8 mm
Front Axle FAL 16.0
The front axles are manufactured from drop-forged,
heat treated special steel and are forged in one piece.
Capacity
16000 kg
Front Suspension
Parabolic springs with threaded spring bolts,
shackles, double-action shock absorbers and anti-roll bar.
Spring length
1890 mm
Spring width
100 mm
Steering
Power steering with variable ratios.
Maximum wheel lock angle
Number of turns of steering wheel
Steering wheel diameter
Wheels
The wheels are of the steel disc type which are hub
centered and mounted by means of 10 wheel studs
and nuts. Stud circle diameter is 335 mm. The front
axle has single wheels and the rear axle has dual
wheels.
Wheel size
9.00-22.5
Tyre size
315/80R22.5
Exhaust System
Horizontally-mounted silencer with exhaust emission
direction horizontal.
Tow Anchorage
The vehicle is equipped with one towing anchorage
with bayonet fitting for the front and one rear tow pin.
Fuel Tanks
One 415 litre D-shaped aluminium tank is mounted on
the right hand of the chassis.
ELECTRICAL EQUIPMENT
50º
4.5
450 mm
System voltage
Battery capacity
Alternator capacity
Battery main switch is standard.
24 V
170 Ah
80 A
Rear Suspension - RADD-BR
Parabolic leaf springs with dual action shock
absorbers. The springs are attached to axles on the
front and rear with rubber cushions. Axles are mounted
to chassis with upper V-stays and lower reaction rods.
Number of spring leaves
3
Spring
1630 mm
Spring width
75 mm
Capacity
21 000 kg
BRAKES
Dual-circuit compressed air braking system with spring
brake cylinders on the front axle and first drive axle.
There is a load sensing valve on the rear axles and a
trailer hand control valve in the cab.
System pressure
750-850 kPa
Air Compressor - 2COMP1080
The air compressor is of a twin-cylinder type,
gear-driven and water cooled from the engine.
Power, kW
280
250 kW 1900 r/min
(340 hp metric)
260
240
220
Net output
according to:
• ISO 1585
• Dir. 89/491/EEC
• ECE Reg. 85
Torque, Nm
1600 Nm
1200-1400
r/min
1700
1600
200
1500
180
1300
160
1100
1400
Air Tanks
Steel air tanks are installed below the battery box and
inside the frame.
Air capacity (6+30+30+30 litres)
96l
Air-dryer is standard.
1200
1000
140
900
Economy
1200-1800 r/min
Wheelbrakes
Volvo's Z-cam brakes with automatic adjustment and
asbestos-free brake linings.
Friction area:
Front axle
2x2750 cm2
Rear axles
2x3140 cm2
Total friction area
11780 cm2
Parking brake of spring type acting on front and first
drive axle.
Spec. fuel
consumption
g/kWh
120
192 g/kWh EC01
210
200
190
180
r/min
800
1000
1200
1400
1600
1800
2000
2200
SPECIFICATION SHEET
Seats
Air suspended Driver seat with intergrated seat belt.
Fixed passenger seat with seat belt.
Seat upholstery in vinyl and textile finish.
CAB
The cab is of a safety type with an aerodynamic shape
and low in-cab noise level. Cab shell is made of highstrength steel. External panels are hot dip galvanized
and treated with anti-rust protection.
Air Inlet
Roof-mounted air inlet made of plastic and mounted on
the left-hand side behind the cab.
Visibility
The cab is equipped with electrically-operated and
heated rear view mirrors. The passenger side has
an integrated rear view mirror/wide-angle mirror and
a separate kerb mirror. All the windows are tinted.
There is an external sunvisor with position lights and
internal sunvisors. Spot lamps are integrated in the
headlamp cluster. Driver and passenger side windows
are electrically operated.
Cab Interior and Storage Facilities
The interior is upholstered in vinyl and textile. The cab
floor is fitted with a complete rubber floor carpet with
loose rubber mats on the driver and passenger sides.
The door panels have loudspeakers, storage
compartments, controls for the electric windows,
mirrors and cab entry-exit illumination lamps.
There are storage compartments in two separate
sections above the windscreen and a radio shelf.
There is a storage compartment/document pocket
on the centre console under the dashboard.
There are also three storage compartments
underneath the bunks, two of which can also be
accessed from the outside.
Instruments and Controls
The driver area is ergonomically designed with a good
layout of the instruments and controls, which are easily
accessible.
The instruments are of the conventional type with
gauges for oil pressure, voltage, coolant temperature,
fuel, turbo pressure and brake pressure.
There is also a Driver Information System and Trip
computer-fuel economy meter.
1 Day tachograph for registration of vehicle speed and
engine speed is standard.
Cruise control is standard.
Steering wheel adjustment is standard.
Steering column lock is standard.
Cab Comfort and Climate
The cab is mounted on the chassis via a 4-point
suspension system, which has coil springs and shock
absorbers on the front and rear.
Electrical Distribution Unit
The central electrical unit is located in the centre of the
instrument panel and with electrical components and
fuses. There is a separate electrical distribution unit for
optional extra equipment located on the passenger
side. Radio/CD is standard.
Front underrun protection system is standard. Service
points are accessible behind a hatch at the front of the
cab. The cab tilt angle is 70º.
In-cab Climate and Ventilation
The cab has draught-free ventilation and purification of
the cab air via an air filter. The roof also has a hatch.
There is a ventilation fan with heater and air conditioner.
OPTIONS
Refer to Sales Options.
Specifications subject to change without notification.
Dealer Stamp
Volvo Truck Corporation
www.volvotrucks.com
The Graphic Authority (011) 234 8538
GAQ4139/050804
For more information,
please contact our
Head Office on
(011) 842 5000.

* Your assessment is very important for improving the work of artificial intelligence, which forms the content of this project