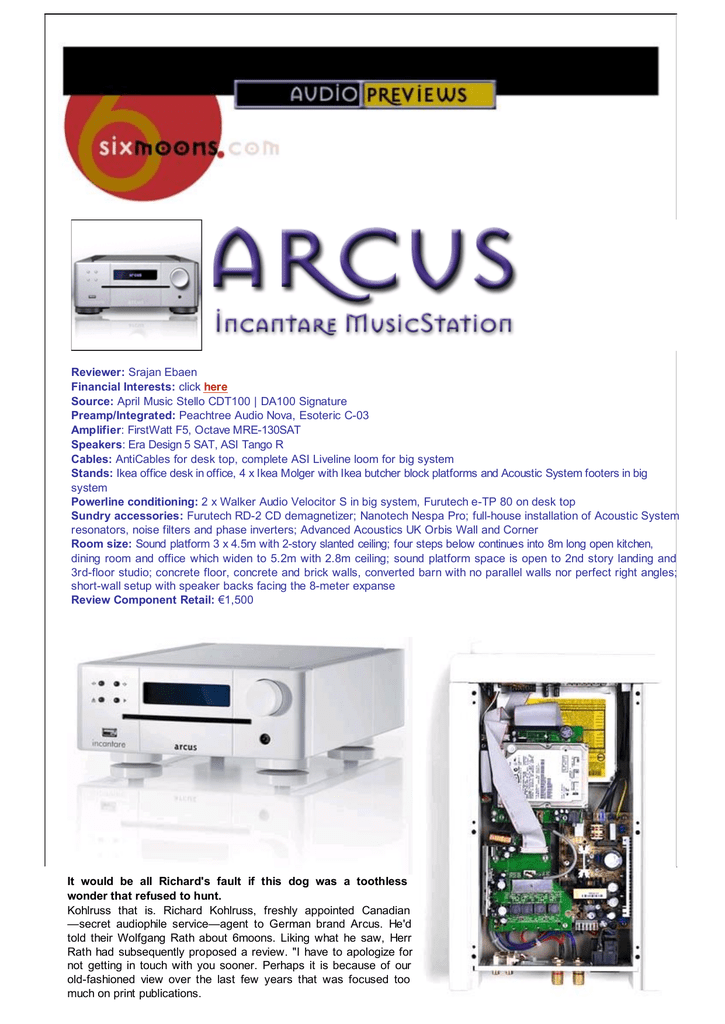 Reviewer: Srajan Ebaen
Financial Interests: click here
Source: April Music Stello CDT100 | DA100 Signature
Preamp/Integrated: Peachtree Audio Nova, Esoteric C-03
Amplifier: FirstWatt F5, Octave MRE-130SAT
Speakers: Era Design 5 SAT, ASI Tango R
Cables: AntiCables for desk top, complete ASI Liveline loom for big system
Stands: Ikea office desk in office, 4 x Ikea Molger with Ikea butcher block platforms and Acoustic System footers in big
system
Powerline conditioning: 2 x Walker Audio Velocitor S in big system, Furutech e-TP 80 on desk top
Sundry accessories: Furutech RD-2 CD demagnetizer; Nanotech Nespa Pro; full-house installation of Acoustic System
resonators, noise filters and phase inverters; Advanced Acoustics UK Orbis Wall and Corner
Room size: Sound platform 3 x 4.5m with 2-story slanted ceiling; four steps below continues into 8m long open kitchen,
dining room and office which widen to 5.2m with 2.8m ceiling; sound platform space is open to 2nd story landing and
3rd-floor studio; concrete floor, concrete and brick walls, converted barn with no parallel walls nor perfect right angles;
short-wall setup with speaker backs facing the 8-meter expanse
Review Component Retail: €1,500
It would be all Richard's fault if this dog was a toothless
wonder that refused to hunt.
Kohlruss that is. Richard Kohlruss, freshly appointed Canadian
—secret audiophile service—agent to German brand Arcus. He'd
told their Wolfgang Rath about 6moons. Liking what he saw, Herr
Rath had subsequently proposed a review. "I have to apologize for
not getting in touch with you sooner. Perhaps it is because of our
old-fashioned view over the last few years that was focused too
much on print publications.
"To be honest, visiting your website and your philosophy really gave us the feeling that you still do your job because you
love it. In many traditional paper magazines we feel that the reviews have lost their relationship to music and are more
concerned with commerce." Was I getting buttered up? They say flattery gets you anywhere. Rath was definitely
getting somewhere. I kept studying his introduction.
"Regarding arcus, we began as a 2-channel hifi company 30 years ago. Today our focus is on digital audio and video
servers yet we always apply the same high audiophile standards. While some products may look like standard CD
players and were in fact designed to work just like them, they incorporate the latest in digital server technology with all
its advantages. We see huge benefits for a customer to have all their music at their finger tips with just a click on the
remote rather than chasing the right CD in their collection for half an hour. Our goal has always been that our servers
must sound better than a standard CD player for the same price. Also, we provide perfectly matched amplification.
"Two years ago we launched our DAR300 audio server, a unit with Internet radio, full access to the hard disc via
Ethernet and external PC and many more features. It is quite a successful product. And, we learnt how there is still a
huge group of consumers who don't want to use their computer for hifi, who don't have home-based networking
technology and who don't care to use internet radio. It's for that target group that we have developed the arcus
incantare MusicStation. It's a simple product to use. It requires no network access, no internet radio and makes it
extremely simple to rip CDs to hard disc. It's simply a unit where to store all your music while the inbuilt integrated
amplifier allows connection to a pair of loudspeakers to start enjoying the music right away. This product has a
European retail of €1,500."
Some giant bell began ringing
my belfry with deafening
powe. This had all the
cost-effective makings of a
true plug 'n' play PC audio
product without a PC or
Internet router. The Arcus
MusicStation runs Wolfsson
codecs for high-quality D-to-A
conversion; an S/PDIF output
to go serious and install the
machine as just a server front
end into an existing high-end
system; and a line-out to retain
its preamp functionality but not
the inbuilt amplifier (or to
subwoof with in the stock
one-box context).
The MusicStation also has a very simple data backup provision to duplicate its files to external HD. For its kind of
scratch including 30wpc/4-ohm digital amplification and a CD burner, one naturally cannot expect a big bad Sooloos
screen or B&O's BeoSound 5 tactile industrial sculpture interface above. iTunes-type visual functionality would have to
be scaled back. The MusicStation GUI had to run off a smaller display and on probably proprietary software. The chief
question would be, how convenient had arcus been able to make their graphic user interface?
Anyone who's ever tried text messaging more than one sentence off an antique mobile's number buttons already knows
the pain of being stuck with the wrong tool for the job. The N°.1 appeal of the music server proposition is convenience.
A lack of convenience would be downright antithetical. Offline meta data recognition here relies on the preloaded
FreeDB list. It can be updated via the arcus website from time to time, then transferred from PC to MusicStation by
USB stick or cable. Albums newer than the latest version of the list will require manual inputting*. Otherwise one collects
endless unknown track 1 repetitions to badly fail at having one's music server actually be convenient. I envisioned
tedious scrolling through multiple letter choices (see arcus remote above) to take 10 minutes for what would be over in
seconds on a proper keyboard. How about accessing one's data base of hundreds of CDs with a minimum of fuss and
at maximum speed? How good were these Germans really at writing intuitive software and not just constructing
hardware?
* Upon uploading the newest version of this list, the MusicStation has the option of automatically updating older files
and albums previously not recognized. If you refresh the preloaded list regularly, this likely makes manual entries
less of an issue. Much will depend on how mainstream or not your music choices are and how completely FreeDB
captures releases from small exotic labels.
Meanwhile Big Ben kept on tolling upstairs. There was that very attractive €1,500 sticker. It's Rotel or Arcam CD player
territory, still the old-fashioned turf. It's also about half of what April Music wants for its Aura Note Premier CD/receiver
with USB, a bridge product where any actual music serving still has to occur offboard. The stock 160GB capacity of the
cheaper arcus (320 or 500 optional) for an averaged 320 (or 640 and 1000) uncompressed CDs appears sufficient for
the intended target audience while the faster USB-2 port on the front panel is the much preferred PC input over USB-1.
The digital output meanwhile becomes the road to Damascus and cost-no-object systems. On specs, the MusicStation
claims a dynamic range of 105dB, damping factor of >400, channel separation of 89dB and input impedance of 47K.
Vitally important, there's a heat-pipe cooling system to eliminate a noisy fan altogether. Wunderbar! Incidentally, arcus
relies on FAT and FAT32 data support like most PCs and runs off a Linux platform. For the interior decorator, there are
Titanium silver, black and white finish options. For value and brain power, all development, engineering, production and
manufacturing of the arcus MusicStation took place in Germany. Hmm.
Did something here approach sounding too good
to good to be true? My man Richard -with whome I
routinely share notes on reviewables for me,
sellables for him—had never yet let me down
before with any recommendation. Was he finally
going soft? Only one way to find out. I e-mailed
Wolfgang Rath that I was game. On paper at
least, everything promised a very exciting
component that was not another $24,000 Boulder
1021 component for the exclusionary golf club
crowd. More in due course...