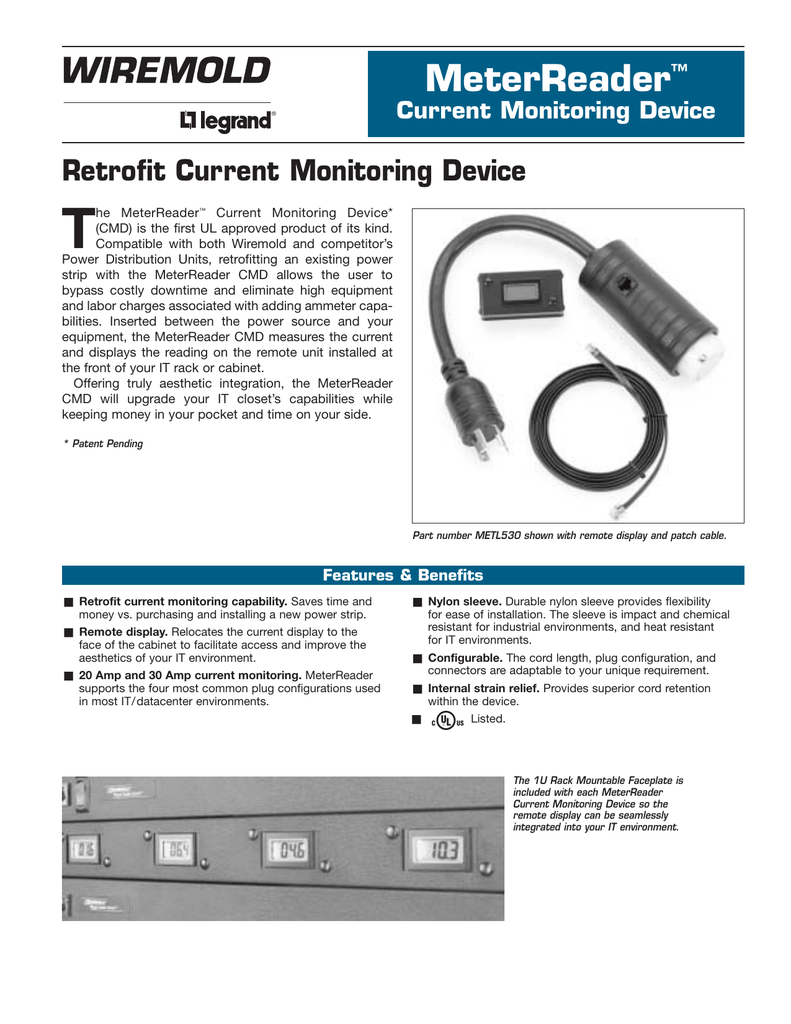 MeterReader™
Current Monitoring Device
Retrofit Current Monitoring Device
he MeterReader™ Current Monitoring Device*
(CMD) is the first UL approved product of its kind.
Compatible with both Wiremold and competitor's
Power Distribution Units, retrofitting an existing power
strip with the MeterReader CMD allows the user to
bypass costly downtime and eliminate high equipment
and labor charges associated with adding ammeter capabilities. Inserted between the power source and your
equipment, the MeterReader CMD measures the current
and displays the reading on the remote unit installed at
the front of your IT rack or cabinet.
Offering truly aesthetic integration, the MeterReader
CMD will upgrade your IT closet's capabilities while
keeping money in your pocket and time on your side.
T
* Patent Pending
Part number METL530 shown with remote display and patch cable.
Features & Benefits
■ Retrofit current monitoring capability. Saves time and
money vs. purchasing and installing a new power strip.
■ Remote display. Relocates the current display to the
face of the cabinet to facilitate access and improve the
aesthetics of your IT environment.
■ 20 Amp and 30 Amp current monitoring. MeterReader
supports the four most common plug configurations used
in most IT/ datacenter environments.
■ Nylon sleeve. Durable nylon sleeve provides flexibility
for ease of installation. The sleeve is impact and chemical
resistant for industrial environments, and heat resistant
for IT environments.
■ Configurable. The cord length, plug configuration, and
connectors are adaptable to your unique requirement.
■ Internal strain relief. Provides superior cord retention
within the device.
■
j
Listed.
The 1U Rack Mountable Faceplate is
included with each MeterReader
Current Monitoring Device so the
remote display can be seamlessly
integrated into your IT environment.
ED1333R1 – Updated Febr
y 2005 – For latest specs visit www.wiremold.com
Specifications
PART NUMBER:
AC Voltage Input:
AC Voltage Output:
Load Capacity:
Input Plug Type:
Output Connector:
Frequency:
Remote Ammeter Readout:
Patch Cable Length:
Device Length:
Junction Cable:
Product Warranty:
METL530
100 to 127 VAC
100 to 127 VAC
UL Rated 30 Amps max
Turnlok NEMA L5-30P
Turnlok NEMA L5-30R
METL520
METL630
100 to 127 VAC
208 to 250 VAC
100 to 127 VAC
208 to 250 VAC
UL Rated 20 Amps max
UL Rated 30 Amps max
Turnlok NEMA L5-20P
Turnlok NEMA L6-30P
Turnlok NEMA L5-20R
Turnlok NEMA L6-30R
60Hz
0-30A 3-digit True RMS +/- 0.2A LCD with backlighting
Standard 7 feet [2.1m]
20 inches [508mm]
10/3 SJT 1 foot [305mm]
Two years
Installation – MeterReader Device
METL620
208 to 250 VAC
208 to 250 VAC
UL Rated 20 Amps max
Turnlok NEMA L6-20P
Turnlok NEMA L6-20R
Installation – Rack Mount Display Plate
Remote Display
Rack Mount
Faceplate
Remote Display
Insert
Patch Cable
(Closed Slots
for Rigidity)
MeterReader CMD
Push Pins
Power down and unplug the power strip. Insert
the MeterReader CMD between the plug and
power source. Power up the power strip. To
activate the remote display box, connect the
MeterReader CMD to the remote display box
via the enclosed 7' [2.1m] patch cable .
© Copyright 2005 The Wiremold Company All Rights Reserved
Designed in Accordance
with E. I. A. Standards
Clear the desired display location, by removing the black
insert and push pins from the rack mount faceplate.
Using a flat screw driver, gently pry up the push pin
head being careful not to separate it from the pin body.
Line up the remote display box with the cleared holes
in the rack mount faceplate and insert the push pins
through the pin holes as indicated. Once secured,
install the faceplate into your 19" [482mm] rack via
the closed slots.

* Your assessment is very important for improving the work of artificial intelligence, which forms the content of this project