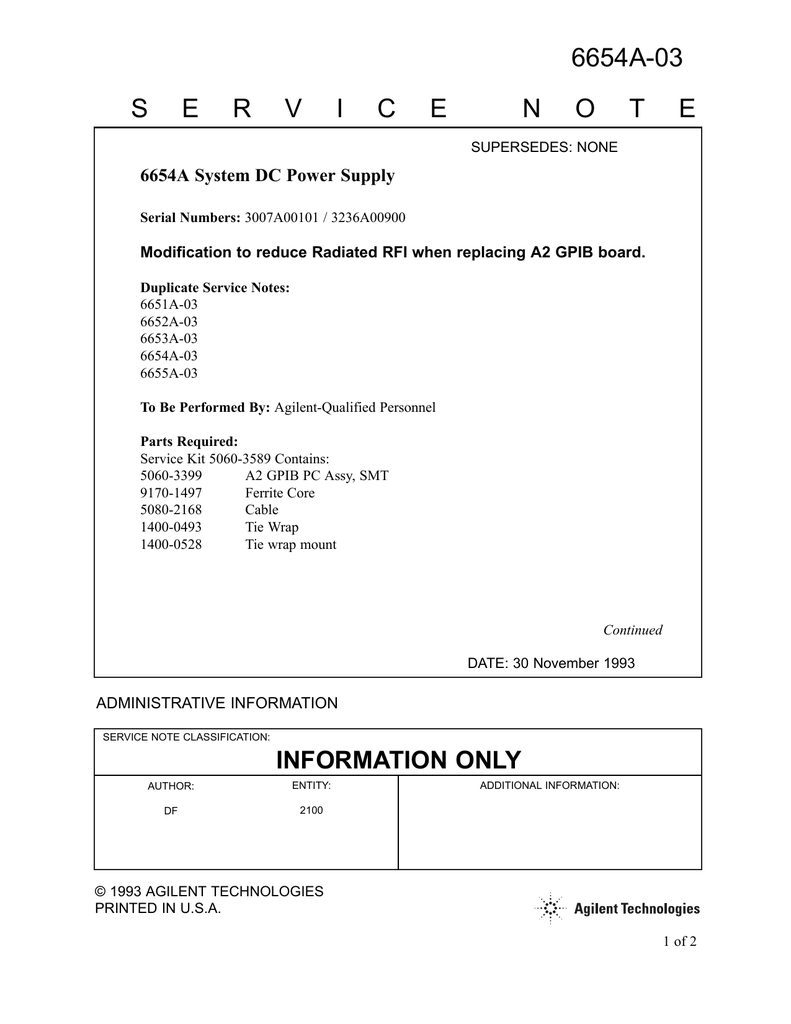 6654A-03
S
E
R
V
I
C
E
N
O
T
E
SUPERSEDES: NONE
6654A System DC Power Supply
Serial Numbers: 3007A00101 / 3236A00900
Modification to reduce Radiated RFI when replacing A2 GPIB board.
Duplicate Service Notes:
6651A-03
6652A-03
6653A-03
6654A-03
6655A-03
To Be Performed By: Agilent-Qualified Personnel
Parts Required:
Service Kit 5060-3589 Contains:
5060-3399
A2 GPIB PC Assy, SMT
9170-1497
Ferrite Core
5080-2168
Cable
1400-0493
Tie Wrap
1400-0528
Tie wrap mount
Continued
DATE: 30 November 1993
ADMINISTRATIVE INFORMATION
SERVICE NOTE CLASSIFICATION:
INFORMATION ONLY
AUTHOR:
ENTITY:
DF
2100
ADDITIONAL INFORMATION:
© 1993 AGILENT TECHNOLOGIES
PRINTED IN U.S.A.
1 of 2
Page 2
Service Note 6654A-03
Situation:
The A2 GPIB board has changed from a hole through pc assembly to Surface Mount.
The new assembly 5060-3399 is a direct replacement for 5060-3317. When replacing
the older assembly, a ferrite core has been added to the cable between the A2 GPIB
board and the A1 Front Panel Board to insure the unit meets the radiated RFI specification.
Solution/Action:
Remove the top cover and replace the A2 pc assembly following the instructions in the
service manual.
Attach the ferrite core to the adhesive backed mount using the tie wrap. Remove the
protective backing and mount this assembly to the back of the front chassis adjacent to
the telephone style connector on the A1 front panel pc board. Remove and discard the
cable connecting two board. Install the new cable passing it through the center of the
ferrite core two times. If the unit already has one core, add the second core in parallel
with the first.

* Your assessment is very important for improving the work of artificial intelligence, which forms the content of this project