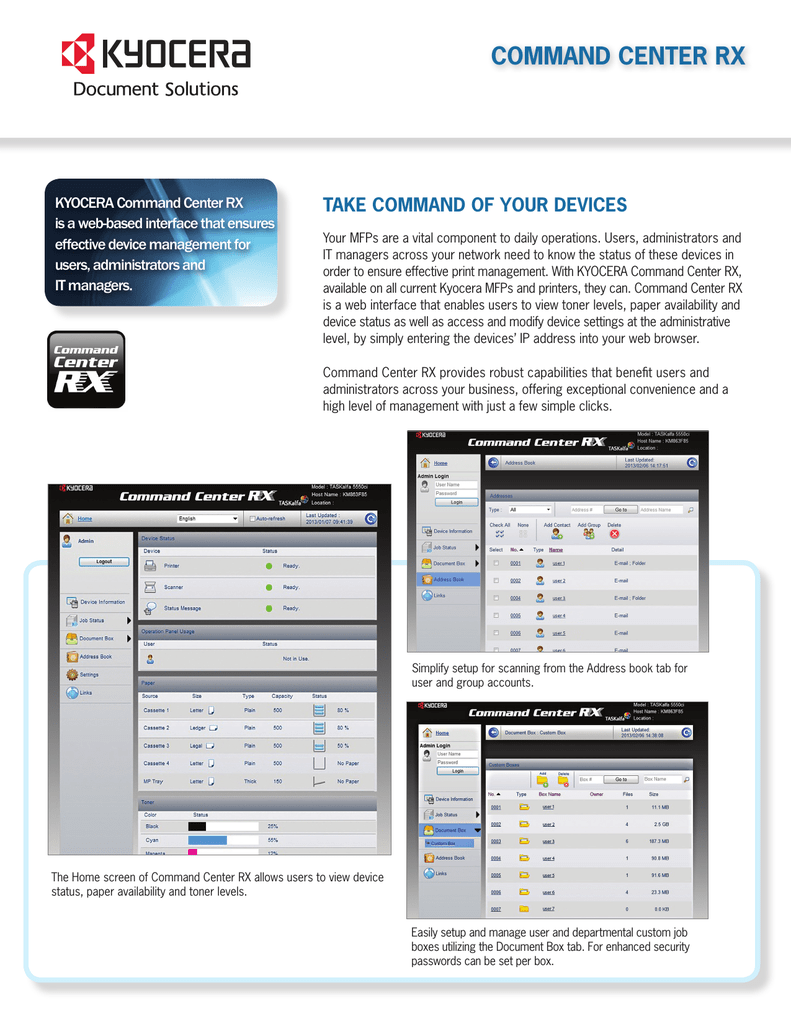 COMMAND CENTER RX
KYOCERA Command Center RX
is a web-based interface that ensures
effective device management for
users, administrators and
IT managers.
TAKE COMMAND OF YOUR DEVICES
Your MFPs are a vital component to daily operations. Users, administrators and
IT managers across your network need to know the status of these devices in
order to ensure effective print management. With KYOCERA Command Center RX,
available on all current Kyocera MFPs and printers, they can. Command Center RX
is a web interface that enables users to view toner levels, paper availability and
device status as well as access and modify device settings at the administrative
level, by simply entering the devices' IP address into your web browser.
Command Center RX provides robust capabilities that benefit users and
administrators across your business, offering exceptional convenience and a
high level of management with just a few simple clicks.
Simplify setup for scanning from the Address book tab for
user and group accounts.
The Home screen of Command Center RX allows users to view device
status, paper availability and toner levels.
Easily setup and manage user and departmental custom job
boxes utilizing the Document Box tab. For enhanced security
passwords can be set per box.
COMMAND CENTER RX MAKES DEVICE MANAGEMENT EASY
ACROSS ALL LEVELS OF YOUR BUSINESS!
•
•
•
Users - Enter your existing custom Document Box to access and manage stored files, as well as check device capabilities.
Administrators - Easily and securely verify and change settings of devices as needed, as well as gain information about scheduled jobs, status of printing and finishing, and meter count data.
IT Managers - gain a quick snapshot of individual devices on the network without ever leaving your desk, so you can easily verify current status, check device settings, monitor toner and paper levels and more.
THE BENEFITS OF KYOCERA COMMAND CENTER RX
•
•
•
•
•
•
Users and administrators can view all jobs – copy, print
and scan – for a specific device from the Job Status tab.
For added security a job log is visible but the documents
themselves are not viewable.
For more information about
KYOCERA Command Center RX, visit
kyoceradocumentsolutions.com
Provides network-wide information on device status, toner levels, paper
availability and more to all users
Administrator authentication prevents unauthorized users from changing
MFP settings
Administrative access to device settings including address book, document
box, device drivers and more helps streamline device management
Easily accessed by entering a device's IP address into a web browser
Provides secure access with HTTPS
Mobile access from smart phones and tablets facilitates remote management
of devices in multiple locations connected through the same network
COMPATIBILITY
Command Center RX is compatible with:
• TASKalfa 7550ci/6550ci/5550ci/4550ci/3550ci/3050ci/2550ci Color MFPs
• TASKalfa 8000i/6500i/5500i/4500i/3500i Black and White MFPs
• ECOSYS FS-C8650DN/C8525MFP/C8520MFP Color Printers/MFPs
• ECOSYS FS-6530MFP/6525MFP/4300DN/4200DN/4100DN/2100DN
Black and White Printers/MFPs
System Requirements
The embedded device web server operates in the following environments:
Protocols
• The TCP/IP protocol installed on the PC.
• An IP address assigned to the printing system.
Web Browser
• Microsoft Internet Explorer 7.0 or later (Microsoft Internet Explorer operates
on Microsoft Windows XP/ Vista/7, and Microsoft Windows Server 2003/2008.)
• Mozilla Firefox 3.5 or later
• Safari 4.0 or later (Safari operates on Apple Mac OS X 10.4 or later.)
• Device network connectivity is required for use of Command Center RX
Specifications and design are subject to change without notice.
For the latest on connectivity visit www.kyoceradocumentsolutions.com
KYOCERA Document Solutions America, Inc. Headquarters: 225 Sand Road, Fairfield, NJ 07004-0008, USA
©2013 KYOCERA Document Solutions America, Inc.

* Your assessment is very important for improving the work of artificial intelligence, which forms the content of this project