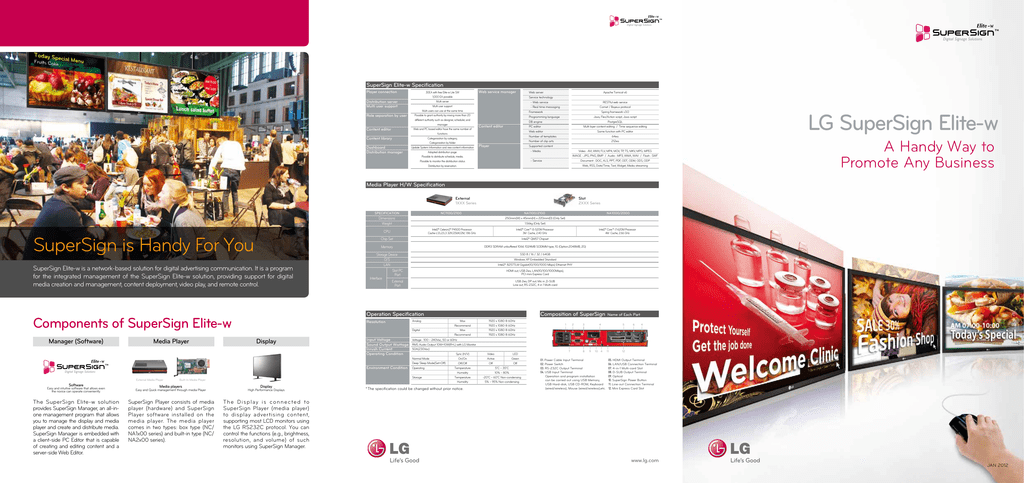 W
W
SuperSign Elite-w Specification
Player connection
Distribution server
Multi user support
Role separation by user
Content editor
Content library
Dashboard
Distribution manager
30EA with free Elite-w Lite SW
1,000 EA possible
Multi server
Multi user support
Multi users can use at the same time
Possible to grant authority by mixing more than 20
different authority such as designer, scheduler, and
manager
Web and PC based editor have the same number of
functions
Categorization by category,
Categorization by folder
Update System Information and new content information
Adopted distribution page.
Possible to distribute schedule, media.
Possible to monitor the distribution status
Distribution by reservation.
Web service manager
Web server
Apache Tomcat v6
Service technology
- Web service
RESTful web service
- Real time messaging
Comet / Bayeux protocol
Framework
Spring framework v3.0
Programming language
Content editor
Java, Flex/Action script, Java script
DB engine
PostgreSQL
PC editor
Multi layer content editing / Time sequence editing
Web editor
Player
Same function with PC editor
Number of templates
64ea
Number of clip arts
212ea
Supported content
- Media
Video : AVI, WMV, FLV, MP4, MOV, TP, TS, MKV, MPG, MPEG
IMAGE : JPG, PNG, BMP / Audio : MP3, WMA, WAV / Flash : SWF
- Service
Document : DOC, XLS, PPT, PDF, ODT, ODM, ODS, ODP
Web, RSS, Date/Time, Text, Widget, Media streaming
LG SuperSign Elite-w
A Handy Way to
Promote Any Business
Media Player H/W Specification
External
1XXX Series
SPECIFICATION
Slot
2XXX Series
NC1100/2100
NA1100/2100
Dimensions
Weight
1.56kg (Only Set)
Intel2® Celeron2® P4500 Processor
Cache-L1/L2/L3 32K/256K/2M, 1.86 GHz
CPU
SuperSign is Handy For You
SuperSign Elite-w is a network-based solution for digital advertising communication. It is a program
for the integrated management of the SuperSign Elite-w solution, providing support for digital
media creation and management, content deployment, video play, and remote control.
Manager (Software)
Media Player
Intel2® QM57 Chipset
Memory
DDR3 SDRAM unbuffered 1066 1024MB SODIMM type, 1G (Option:2048MB, 2G)
Storage Device
O/S
LAN
Slot PC
Part
Interface
External
Part
Resolution
Input Voltage
Sound Output Wattage
Inrush Current
Operating Condition
W
Environment Condition
Software
SSD 8 / 16 / 32 / 64GB
Windows XP Embedded Standard
Intel2® 82577LM Gigabit(10/100/1000 Mbps) Ethernet PHY
HDMI out, USB 2ea, LAN(10/100/1000Mbps),
PCI mini Express Card
USB 2ea, DP out, Mic in ,D-SUB
Line out, RS-232C, 4 in 1 Multi-card
Analog
Digital
Display
Media players
Display
Easy and intuitive software that allows even
the novice can operate conveniently.
Easy and Quick management through media Player
High Performance Displays
The SuperSign Elite-w solution
provides SuperSign Manager, an all-inone management program that allows
you to manage the display and media
player and create and distribute media.
SuperSign Manager is embedded with
a client-side PC Editor that is capable
of creating and editing content and a
server-side Web Editor.
SuperSign Player consists of media
player (hardware) and SuperSign
Player software installed on the
media player. The media player
comes in two types: box type (NC/
NA1x00 series) and built-in type (NC/
NA2x00 series).
The Display is connected to
SuperSign Player (media player)
to display advertising content,
supporting most LCD monitors using
the LG RS232C protocol. You can
control the functions (e.g., brightness,
resolution, and volume) of such
monitors using SuperSign Manager.
Composition of SuperSign
Max
Recommend
Max
Recommend
1920 x 1080 @ 60Hz
1920 x 1080 @ 60Hz
1920 x 1080 @ 60Hz
1920 x 1080 @ 60Hz
Voltage : 100 ~ 240Vac, 50 or 60Hz
RMS Audio Output 10W+10W(R+L) with LG Monitor
50A(230Vac)
Operating
Storage
Built-In Media Player
Intel2® Core™ i7-620M Processor
4M Cache, 2.66 GHz
Chip Set
Normal Mode
Deep Sleep Mode(Set=Off)
External Media Player
Intel2® Core™ i5-520M Processor
3M Cache, 2.40 GHz
Operation Specification
Components of SuperSign Elite-w
NA1000/2000
250mm(W) x 45mm(H) x 220mm(D) (Only Set)
Sync (H/V)
On/On
Off/Off
Temperature
Humidity
Temperature
Humidity
*The specification could be changed without prior notice.
Video
Active
Off
LED
Green
Off
5°C ~ 35°C
10% ~ 80%
-20°C ~ 60°C Non-condensing
5% ~ 95% Non-condensing
1
2
7
3
8
Name of Each Part
4
9
10 4
01. Power Cable Input Terminal
02. Power Switch
03. RS-232C Output Terminal
04. USB Input Terminal
Operation and program installation
can be carried out using USB Memory,
USB Hard-disk, USB CD-ROM, Keyboard
(wired/wireless), Mouse (wired/wireless),etc.
5
11
6
4
12
05. HDMI Output Terminal
06. LAN/USB Connection Terminal
07. 4-in-1 Multi-card Slot
08. D-SUB Output Terminal
09. Optical
10. SuperSign Power Button
11. Line-out Connection Terminal
12. Mini Express Card Slot
www.lg.com
JAN 2012
Fits any place well, the widely used Digital Signage Solution
Media Player
SuperSign Player is a software program used to play digital signage files stored in LG Digital Signage
Media Player. You can play media files such as videos, images, music, flash, and documents transmitted
from SuperSign Manager using SuperSign Player. The media player that comes with high-powered Intel
platform CPU is easy to maintain and repair with detachability on the back of the monitor.
The media player comes in two types: box type (NC/NA1x00 series) and built-in type (NC/NA2x00 series).
External Media Player
Slot Type Media Player
USB Memory
-Content Delivery
-PBP & PIP
-Photo effect
Web-based Digital Signage Software,
SuperSign Elite-w
User-friendly workflow's Digital Signage Software
By installing the software on the web server, the user can access the system everywhere
there is a web browser and use the service.
Media
Player
€
WEB
€
Authoring
WEB
Step 3
SCHEDULES
Step 4
4&-&$5*/(1-":&3
Step 5
%*453*#65*/($0/5&/54
t Select Content or
Schedule
Display
Player
Display
€
WEB
Manager
WEB
You can easily create the contents that you want with various
templates supporting SuperSign Elite-w.
€
€
€
Authoring
Step 2
$3&"5*/($0/5&/54
Supersign
upersign Elite-w software can con
control even the LG displays that have Integrated Media Player Solution
€
€
Server
(PC)
WEB
Step 1
ACCESS & HOME
Free Software
(SuperSign Elite-w Lite)
€
Authoring
System Expansibility
Since the distributed server system is supported, up to approximately 1,000 players can be connected.
Multi-user Access System
Full Version Web Editor
Multiple users can access the server simultaneously and
use the function of SuperSign Elite-w.
Ensure user convenience by realizing all the functions of PC
Edit on Web Edit
Please connect to the web browser first, and
then log on.
You can monitor the overall present situation
of the general system in the user-friendly
home screen. You can also add or delete the
category on the dashboard by setting and set
the location with simple dragging.
ţ Adding
Media Files to the Library
You can add photos, videos, flash files, music, PDFs, and Office files to the
library using the PC Editor.
ţ Adding
Service Content
You can add online content (websites, RSS, and widgets)
and date/time to the Canvas.
ţ Setting
the Timeline
The timeline allows you to set the duration for each content clip so that your media can
be played at the desired time. On the timeline, you can set the start time, duration, and
end time of the content in the zone. You can set the content to play for up to 12 hours.
You can create or modify a schedule to deploy the
content. You can manage schedules you want to
approve, reject, delete, edit in the Schedule details list.
Drag-and-drop the selected item onto a desired date
in the schedule edit area. Schedule management
became easier because you can adjust schedule of
thus selected items up to a unit of 1 second.
You can select 2 types of player,
monitor type and media type to
reproduce contents or control the
selected player. Likewise, you can
control the power and detail functions
of player and display.
User
You can view or manage(approve, reject, and delete) all
Management user accounts.
ţ64&33*()54."/"(&.&/54:45&.
Each user can only perform the functions authorized by
the rights management system. This can give different
rights to each user, thereby enabling effective system
management.
*You can proceed to the next stage only after obtaining approval from the manager.
*Since each page carries consistent layout and same depth, users can easily and quickly use them.
Select Player t
t Select
Additional
function and
distribute
You can distribute content to
players. You can find and view items
(schedules, content, and players)
that are distributed previously or
scheduled for distribution. You can
manage the distribution you want
to approve, reject, or delete in the
Distribution List.