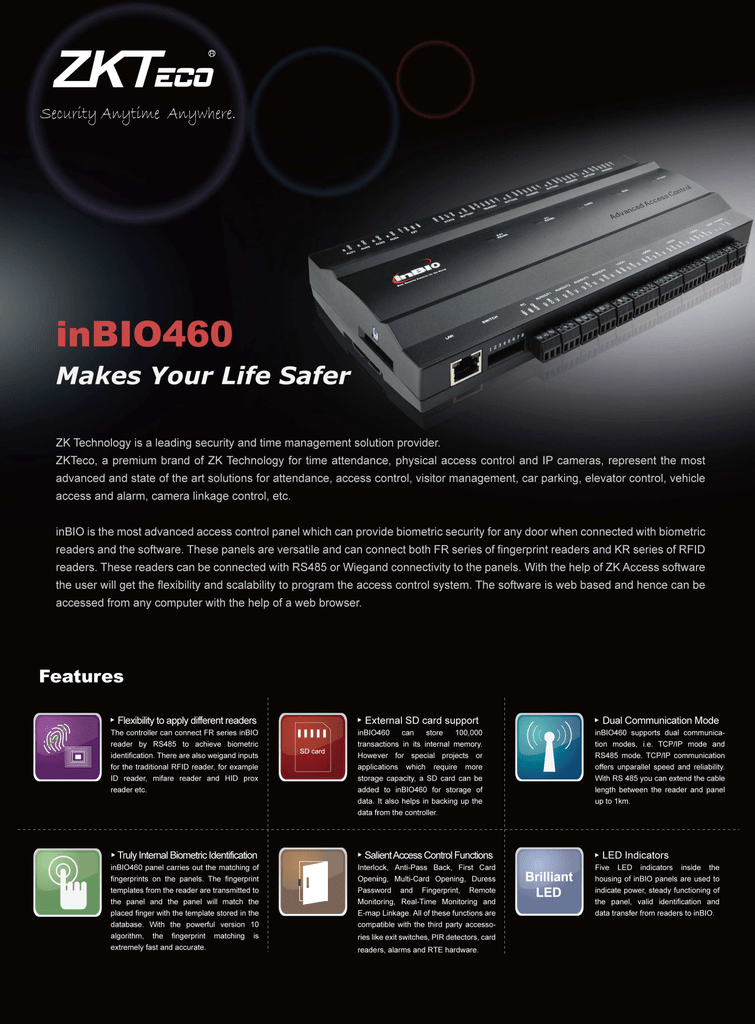 ELU
Security AAT: Anywhere.
inB10460 WN
Makes Your Life Safer \
ZK Technology is a leading security and time management solution provider.
ZKTeco, a premium brand of ZK Technology for time attendance, physical access control and IP cameras, represent the most
advanced and state of the art solutions for attendance, access control, visitor management, car parking, elevator control, vehicle
access and alarm, camera linkage control, etc.
INBIO is the most advanced access control panel which can provide biometric security for any door when connected with biometric
readers and the software. These panels are versatile and can connect both FR series of fingerprint readers and KR series of RFID
readers. These readers can be connected with RS485 or Wiegand connectivity to the panels. With the help of ZK Access software
the user will get the flexibility and scalability to program the access control system. The software is web based and hence can be
accessed from any computer with the help of a web browser.
Features
> Flexibility to apply different readers
The controller can connect FR series inBIO
reader by RS485 to achieve biometric
identification. There are also weigand inputs
for the traditional RFID reader, for example
ID reader, mifare reader and HID prox
reader etc.
> Truly Intemal Biometric Identification
inBIO460 panel carries out the matching of
fingerprints on the panels. The fingerprint
templates from the reader are transmitted to
the panel and the panel will match the
placed finger with the template stored in the
database. With the powerful version 10
algorithm, the fingerprint matching is
extremely fast and accurate.
» External SD card support
inBIO460 can store 100,000
transactions in its internal memory.
However for special projects or
applications which require more
storage capacity, a SD card can be
added to inBIO460 for storage of
data. It also helps in backing up the
data from the controller.
» Salient Access Control Functions
Interlock, Anti-Pass Back, First Card
Opening, Multi-Card Opening, Duress
Password and Fingerprint, Remote
Monitoring, Real-Time Monitoring and
E-map Linkage. All of these functions are
compatible with the third party accesso-
ries like exit switches, PIR detectors, card
readers, alarms and RTE hardware.
> Dual Communication Mode
inBIO460 supports dual communica-
tion modes, i.e. TCP/IP mode and
RS485 mode. TCP/IP communication
offers unparallel speed and reliability.
With RS 485 you can extend the cable
length between the reader and panel
up to 1km.
» LED Indicators
Five LED indicators inside the
housing of inBIO panels are used to
indicate power, steady functioning of
the panel, valid identification and
data transfer from readers to inBIO.
Specifications:
Model inB10460
CPU 32bit MIPS CPU
RAM 32M bits
Flash Memory 128M bits
Fingerprint Capacity 3000
Card Capacity 30,000
Event Buffer 100,000
Power/Current DC 9.6V-14.4V, Rated Max0.5A
Wiegand Reader Port
4nos. (26/34bit Wiegand, 4/8bit Burst for PIN)
RS485 Reader Port
1no. Extended RS485 Port
Communication
RS485, TCP/IP
Baud Rate 38,400bps(Recommended)/9600bps, 19,200bps, 57,600bps (selectable)
12nos. (Exit Button#1, Door Sensor#1; Exit Button#2, Door Sensor#2;
Input Port
Exit Button#3, Door Sensor#3; Exit Button#4, Door Sensor#4,4 Aux input)
Output Port 4nos. (4 FORM-C Relay Output, SPDT 5A@36VDC/8A@30VAC)
4nos. (4 Aux FORM-C Relay Output, SPDT 2A@30VDC)
LED Indicator
LED indication for communication, power, status and valid card read
Operating Temperature
0°C - 55°C
Operating Humidity
10% to 80% relative humidity non-condensing
Dimension (H*W*D)mm
226*106*36 (single board)
400*330*90.5 (with power supply and metal cabinet)
Software
ZKAccess 5.0
Optional Accessories:
Electric Lock
ZK4000 RFID Reader
Power Supply
RS232/485
Converter Alarm
|
0
Dai Ari e TR et de
PTC LotR en Sa A) i Jee
NIN
a
ZKTechnology Inc.
ZK Mansion, Wuhe Rd,Gangtou,Bantian,Buji Town, Longgang
District, Shenzhen China 518129
Tel:86-755-8960 2345/46/47/48
Fax:86-755-8960 2675
www.zksoftware.com
се Ре В
Copyright @2011, ZK Technology, Inc. All rights reserved.
ZK Technology may, at any time and without notice, make changes or
improvements to the products and services offered and/or cease
producing or commercializing them.