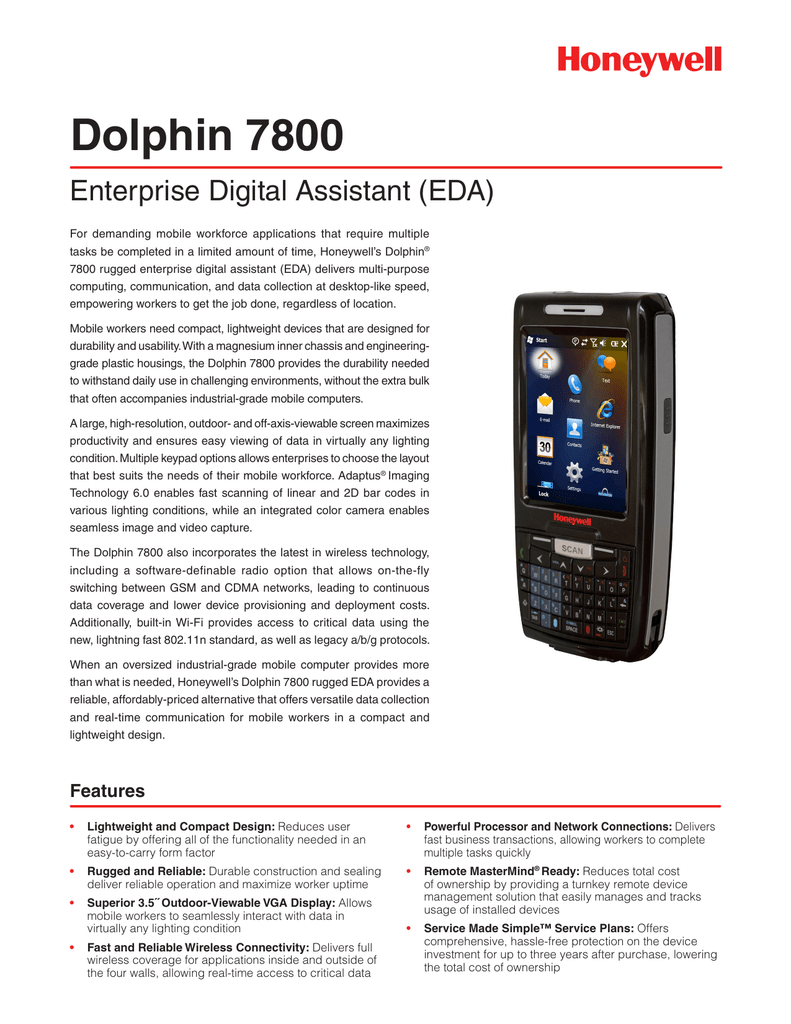 Dolphin 7800
Enterprise Digital Assistant (EDA)
For demanding mobile workforce applications that require multiple
tasks be completed in a limited amount of time, Honeywell's Dolphin®
7800 rugged enterprise digital assistant (EDA) delivers multi-purpose
computing, communication, and data collection at desktop-like speed,
empowering workers to get the job done, regardless of location.
Mobile workers need compact, lightweight devices that are designed for
durability and usability. With a magnesium inner chassis and engineeringgrade plastic housings, the Dolphin 7800 provides the durability needed
to withstand daily use in challenging environments, without the extra bulk
that often accompanies industrial-grade mobile computers.
A large, high-resolution, outdoor- and off-axis-viewable screen maximizes
productivity and ensures easy viewing of data in virtually any lighting
condition. Multiple keypad options allows enterprises to choose the layout
that best suits the needs of their mobile workforce. Adaptus® Imaging
Technology 6.0 enables fast scanning of linear and 2D bar codes in
various lighting conditions, while an integrated color camera enables
seamless image and video capture.
The Dolphin 7800 also incorporates the latest in wireless technology,
including a software-definable radio option that allows on-the-fly
switching between GSM and CDMA networks, leading to continuous
data coverage and lower device provisioning and deployment costs.
Additionally, built-in Wi-Fi provides access to critical data using the
new, lightning fast 802.11n standard, as well as legacy a/b/g protocols.
When an oversized industrial-grade mobile computer provides more
than what is needed, Honeywell's Dolphin 7800 rugged EDA provides a
reliable, affordably-priced alternative that offers versatile data collection
and real-time communication for mobile workers in a compact and
lightweight design.
Features
• Lightweight and Compact Design: Reduces user
fatigue by offering all of the functionality needed in an
easy-to-carry form factor
• Powerful Processor and Network Connections: Delivers
fast business transactions, allowing workers to complete
multiple tasks quickly
• Rugged and Reliable: Durable construction and sealing
deliver reliable operation and maximize worker uptime
• Remote MasterMind® Ready: Reduces total cost
of ownership by providing a turnkey remote device
management solution that easily manages and tracks
usage of installed devices
• Superior 3.5˝ Outdoor-Viewable VGA Display: Allows
mobile workers to seamlessly interact with data in
virtually any lighting condition
• Fast and Reliable Wireless Connectivity: Delivers full
wireless coverage for applications inside and outside of
the four walls, allowing real-time access to critical data
• Service Made Simple™ Service Plans: Offers
comprehensive, hassle-free protection on the device
investment for up to three years after purchase, lowering
the total cost of ownership
Dolphin 7800 Technical Specifications
Mechanical
Dimensions
Standard Battery: 157 mm x 76 mm x 28 mm (6.2˝ x 3.0˝ x 1.1˝)
Extended Battery: 157 mm x 76 mm x 33 mm (6.2˝ x 3.0˝ x 1.3˝)
Weight
Standard Battery: 324g (11.4 oz); Extended Battery: 380 g (13.4 oz)
Environmental
Operating Temperature
-10° to 50°C (14° to 122°F)
Storage Temperature
-20° to 70°C (-13° to 158°F)
Humidity
0 to 95% relative humidity (non-condensing)
Drop
Designed to withstand 5' (1.5m) drops to concrete
Tumble
Designed to withstand up to 1,600 (1m) tumbles per IEC 60068-2-32 specification
ESD
±15KV Air and ±8KV Contact
Environmental Sealing
Independently certified to meet IP64 standards for moisture and particle intrusion
System Architecture
Processor
800MHz TI OMAP
Operating System
Microsoft® Windows® Embedded Handheld 6.5
Memory
256 MB RAM X 512 MB Flash
Display
8.9 cm (3.5˝) VGA color, high resolution, full axis viewing, sunlight readable display
Touch Panel
Industrial touch panel with 4 wire resistive touch and support for finger touch and stylus
Keypad
Standard Keyboards: 30-key numeric and 46-key QWERTY
Audio
Speaker, HAC receiver, microphone, vibrator, echo cancellation, Bluetooth® headset support
I/O Ports
USB 2.0
Camera
3.0 mega pixel camera; autofocus; flash LED
Sensors
3-Axis/2g Accelerometer
Storage Expansion
User accessible microSD slot (SDHC compatible). Please check with your Honeywell representative for available
qualified card options
Battery
Standard: Li-ion 3.7 V, 2300 mAh; Extended: Li-ion 3.7 V, 4000 mAh
Hours of Operation
Standard/Extended: 6.5 hours/12 hours (decoding and sending data over WLAN every 9 seconds)
Extended: 8.5 hours (decoding and sending data over WWAN every 15 seconds, GPS continuously receiving data)
Decode Options
Supports the following Adaptus 6.0 imaging scan engines: N5603-SR, N5603-ER
Decode Capabilities
Decodes standard 1D and 2D bar code symbologies
Development Environment
Honeywell SDK for Microsoft Windows Embedded Handheld 6.5
HSM Application Software
Honeywell Powertools® and Demos, Remote MasterMind™ for Mobility remote device management
Warranty
1 year factory warranty
Wireless Connectivity
WWAN
WLAN
WLAN Security
WPAN
GPS
GSM (Voice and Data): 3.9G–HSPA+ (800/850/1900/1700/2100 MHz), GSM/GPRS/EDGE (850/900/1800/1900 MHz)
CDMA (Voice and Data): EVDO Rev A - 1xRTT/EVDO (800/1900 MHz)
Software definable Gobi 3000 (Data only): 3.9G – HSPA+/UMTS (800/850/900/1700/1900/2100MHz), GSM/GPRS/
EDGE (850/900/1800/1900MHz) and EVDO Rev A - 1xRTT/EVDO (800/1900 MHz)
IEEE 802.11 a/b/g/n; Wi-FiTM certified
WEP, 802.1x, LEAP, TKIP, MD5, EAP-TLS, EAP-TTLS, WPA-PSK, WPA v2.0, PEAP, WAPI, CCXv4
2.4 GHz (ISM Band) Adaptive Frequency Hopping Bluetooth® v2.1 + EDR; Class II: 10m (33') line of sight
Integrated autonomous GPS receiver with built-in Assisted-GPS (A-GPS) services and software utilities
Microsoft, Windows, and the Windows Logo are registered trademarks or trademarks of Microsoft Corporation. The Bluetooth trademarks are owned by Bluetooth SIG, Inc. U.S.A. and licensed
to Honeywell International Inc.
For a complete listing of all compliance approvals and certifications, please visit www.honeywellaidc.com/compliance
For a complete listing of all supported bar code symbologies, please visit www.honeywellaidc.com/symbologies
RoHS
2002/95/EC
For more information:
www.honeywellaidc.com
Honeywell Scanning & Mobility
9680 Old Bailes Road
Fort Mill, SC 29707
800.582.4263
www.honeywell.com
7800-DS Rev C 03/12
© 2012 Honeywell International Inc.