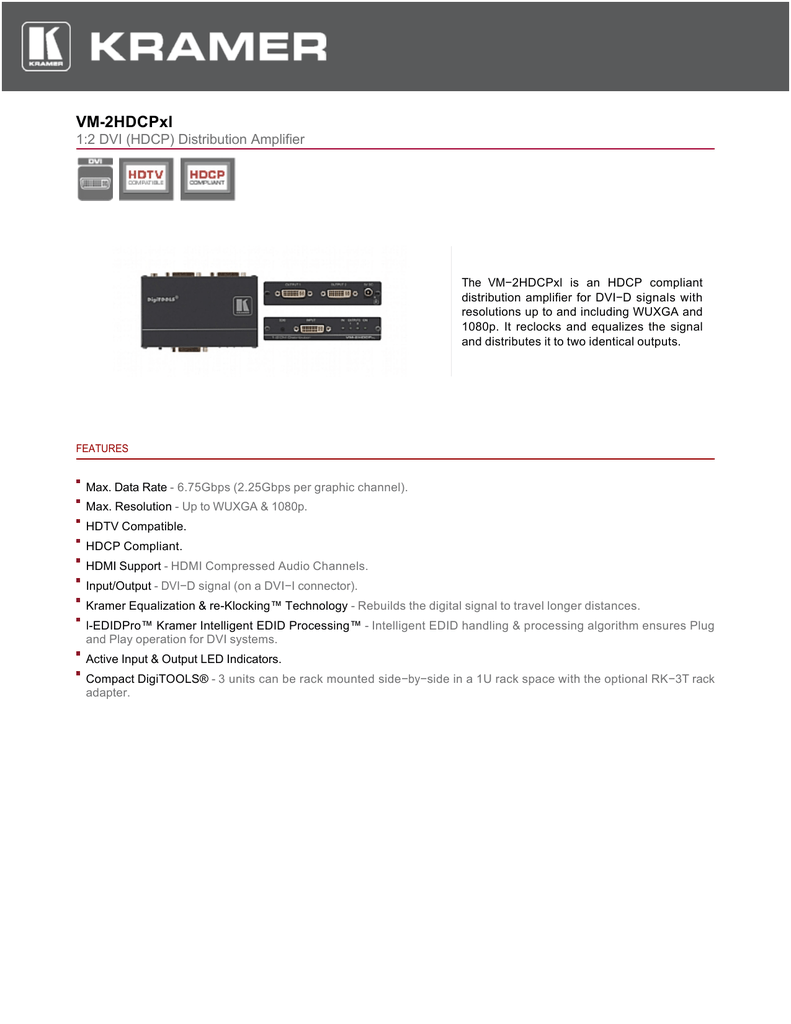 VM-2HDCPxl
1:2 DVI (HDCP) Distribution Amplifier
The VM−2HDCPxl is an HDCP compliant
distribution amplifier for DVI−D signals with
resolutions up to and including WUXGA and
1080p. It reclocks and equalizes the signal
and distributes it to two identical outputs.
FEATURES
Max. Data Rate - 6.75Gbps (2.25Gbps per graphic channel).
Max. Resolution - Up to WUXGA & 1080p.
HDTV Compatible.
HDCP Compliant.
HDMI Support - HDMI Compressed Audio Channels.
Input/Output - DVI−D signal (on a DVI−I connector).
Kramer Equalization & re-Klocking™ Technology - Rebuilds the digital signal to travel longer distances.
I-EDIDPro™ Kramer Intelligent EDID Processing™ - Intelligent EDID handling & processing algorithm ensures Plug
and Play operation for DVI systems.
Active Input & Output LED Indicators.
Compact DigiTOOLS® - 3 units can be rack mounted side−by−side in a 1U rack space with the optional RK−3T rack
adapter.
VM-2HDCPxl
TECHNICAL SPECIFICATIONS
INPUT:
OUTPUTS:
COMPLIANCE WITH STANDARDS:
MAX. RESOLUTION:
MAX. DATA RATE:
CONTROLS:
POWER CONSUMPTION:
INCLUDED ACCESSORIES:
OPTIONS:
PRODUCT DIMENSIONS:
PRODUCT WEIGHT:
SHIPPING DIMENSIONS:
SHIPPING WEIGHT:
1 DVI, 1.2Vpp on a DVI Molex 24−pin female connector; DDC signal 5Vpp (TTL).
2 DVI, 1.2Vpp on DVI Molex 24−pin female connectors; DDC signal 5Vpp (TTL).
Supports DVI 1.1 and HDCP.
Up to WUXGA (1920x1200), 1080p.
6.75Gbps (2.25Gbps per graphic channel).
EDID button for selecting and storing EDID information.
5V DC 1.1A.
Power supply, mounting bracket.
RK−3T 19" rack adapter.
12.00cm x 7.15cm x 2.44cm (4.72" x 2.81" x 0.96" ) W, D, H
0.3kg (0.7lbs) approx.
15.70cm x 12.00cm x 8.70cm (6.18" x 4.72" x 3.43" ) W, D, H
0.6kg (1.3lbs) approx.

* Your assessment is very important for improving the work of artificial intelligence, which forms the content of this project