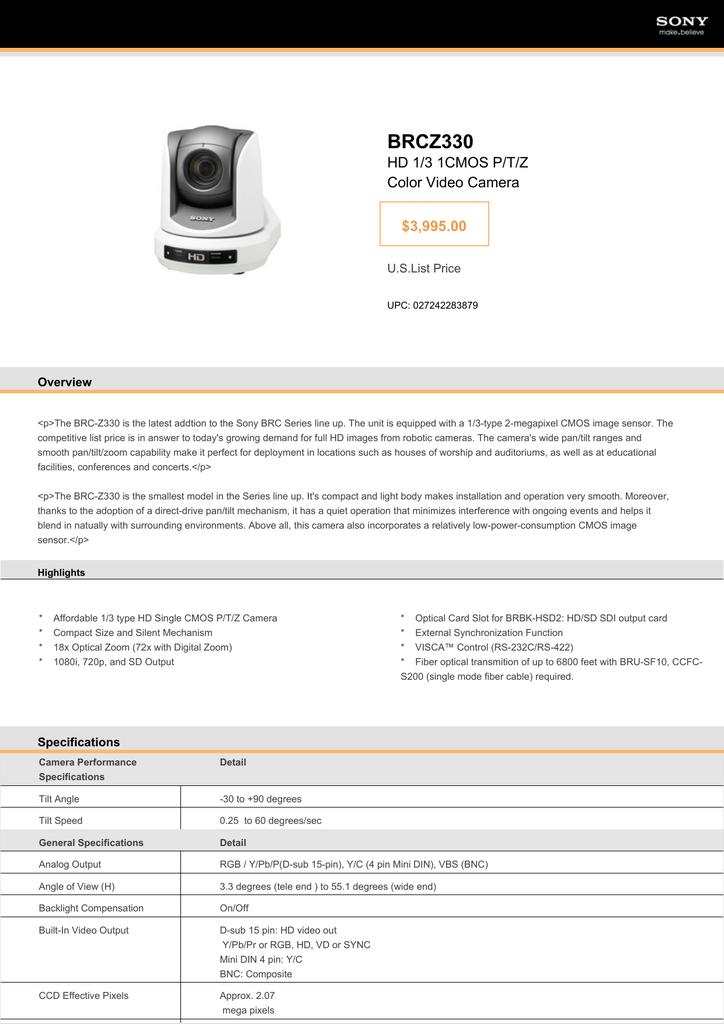 SONY
SONY
BRCZ330
HD 1/3 1CMOS P/T/Z
Color Video Camera
$3,995.00
U.S.List Price
UPC: 027242283879
Overview
<p>The BRC-Z330 is the latest addtion to the Sony BRC Series line up. The unit is equipped with a 1/3-type 2-megapixel CMOS image sensor. The
competitive list price is in answer to today's growing demand for full HD images from robotic cameras. The camera's wide pan/tilt ranges and
smooth pan/tilt/zoom capability make it perfect for deployment in locations such as houses of worship and auditoriums, as well as at educational
facilities, conferences and concerts.</p>
<p>The BRC-Z330 is the smallest model in the Series line up. It's compact and light body makes installation and operation very smooth. Moreover,
thanks to the adoption of a direct-drive pan/tilt mechanism, it has a quiet operation that minimizes interference with ongoing events and helps it
blend in natually with surrounding environments. Above all, this camera also incorporates a relatively low-power-consumption CMOS image
sensor.</p>
Highlights
*
*
*
*
Affordable 1/3 type HD Single CMOS P/T/Z Camera
Compact Size and Silent Mechanism
18x Optical Zoom (72x with Digital Zoom)
1080i, 720p, and SD Output
* Optical Card Slot for BRBK-HSD2: HD/SD SDI output card
* External Synchronization Function
* VISCA™ Control (RS-232C/RS-422)
* Fiber optical transmition of up to 6800 feet with BRU-SF10, CCFCS200 (single mode fiber cable) required.
Specifications
Camera Performance
Specifications
Detail
Tilt Angle
-30 to +90 degrees
Tilt Speed
0.25 to 60 degrees/sec
General Specifications
Detail
Analog Output
RGB / Y/Pb/P(D-sub 15-pin), Y/C (4 pin Mini DIN), VBS (BNC)
Angle of View (H)
3.3 degrees (tele end ) to 55.1 degrees (wide end)
Backlight Compensation
On/Off
Built-In Video Output
D-sub 15 pin: HD video out
Y/Pb/Pr or RGB, HD, VD or SYNC
Mini DIN 4 pin: Y/C
BNC: Composite
CCD Effective Pixels
Approx. 2.07
mega pixels
Camera Control Interface
RS-232C (VISCA protocol)/RS-422 (VISCA protocol)
Dimensions (W x H x D)
160.8 x 186 x 193.4 mm (6 3/8 x 7 3/8 x 7 5/8 inches)
Effective Pixels
Approx. 2.07 mega pixels
Focal Length
f=4.6 to 82.8mm (F1.6 to F2.8)
Focus System
Auto/Manual
Gain
Auto/Manual (-3 to 24 dB and Hyper Gain)
Image Device
1/3 type CMOS x1
Image Flip
On/Off
Imager
CMOS
Lens
18x optical zoom
72x with digital zoom
Carl Zeiss Vario-Sonnar T*
Minimum Illumination
6 lx (50 IRE, F1.6, 24dB)
Minimum Object Distance
1500mm (tele end)
500mm (wide end, limiter on)
10mm (wide, limier off )
ND Filter
Off / 1/4 1/16
Operating Temperature
0 degrees to 40°C (32°F to 104°F)
Optical Image Stabilizer
-
Pan Angle
-175 to + 175 degrees
Pan Speed
0.25 to 60 degrees/sec
Power Consumption
Max. 18W (Without optional card)
Power Requirements
DC 10.8 to 13.2 V
Preset Positions
16 positions
S/N Ratio
50 dB
Shutter Speed
1/60 to 1/10000(59.94i,59.95P)
1/50 to 1/10000(50i,50P)
Signal System
1080/59.94i, 720/59.94P,NTSC or
1080/50i, 720/50P,PAL (switchable)
Storage Temperature
-20 degrees to 60°C (-4°F to 104°F)
Synchronization
Internal/External
Video Output
(With an optional card)
BRBK-HSD2: HD/SD-SDI (There is a limited amount of inventory available for BRBK-HD2: HD SDI)
Weight
1.9 kg (4 lb )
<blank>
White Balance
Auto1
Auto2
Indoor
Outdoor
One-push WB
Manual
Accessories
Optional Accessories
Model:
Description:
U.S.List Price
BRCWMALL
Wall Mount Bracket for Select BRC Cameras
$220.00
BRCWMZ330
Wall Mount Bracket for Select BRC Cameras
$200.00
BRBKSA1
Analog SD output card for the BRU-SF10 and the BRC-Z330.
$1,400.00
BRBKIP10
Sony BRC camera IP control interface card for BRC-H900 & BRC-Z330
cameras
Pricing available upon request
RMBR300
Remote Control Unit for the BRC-300 / H700 / Z700 / Z330 / H900
$1,575.00
BRCSDP12
12" Outdoor Dome Housing BRC300
$750.00
BRBKHSD2
HD/SD SDI Output Card for the BRU-SF10 and the BRC-Z330 P/T/Z
Camera
$1,800.00
CCFCS200
Single Mode Optic-fiber Cable
$1,600.00
BRUSF10
HD Optical Multiplex Unit for BRC-Z330
$2,600.00
BRBKSF1
Optional HD optical multiplex card for the BRC-Z330.
$1,500.00
RMIP10
IP Remote Controller for the BRC-H900, BRC-Z700, and BRC-Z330
Pricing available upon request
Release Date
Type/Size
Resources
Brochure
Description:
brcz330sellsheet_f4-09.pdf
pdf / 1,461K
Disclaimer.pdf
pdf / 9K
Product Manual
Description:
Release Date
Type/Size
BRC-Z330 Operating Manuals
pdf / 1,487K
BRC Series System Guide
pdf / 12,401K
BRC-Z330 command manual
pdf / 441K
Specification Sheet
Description:
Release Date
Type/Size
CCFC-S200 & BRU-SF10
Specification
05/08/2012
pdf / 666K
Release Date
Type/Size
Product Brochure
Description:
BRC Series Brochure
pdf / 1,918K
Sony PTZ Camera Full Line
brochure
pdf / 2,728K
This PDF was printed at sony.com/professional. Copyright 2011, Sony Electronics Inc All Rights Reserved.

* Your assessment is very important for improving the work of artificial intelligence, which forms the content of this project