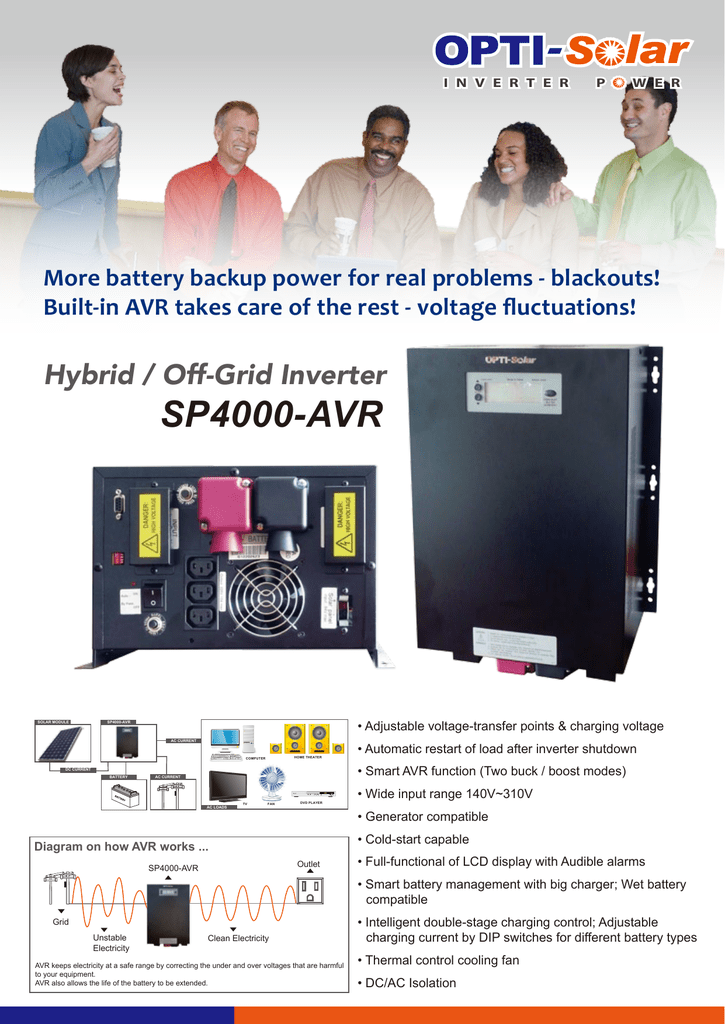 I N V E R T E R
P
W E R
More battery backup power for real problems - blackouts!
Built-in AVR takes care of the rest - voltage fluctuations!
Hybrid / Off-Grid Inverter
SP4000-AVR
SOLAR MODULE
• Adjustable voltage-transfer points & charging voltage
SP4000-AVR
AC CURRENT
HOME THEATER
COMPUTER
• Smart AVR function (Two buck / boost modes)
DC CURRENT
BATTERY
• Automatic restart of load after inverter shutdown
AC CURRENT
AC LOADS
TV
FAN
DVD PLAYER
• Generator compatible
• Cold-start capable
Diagram on how AVR works ...
Outlet
SP4000-AVR
• Wide input range 140V~310V
• Full-functional of LCD display with Audible alarms
• Smart battery management with big charger; Wet battery
compatible
Grid
Unstable
Electricity
Clean Electricity
AVR keeps electricity at a safe range by correcting the under and over voltages that are harmful
to your equipment.
AVR also allows the life of the battery to be extended.
• Intelligent double-stage charging control; Adjustable
charging current by DIP switches for different battery types
• Thermal control cooling fan
• DC/AC Isolation
Hybrid / Off-Grid Inverter
I N V E R T E R
P
W E R
SP4000-AVR
Input
Nominal Voltage
Input Frequency
Efficiency (Normal mode)
Noise Filtering
Overcurrent protection
Voltage Range
230V
47Hz ~ 65Hz, 50/60Hz auto-sensing
97%
Full time EMI/RFI filtering
Re-settable overcurrent protector
140V ~ 310V
Enhanced Buck: +28% of selected nominal voltage
Buck mode: +10% of selected nominal voltage
Boost mode: -10% of selected nominal voltage
Enhanced Boost: -25% of selected nominal voltage
440 Joules
AVR Range (2 Bucks, 2 Boosts)
Surge Protection
Output
Power Level at nominal input
Output Voltage
Voltage Waveform
Crest Factor
3000W
230V
Pure Sine wave
3:1
Auto Select for 50/60Hz
47Hz ~ 55Hz for 50Hz nominal
56Hz ~ 65Hz for 60Hz nominal
±10% nominal voltage
±3% of selected output voltage (adjustable with the remote set-up software)
Blackout: 3ms typical
Over- and under-voltages: 1ms typical
Battery mode to Normal mode: 1ms typical
Overload alarm level 100% ~ 120%
Overload shutdown level 120% ~ 190%
(Adjustable by using the remote set-up software)
Output Frequency (Synchronized to Mains)
Regulation (Nominal)
Regulation (Battery mode)
Transfer time
Overcurrent protection
Battery
Battery type
Voltage
Charging method
Maximum charging current
Average charging voltage for each battery
Protection
Monitoring
Lead-Acid 50Ah ~ 500Ah (Recommended)
48Vdc
Smart pulse charging with two charging modes: Quick charging when battery is not fully charged, trickle
charging when battery is 90% fully charged.
30A
Quick charging mode: 14V maximum.
Trickle charging mode: 13.5V (adjustable with the remote set-up software)
Overcurrent protection & charging overvoltage protection (SCR control)
Thermal protection (CPU control)
When the temperature inside the unit is over 45°C, the charger stops charging for 2 minutes followed by 2
minutes charging. The cycle will repeat until the temperature is lower than 44°C.
Smart monitoring & warning for failed battery or open-circuit battery.
Battery auto-detection each time at power ON or every 6 days.
Solar Charger (optional)
Rating voltage
DC input range
Charging method
Charging voltage
Power rating
48V
48 ~ 84Vdc
Constant voltage with current limited by PWM control
54Vdc
1000W (54Vdc @ 18.5A)
DC input polarity protection, DC input short circuit protection (when battery is connected), DC output
overcurrent protection
Protection
Communication & Management
Standard Interface port
Optional Interface port
Control panel
UPSilon2000 compatible; optional for RS232 and/or USB.
RJ45 (Surge protection), DB9, SNMP (external type)
LCD
Alarm on battery: Low battery & Battery over voltage
Alarm on abnormal operation: Overload, Short-circuit, & Overheat
1% to 14% of full load (adjustable by using the remote set-up software)
The default setting is OFF.
Auto on/off, controlled by temperature & operation mode
Audible alarm
Green mode function (Auto-shut-off in blackout)
Cooling fan control
Environmental
Operating Temperature
Transit/Storage Temperature
Relative Humidity
Operating Altitude
Physical
Dimensions
Unit / Shipping (D×H×W)
Weight (Net / Gross)
Packing
OPTI-Solar USA:
Tel: +1-909-869-5700
Fax: +1-909-869-5730
info@opti-solar.com
Up to 1500 meters: 0°C to 40°C (32°F to 104°F)
-15°C to 55°C (5°F to 131°F)
5 - 95% non condensing
0 ~ 3000 meters
22×44×27cm / 36×61×41cm
38kg / 41kg
Export carton for each unit, 16 - 30 units per pallet
OPTI-Solar Australia & New Zealand:
Tel: +886-2-2246-7272
Fax: +886-2-2246-7312
info@opti-solar.com
OPTI-Solar Germany:
Tel: +886-2-2246-7272
Fax: +886-2-2246-7312
info@opti-solar.com
OPTI-Solar Middle East:
Tel: +9714-8819-838
Fax: +9714-8819-938
info@opti-solar.com
OPTI-Solar Japan:
Tel: +81-3-3629-5782
Fax: +81-3-5682-0652
info@opti-solar.com
OPTI-Solar Asia:
Tel: +886-2-2246-7272
Fax: +886-2-2246-7312
info@opti-solar.com
©2012 OPTI International Corporation. Names and trademarks herein are the property of their respective companies.
w w w. o p t i - s o l a r. c o m
USA / Australia & New Zealand / Europe / Middle East / Asia
Use recycled paper for a green future.

* Your assessment is very important for improving the work of artificial intelligence, which forms the content of this project