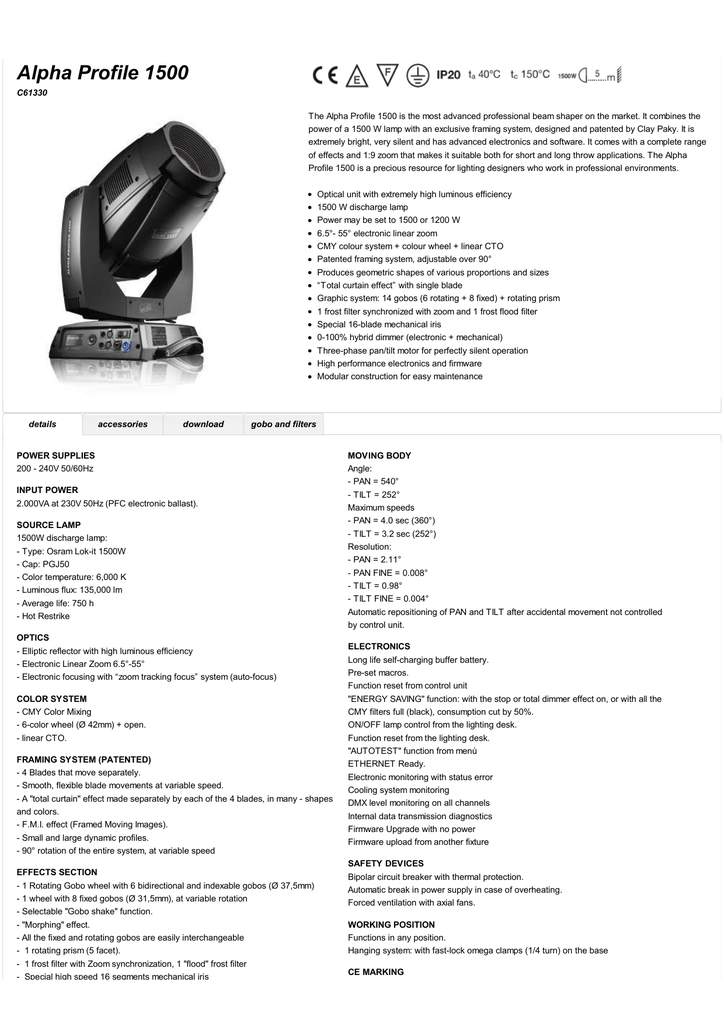 Alpha Profile 1500
C61330
The Alpha Profile 1500 is the most advanced professional beam shaper on the market. It combines the
power of a 1500 W lamp with an exclusive framing system, designed and patented by Clay Paky. It is
extremely bright, very silent and has advanced electronics and software. It comes with a complete range
of effects and 1:9 zoom that makes it suitable both for short and long throw applications. The Alpha
Profile 1500 is a precious resource for lighting designers who work in professional environments.
Optical unit with extremely high luminous efficiency
1500 W discharge lamp
Power may be set to 1500 or 1200 W
6.5°- 55° electronic linear zoom
CMY colour system + colour wheel + linear CTO
Patented framing system, adjustable over 90°
Produces geometric shapes of various proportions and sizes
"Total curtain effect" with single blade
Graphic system: 14 gobos (6 rotating + 8 fixed) + rotating prism
1 frost filter synchronized with zoom and 1 frost flood filter
Special 16-blade mechanical iris
0-100% hybrid dimmer (electronic + mechanical)
Three-phase pan/tilt motor for perfectly silent operation
High performance electronics and firmware
Modular construction for easy maintenance
details
accessories
download
gobo and filters
POWER SUPPLIES
200 - 240V 50/60Hz
INPUT POWER
2.000VA at 230V 50Hz (PFC electronic ballast).
SOURCE LAMP
1500W discharge lamp:
- Type: Osram Lok-it 1500W
- Cap: PGJ50
- Color temperature: 6,000 K
- Luminous flux: 135,000 lm
- Average life: 750 h
- Hot Restrike
OPTICS
- Elliptic reflector with high luminous efficiency
- Electronic Linear Zoom 6.5°-55°
- Electronic focusing with "zoom tracking focus" system (auto-focus)
COLOR SYSTEM
- CMY Color Mixing
- 6-color wheel (Ø 42mm) + open.
- linear CTO.
FRAMING SYSTEM (PATENTED)
- 4 Blades that move separately.
- Smooth, flexible blade movements at variable speed.
- A "total curtain" effect made separately by each of the 4 blades, in many - shapes
and colors.
- F.M.I. effect (Framed Moving Images).
- Small and large dynamic profiles.
- 90° rotation of the entire system, at variable speed
EFFECTS SECTION
- 1 Rotating Gobo wheel with 6 bidirectional and indexable gobos (Ø 37,5mm)
- 1 wheel with 8 fixed gobos (Ø 31,5mm), at variable rotation
- Selectable "Gobo shake" function.
- "Morphing" effect.
- All the fixed and rotating gobos are easily interchangeable
- 1 rotating prism (5 facet).
- 1 frost filter with Zoom synchronization, 1 "flood" frost filter
- Special high speed 16 segments mechanical iris
MOVING BODY
Angle:
- PAN = 540°
- TILT = 252°
Maximum speeds
- PAN = 4.0 sec (360°)
- TILT = 3.2 sec (252°)
Resolution:
- PAN = 2.11°
- PAN FINE = 0.008°
- TILT = 0.98°
- TILT FINE = 0.004°
Automatic repositioning of PAN and TILT after accidental movement not controlled
by control unit.
ELECTRONICS
Long life self-charging buffer battery.
Pre-set macros.
Function reset from control unit
"ENERGY SAVING" function: with the stop or total dimmer effect on, or with all the
CMY filters full (black), consumption cut by 50%.
ON/OFF lamp control from the lighting desk.
Function reset from the lighting desk.
"AUTOTEST" function from menù
ETHERNET Ready.
Electronic monitoring with status error
Cooling system monitoring
DMX level monitoring on all channels
Internal data transmission diagnostics
Firmware Upgrade with no power
Firmware upload from another fixture
SAFETY DEVICES
Bipolar circuit breaker with thermal protection.
Automatic break in power supply in case of overheating.
Forced ventilation with axial fans.
WORKING POSITION
Functions in any position.
Hanging system: with fast-lock omega clamps (1/4 turn) on the base
CE MARKING
- Special high speed 16 segments mechanical iris
- Hybrid 0-100% dimmer (electronic + mechanical)
- Stop / strobe effect.
In conformity with the European Union Low Voltage Directive 2006/95/CE and
Electromagnetic compatibility Directive 2004/108/CE.
CONTROL AND PROGRAMMING
WEIGHT
49,5 Kg (109.13 lbs)
39/43 DMX 512 control channels
DMX protocol signal: USITT DMX 512
Display: Graphic LCD backlit b/w Display
Pan/Tilt Resolution: 16 bit
Gobo Indexing Resolution: 16 bit
Focus Indexing Resolution: 16 bit
Dimmer Resolution: 16 bit
Movement control: vectorial
DMX signal connection: 3 and 5 pole XLR input and output
Software upload through DMX input
BODY
Aluminium structure with die-cast plastic cover.
Two side handles for transportation.
PAN and TILT lock for transport and maintenance.

* Your assessment is very important for improving the work of artificial intelligence, which forms the content of this project