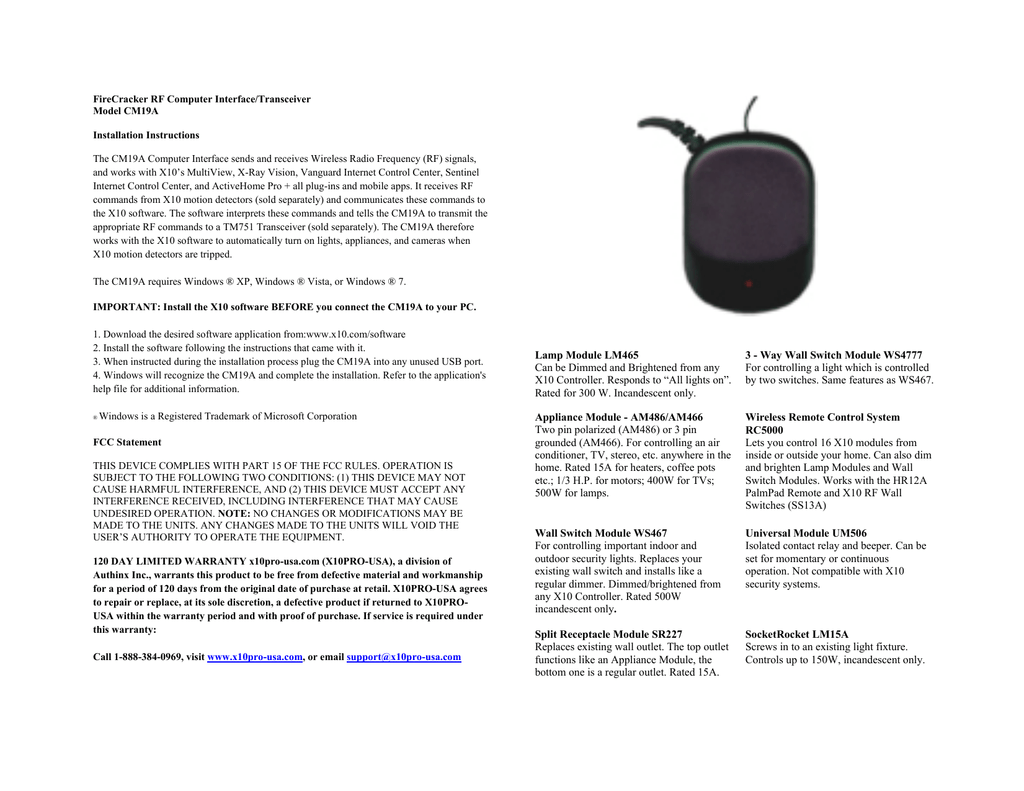 FireCracker RF Computer Interface/Transceiver
Model CM19A
Installation Instructions
The CM19A Computer Interface sends and receives Wireless Radio Frequency (RF) signals,
and works with X10's MultiView, X-Ray Vision, Vanguard Internet Control Center, Sentinel
Internet Control Center, and ActiveHome Pro + all plug-ins and mobile apps. It receives RF
commands from X10 motion detectors (sold separately) and communicates these commands to
the X10 software. The software interprets these commands and tells the CM19A to transmit the
appropriate RF commands to a TM751 Transceiver (sold separately). The CM19A therefore
works with the X10 software to automatically turn on lights, appliances, and cameras when
X10 motion detectors are tripped.
The CM19A requires Windows ® XP, Windows ® Vista, or Windows ® 7.
IMPORTANT: Install the X10 software BEFORE you connect the CM19A to your PC.
1. Download the desired software application from:www.x10.com/software
2. Install the software following the instructions that came with it.
3. When instructed during the installation process plug the CM19A into any unused USB port.
4. Windows will recognize the CM19A and complete the installation. Refer to the application's
help file for additional information.
®
Windows is a Registered Trademark of Microsoft Corporation
FCC Statement
THIS DEVICE COMPLIES WITH PART 15 OF THE FCC RULES. OPERATION IS
SUBJECT TO THE FOLLOWING TWO CONDITIONS: (1) THIS DEVICE MAY NOT
CAUSE HARMFUL INTERFERENCE, AND (2) THIS DEVICE MUST ACCEPT ANY
INTERFERENCE RECEIVED, INCLUDING INTERFERENCE THAT MAY CAUSE
UNDESIRED OPERATION. NOTE: NO CHANGES OR MODIFICATIONS MAY BE
MADE TO THE UNITS. ANY CHANGES MADE TO THE UNITS WILL VOID THE
USER'S AUTHORITY TO OPERATE THE EQUIPMENT.
120 DAY LIMITED WARRANTY x10pro-usa.com (X10PRO-USA), a division of
Authinx Inc., warrants this product to be free from defective material and workmanship
for a period of 120 days from the original date of purchase at retail. X10PRO-USA agrees
to repair or replace, at its sole discretion, a defective product if returned to X10PROUSA within the warranty period and with proof of purchase. If service is required under
this warranty:
Call 1-888-384-0969, visit www.x10pro-usa.com, or email support@x10pro-usa.com
Lamp Module LM465
Can be Dimmed and Brightened from any
X10 Controller. Responds to "All lights on".
Rated for 300 W. Incandescent only.
3 - Way Wall Switch Module WS4777
For controlling a light which is controlled
by two switches. Same features as WS467.
Appliance Module - AM486/AM466
Two pin polarized (AM486) or 3 pin
grounded (AM466). For controlling an air
conditioner, TV, stereo, etc. anywhere in the
home. Rated 15A for heaters, coffee pots
etc.; 1/3 H.P. for motors; 400W for TVs;
500W for lamps.
Wireless Remote Control System
RC5000
Lets you control 16 X10 modules from
inside or outside your home. Can also dim
and brighten Lamp Modules and Wall
Switch Modules. Works with the HR12A
PalmPad Remote and X10 RF Wall
Switches (SS13A)
Wall Switch Module WS467
For controlling important indoor and
outdoor security lights. Replaces your
existing wall switch and installs like a
regular dimmer. Dimmed/brightened from
any X10 Controller. Rated 500W
incandescent only.
Universal Module UM506
Isolated contact relay and beeper. Can be
set for momentary or continuous
operation. Not compatible with X10
security systems.
Split Receptacle Module SR227
Replaces existing wall outlet. The top outlet
functions like an Appliance Module, the
bottom one is a regular outlet. Rated 15A.
SocketRocket LM15A
Screws in to an existing light fixture.
Controls up to 150W, incandescent only.

* Your assessment is very important for improving the work of artificial intelligence, which forms the content of this project