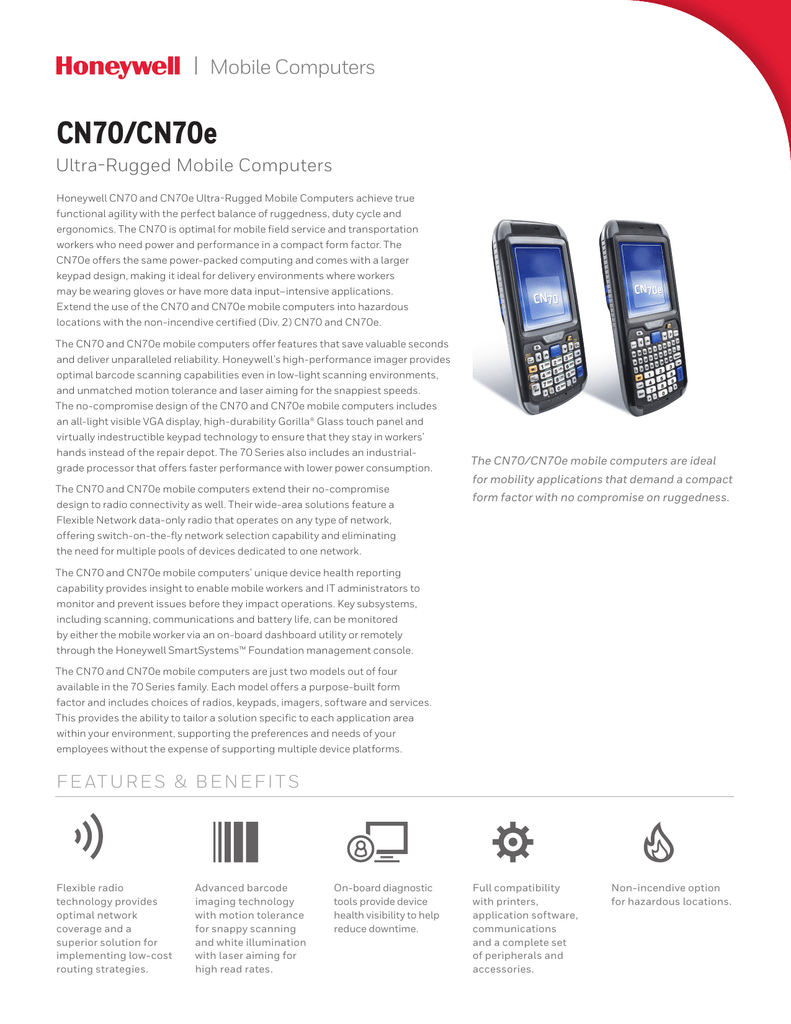 Mobile Computers
CN70/CN70e
Ultra-Rugged Mobile Computers
Honeywell CN70 and CN70e Ultra-Rugged Mobile Computers achieve true
functional agility with the perfect balance of ruggedness, duty cycle and
ergonomics. The CN70 is optimal for mobile field service and transportation
workers who need power and performance in a compact form factor. The
CN70e offers the same power-packed computing and comes with a larger
keypad design, making it ideal for delivery environments where workers
may be wearing gloves or have more data input–intensive applications.
Extend the use of the CN70 and CN70e mobile computers into hazardous
locations with the non-incendive certified (Div. 2) CN70 and CN70e.
The CN70 and CN70e mobile computers offer features that save valuable seconds
and deliver unparalleled reliability. Honeywell's high-performance imager provides
optimal barcode scanning capabilities even in low-light scanning environments,
and unmatched motion tolerance and laser aiming for the snappiest speeds.
The no-compromise design of the CN70 and CN70e mobile computers includes
an all-light visible VGA display, high-durability Gorilla® Glass touch panel and
virtually indestructible keypad technology to ensure that they stay in workers'
hands instead of the repair depot. The 70 Series also includes an industrialgrade processor that offers faster performance with lower power consumption.
The CN70 and CN70e mobile computers extend their no-compromise
design to radio connectivity as well. Their wide-area solutions feature a
Flexible Network data-only radio that operates on any type of network,
offering switch-on-the-fly network selection capability and eliminating
the need for multiple pools of devices dedicated to one network.
The CN70/CN70e mobile computers are ideal
for mobility applications that demand a compact
form factor with no compromise on ruggedness.
The CN70 and CN70e mobile computers' unique device health reporting
capability provides insight to enable mobile workers and IT administrators to
monitor and prevent issues before they impact operations. Key subsystems,
including scanning, communications and battery life, can be monitored
by either the mobile worker via an on-board dashboard utility or remotely
through the Honeywell SmartSystems™ Foundation management console.
The CN70 and CN70e mobile computers are just two models out of four
available in the 70 Series family. Each model offers a purpose-built form
factor and includes choices of radios, keypads, imagers, software and services.
This provides the ability to tailor a solution specific to each application area
within your environment, supporting the preferences and needs of your
employees without the expense of supporting multiple device platforms.
F E AT U R E S & B E N E F I T S
Flexible radio
technology provides
optimal network
coverage and a
superior solution for
implementing low-cost
routing strategies.
Advanced barcode
imaging technology
with motion tolerance
for snappy scanning
and white illumination
with laser aiming for
high read rates.
On-board diagnostic
tools provide device
health visibility to help
reduce downtime.
Full compatibility
with printers,
application software,
communications
and a complete set
of peripherals and
accessories.
Non-incendive option
for hazardous locations.
CN70/CN70e Technical Specifications
PHYSICAL CHARACTERISTICS
STANDARD COMMUNICATIONS
KEYPAD OPTIONS
CN70 Dimensions with Battery (L x W x D):
16.9 cm x 8.0 cm x 3.4 cm
(6.65 in x 3.15 in x 1.34 in)
Weight: 450 g (15.9 oz) with battery
CN70e Dimensions with Battery (L x W x D):
19.5 cm x 8.0 cm x 3.4 cm
(7.66 in x 3.15 in x 1.34 in)
Weight: 491 g (17.3 oz) with battery
USB – Full Speed 2.0 Host, USB – Full Speed 2.0
Client IrDA
All keypad options feature
hard keycaps with
laser-etched legends.
ENVIRONMENTAL
Operating Temperature: -20°C to +60°C
(-4°F to +140°F)
Storage Temperature: -30°C to +70°C
(-22°F to +158°F)
Charging Temperature: +5°C to +35°C
(41°F to 95°F)
Relative Humidity: Non-condensing, 95%
Rain and Dust Resistance: IP67
Drop Specification: 2.4 m (8 ft) to concrete per
MILSTD 810G; 1.8 m (6 ft) to concrete across
operating temperature range per MIL-STD
810G; 2,000 (1 m) tumbles per IEC 60068-2-32
specification
Electrostatic Discharge: +/-15 kV air discharge;
+/-8 kV direct discharge
POWER
Battery Pack: 3.7 V, 4000 mAh; IEEE 1725
compliant, Li-Ion, removable, rechargeable
OPERATING SYSTEM
Microsoft® Windows® Embedded Handheld 6.5
Texas Instruments 1 GHz OMAP multi-engine
processor architecture
MEMORY AND STORAGE
RAM: 512 MB
ROM: 1 GB Flash
Customer-accessible micro-SD slot for removable
memory cards up to 32 GB
DISPLAY
8.9 cm (3.5 in) Transflective VGA
480 x 640 pixels
65,536 (16-bit RGB) colors
High-durability touch screen
LED backlight
Ambient light sensor
SOFTWARE APPLICATIONS AND
COMPONENTS
Optional Honeywell Enterprise Client Pack
(Terminal Emulation HTML5 Browser)
CN70:
Numeric keypad with
backlit shifted plane
legends
DATA MANAGEMENT
Skynax® Mobile Communications
INTEGRATED RADIOS
Wireless WAN Options
Data and Voice Options
UMTS/HSUPA
UMTS Frequencies: 800, 850, 900, 1900,
2100 MHz
GSM/GPRS Frequencies: 850, 900, 1800,
1900 MHz
Max Speeds (Network Dependent):
Uplink – 5.76 Mbps; Downlink – 7.2 Mbps
CDMA/EVDO Rev. A
CDMA Frequencies: 800, 1900 MHz
Max Speeds (Network Dependent):
Uplink – 1.8 Mbps; Downlink – 3.1 Mbps
Data-Only Option
Flexible Network
UMTS/HSPA+ Frequencies: 800, 850, 900,
1700, 1900, 2100 MHz
GSM/GPRS/EDGE Frequencies: 850, 900,
1800, 1900 MHz
Max Speeds (Network Dependent):
Uplink – 5.76 Mbps; Downlink – 14.4 Mbps
CDMA/EVDO Frequencies: 800, 1900 MHz
Max Speeds (Network Dependent):
Uplink – 1.8 Mbps; Downlink – 3.1 Mbps
Wireless LAN: IEEE® 802.11 a/b/g/n Dual Band
WLAN
Security: Wi-Fi Certified for WPA and
WPA2, WAPI Certified
Authentication: 802.1x
Cisco® Compatibility: CCXv4
Encryption: WEP (64- or 128-bit), AES, TKIP
Wireless PAN: Integrated Bluetooth® Class II,
Version 2.1+EDR
Operating Channels: 0 to 78 (2402–2480 MHz)
Data Rates: 1, 2, 3 Mbps
QWERTY keypad
CN70e: Large numeric
keypad with backlit
shifted plane legends
QWERTY keypad
Calculator with backlit
shifted plane legends
CN70/CN70e Technical Specifications
GLOBAL POSITIONING SYSTEM
GLOBAL SERVICES CONTACT FOR SUPPORT
12-channel integrated GPS;
network-independent autonomous mode; supports
assisted operation via WAN
www.hsmcontactsupport.com
Public Knowledgebase Articles:
www.hsmknowledgebase.com
SENSOR TECHNOLOGY
Accelerometer: Embedded accelerometer enables
automatic or application-specific features such as
screen rotation or system suspend
AUDIO SUPPORT
Supports VoIP/speech recognition/push-totalk applications; front and rear speakers; rear
speaker>80 dB at 40 cm (15.7 in); front receiver
and front panel microphone for handset audio
communication and audio recording; wireless
Bluetooth headset support; wired headset support
via snap-on adapter
INTEGRATED SCANNER OPTIONS
EA30 High-Performance Motion-Tolerant 2D
Imager: white LED illumination; red laser aimer
optimized for all lighting conditions; 35-degree
downward scan angle; capable of scanning all
common 1D and 2D barcodes; 1D as small as
5 mil; PDF as small as 6.6 mil; data matrix as small
as 7.5 mil; standard UPC codes from distances
up to 33 cm (13 in)
INTEGRATED RFID READER OPTION
The CN70 and CN70e mobile computers
are available with integrated UHF RFID
reading capabilities.
INTEGRATED CAMERA OPTION
5-megapixel auto-focus color camera with
LED flash
Telephone support available in North America
(800-782-4263). Outside of this area, contact your
local representative.
ACCESSORIES
FlexDock modular docking system, vehicle dock,
vehicle holder, snap-on adaptors, removable scan
handle, magnetic stripe reader, 6822 full-page
printer and PW50 workboard printer
REGULATORY APPROVALS AND COMPLIANCE
1000CP01, 1000CP01U, 1000CP01U-H1,
1000CP01C-H1, 1000CP02, 1000CP02U,
1000CP02U-H1, 1000CP02C-H1
Safety: cULus Listed, DEMKO, BSMI
EMC: Class B – FCC/ICES/EN, GOST-R
Radio: FCC w/HAC, Industry Canada, CE0981,
A-tick (AU), C-tick (NZ), NCC, OFTA, IDA, ICASA,
POSTEL, NTC, ETA, SIRIM, ANATEL, 61 countries
in total
Environmental: EU Directives-WEEE; RoHS;
Batteries and Accumulators; Packaging and
Waste Packaging
NON-INCENDIVE VERSION
70 Series family with NI certification complies with
the following:
Suitable for use in Division 2 locations
Safety: cULus Listing – ISA/ANSI 12.12.01
Gases: Class I – Groups A, B, C, D
Dusts: Class II – Groups F, G
Fibers and Flyings: Class III
For more information
www.honeywellaidc.com
Honeywell Safety and Productivity Solutions
9680 Old Bailes Road
Fort Mill, SC 29707
800-582-4263
www.honeywell.com
CN70/CN70e Datasheet | Rev H | 1/17
© 2017 Honeywell International Inc.
For a complete listing of all
compliance approvals and
certifications, please visit
www.honeywellaidc.com/
compliance.
For a complete listing of
all supported barcode
symbologies, please visit
www.honeywellaidc.com/
symbologies.
Microsoft and Windows
are trademarks or
registered trademarks of
Microsoft Corporation.
The Bluetooth trademarks
are owned by Bluetooth
SIG, Inc. U.S.A. and
licensed to Honeywell
International Inc.
Gorilla Glass and
Corning are registered
trademarks or trademarks
of Corning, Inc.
SmartSystems and
Skynax are trademarks
or registered trademarks
of Honeywell
International Inc.
All other trademarks
are the property of their
respective owners.