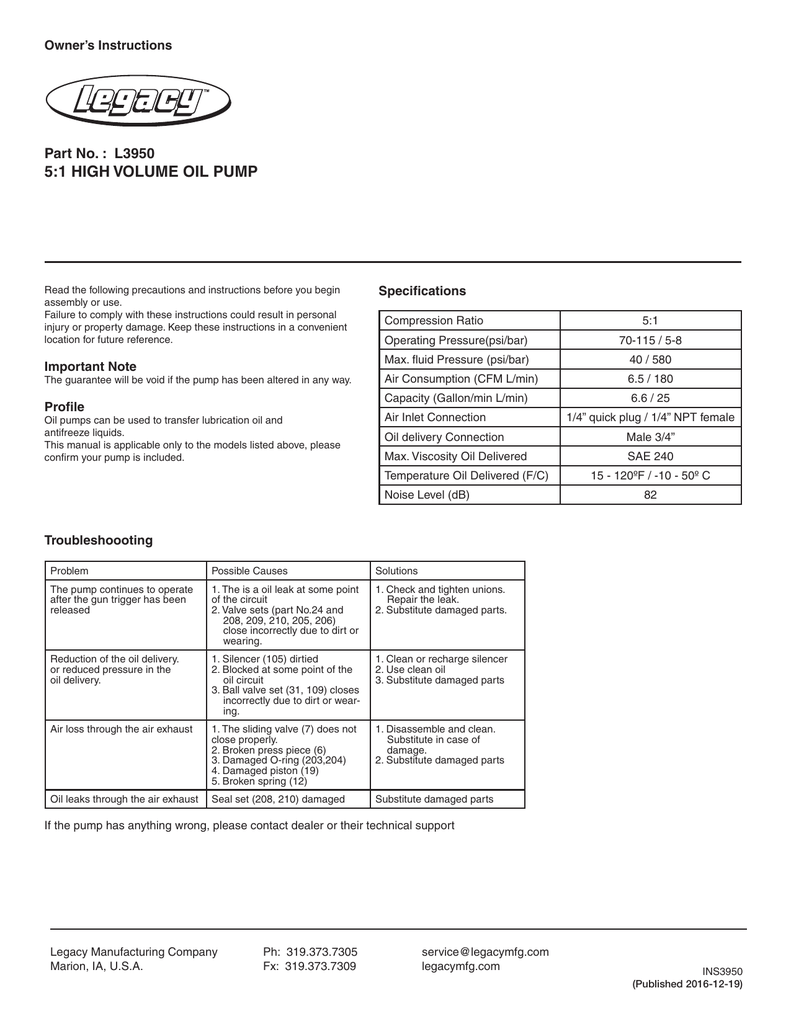 Owner's Instructions
Part No. : L3950
5:1 HIGH VOLUME OIL PUMP
Read the following precautions and instructions before you begin
assembly or use.
Failure to comply with these instructions could result in personal
injury or property damage. Keep these instructions in a convenient
location for future reference.
Important Note
The guarantee will be void if the pump has been altered in any way.
Profile
Oil pumps can be used to transfer lubrication oil and
antifreeze liquids.
This manual is applicable only to the models listed above, please
confirm your pump is included.
Specifications
Compression Ratio
5:1
Operating Pressure(psi/bar)
70-115 / 5-8
Max. fluid Pressure (psi/bar)
40 / 580
Air Consumption (CFM L/min)
6.5 / 180
Capacity (Gallon/min L/min)
6.6 / 25
Air Inlet Connection
Oil delivery Connection
Max. Viscosity Oil Delivered
Temperature Oil Delivered (F/C)
Noise Level (dB)
1/4" quick plug / 1/4" NPT female
Male 3/4"
SAE 240
15 - 120ºF / -10 - 50º C
82
Troubleshoooting
Problem
Possible Causes
Solutions
The pump continues to operate
after the gun trigger has been
released
1. The is a oil leak at some point
of the circuit
2. Valve sets (part No.24 and
208, 209, 210, 205, 206)
close incorrectly due to dirt or
wearing.
1. Check and tighten unions.
Repair the leak.
2. Substitute damaged parts.
Reduction of the oil delivery.
or reduced pressure in the
oil delivery.
1. Silencer (105) dirtied
2. Blocked at some point of the
oil circuit
3. Ball valve set (31, 109) closes
incorrectly due to dirt or wearing.
1. Clean or recharge silencer
2. Use clean oil
3. Substitute damaged parts
Air loss through the air exhaust
1. The sliding valve (7) does not
close properly.
2. Broken press piece (6)
3. Damaged O-ring (203,204)
4. Damaged piston (19)
5. Broken spring (12)
1. Disassemble and clean.
Substitute in case of
damage.
2. Substitute damaged parts
Oil leaks through the air exhaust
Seal set (208, 210) damaged
Substitute damaged parts
If the pump has anything wrong, please contact dealer or their technical support
Legacy Manufacturing Company
Marion, IA, U.S.A.
Ph: 319.373.7305
Fx: 319.373.7309
service@legacymfg.com
legacymfg.com
INS3950
(Published 2016-12-19)
Storage and Maintenance
Pumps are delivered in appropriate carton boxes.
Packaging material should be properly disposed. Handling
and storage of the new pump do not require any special
procedures.
However after the pump has been used, empty the used
oil in the suction tube into an appropriate container. This
is done by overturning the pump. The dust in compressed
air can slow down and even block the motor cylinder. The
following steps may prevent this from happening:
1) Let in 50 gram of air tool oil into the air inlet hole
weekly, operate the pump for several minutes after
filling lubricator.
2) Turn on the pump for several minutes until moving parts
is fully lubricated.
3) You may repeat the above operation if necessary.
4) The above steps should be carried out on a weekly
basis.
For the pumps that are attached with compressed air
treatment equipment, please empty the water retained in
the reservoir of the filter-purger frequently. For the pumps
that are attached with a lubricator, please pay close attention to the lubricator's oil level
and refill with SAE 20, SAE 30 or antifreeze oil for extreme
conditions when necessary.
Note:
The user should perform only routine maintenance operations (such as filters, silencers, cleaning…) with the pump
in order not to damage it or compromise its safety.
Contact our sales or service center when the pump
needs further maintenance.
General Safety Regulations
When the pump is connected to the compressed air
supply:
1. The compressed air must be filtered to avoid dust and
moisture into pump
2. The max compressed air pressure must not exceed
0.8Mpa/120psi
3. To deliver oil, pull the trigger on the delivery pistol;
delivery stops when the trigger is released but the
whole system remains under pressure
4. Position the gun so that the circuit can't open
accidentally. Otherwise oil could leak onto the ground
5. Never point the pistol at people or object.
6. Pull the gun trigger
7. Always cut off the air supply after use so that oil can't
leak out in case one of the pump's components should
break
8. Use only original spare parts in case the pump has to
be repaired or its components have to be replaced
9. Empty all the oil from the pump in case it has to be
disposed of
10. When not in use, turn off compressed air to stop pump
11. Do not use the pump near open flames. Do not smoke
during this operation
12. Wear oil-proof gloves
13. Do not throw the oil away. Used oil has to be disposed
of according to environmental regulations
14. The pumps can be used only to deliver lubricants,
used oil or antifreeze liquids. Do not use the pump for
any other substance
How to Use
Directly Fitted Pump into the Drum
1. Insert the suction tube of pump into the drum and
secure with ring nut, suitable for commercial drums with
2" bung opening.
2. Fit a oil delivery hose for oil outlet of the air operated
pump using only high quality hoses (normally 1/2" by
means of 3/4" fitting.
3. Oil delivery pistol NPT threaded: Connect delivery hose
with delivery pistol using suitable pipe fittings.
4. Air inlet connection is 1/4" quick plug ( or 1/4" NPT
female) in all versions. Compressed air connection (
to be supplied by the customer) should be done using
suitable plumbing.
5. A pressure regulator to keep the pump's working pres
sure at the best possible level (max 70-115 psi / 5-8
bar) is recommended between the pump and the compressed air line
6. A valve can enable the operator to stop the pump at any
given moment by cutting the air supply off between the
pump and the compressed air line
7. Slowly open the compressed air valve that feeds the
pump. It will start to operate, priming automatically and
filling the feed circuit with oil. The pump is now prepared for its usual function.
1
5
7
3
4
2
6
5:1 Oil Pump Repair Part Kit RP009060
Ref
Description
Q'ty
Ref
Description
Q'ty
1
Slider
1
24
Small piston
1
2
Bracket
1
31
Valve seat
1
3
Press piece
1
102
Silencer
1
4
Slider
1
105
Silencer
1
5
Air control center
1
109
Ball
1
6
Spring
1
203
O-ring
1
7
Spring shell
1
204
O-ring
1
8
Spring seat
1
205
U seal
1
9
Trip shoe guide
1
206
Guiding
1
10
Shaft
1
208
O-ring
1
11
Piston
1
209
Guiding
1
12
Piston connect cover
1
210
U seal
1
Connect the Pump with Other
Accessories: Part List
Code
Name
1
Oil pump
2
Bung adapter
3
Oil pistol
4
Hose with fitting
5
Air hose with quick coupling
6
Drum
7
Filter, pressure regulator and lubricator
WARRANTY*
Replacement Part #
Description
RP009060
Oil Pump Repair Part Kit- L3950, L39550K16, L3950K55, l3955K
RP009070
Repair Kit for L3950K275 HD Oil Pump
LEGACY MANUFACTURING COMPANY ("LEGACY") warrants that this equipment will be free from defects in material and workmanship for a period
of five (5) years from the date of purchase, under normal use.* LEGACY'S sole obligation under this warranty is limited to replacing or repairing, free of
charge, any equipment that proves to be defective under normal conditions and use according to the recommendations of LEGACY. To obtain repair or
replacement, the equipment must be shipped to a LEGACY authorized Warranty and Service Center during the warranty period, transportation charges
prepaid, with proof of date of purchase. In the event of repair or replacement, the warranty period shall not be extended beyond the original warranty
period.
* If this equipment contains a hose, the hose is warranted for ninety (90) days only. The remaining portions of this equipment are warranted for five (5)
years, as described above. While necessary maintenance or repairs on your Legacy equipment can be performed by any company, we recommend that
you use only authorized Legacy service centers. Improper or incorrectly performed maintenance or repair voids this warranty. Contact us at
service@legacymfg.com or www.legacymfg.com for ordering, installation instructions.

* Your assessment is very important for improving the work of artificial intelligence, which forms the content of this project