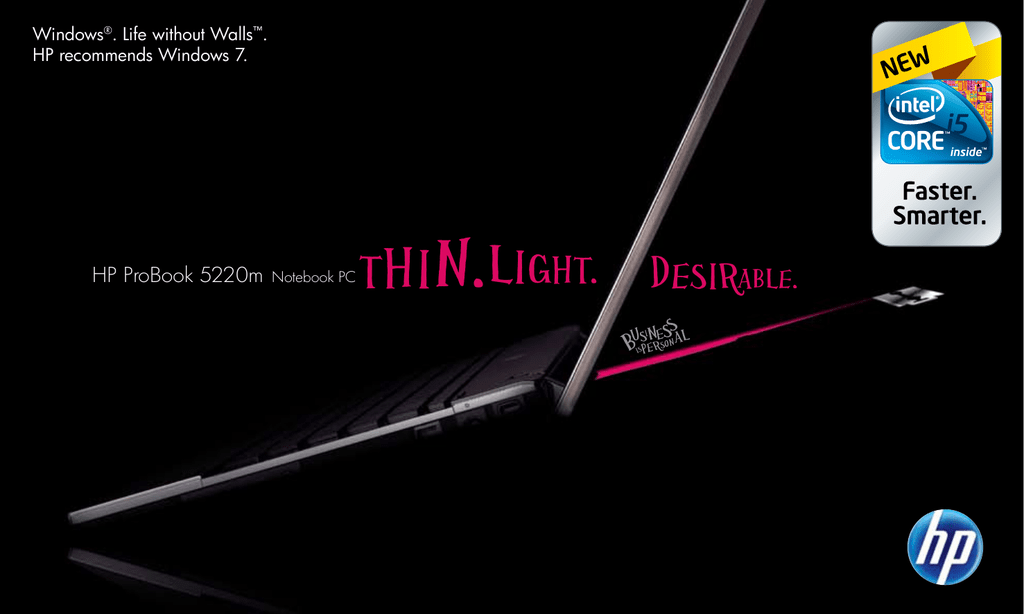 Windows®. Life without Walls™.
HP recommends Windows 7.
HP ProBook 5220m
Notebook PC
THIN.LiGHt. Desirable.
Windows®. Life without Walls™. HP recommends Windows 7.
HP ProBook 5220m Notebook PC
Experience mobility and style like never before with the HP ProBook 5220m Notebook PC. It's less than an inch
thick and weighs in at 1.5kg, making it the perfect traveling companion. Thanks to HP Power Assistant, you can
get maximum battery performance on the go too. And coupled with a 12.1-inch LED screen and the latest Intel®
i5 and i3 processors, you will find that it performs brilliantly as well. All in a stylish brushed aluminium casing
that's bound to induce envy.
HP QUICK
LOOK
e More.
nc
e
i
r
Ex pe
Windows®. Life without Walls™. HP recommends Windows 7.
Experience more with
HP Professional Innovations1.
HP QuickLook 3
Enjoy one-touch access to email, calendar,
task and contact information in seconds –
without having to boot up.
Do
More.
Do more with
Pre-loaded software1.
ClickPad with gestures support
Scroll a page. Zoom in or out. Rotate
photos. Now you can do all this with
ease thanks to the integrated gesture
support on the ClickPad.
HP QuickWeb
Arcsoft Camera Suite2
Get fast, convenient and secure access to
the web in seconds – no need to wait for
Windows to boot up.
This special software maximises the use
of your webcam. Includes WebCam
Companion that lets you perform the
following functions like, Stretch, snapshot,
burst, video capture and editing.
HP Face Recognition
Allows secure access to Windows and
websites, only after the advanced face
recognition technology recognises you as an
authorised user via the integrated webcam.
HP DayStarter
Corel® Home Office
HP QuickLook 3
Gives a 12-hour schedule overview of the
day ahead and battery status as Windows
boots up.
HP Power Assistant
Be in full control of your power consumption
so you can extend battery life in the field or
lower the computer's carbon footprint. It is
also invaluable as a data collection point for
power consumption.
HP Power Assistant
HP DayStarter
Corel® Home Office
Corel® Home Office is a sleek office suite
for word processing, spreadsheets and
presentation projects. Quickly prepare,
edit and present great-looking letters,
reports, charts, quotations, memos,
mailings and newsletters – all with
Microsoft® Office document compatibility.
This USD69 retail value is pre-installed
on your HP ProBook 5220m as a 60-day
trial version at no extra charge3.
1. Available for notebooks running Windows-based operating system.
2. Available for notebooks equipped with integrated webcam.
3. Corel® Home Office 60-day trial version included. Functionality is limited afterwards.
Full version requires purchase.
HP UNIVERSAL ACCESSORIES
KEY FEATURES
Windows®. Life without Walls™.
HP recommends Windows 7.
HP offers you a comprehensive range of accessories to enhance and enrich your computing experience.
Left View
2 MP Webcam (optional)
Notebook docking solution – Turn your notebook into a desktop.
12.1-inch diagonal,
LED backlit display
HP USB Media Port Replicator
HP Memory DDR3 1333 MHz
Part No: VY843AA#UUF
Part No: 1GB - AT911AA#UUF, 2GB - AT912AA#UUF, 4GB - AT913AA#UUF
• Expanded connectivity – includes four USB ports, Ethernet, VGA, and more for easy access to monitors, printers, speakers,
and other peripherals.
• Protect your investment with certified and warranted HP Memory.
• Quick single USB connection – the quick single connection to your notebook lets you easily move from your workspace to on the go.
• Faster start-up times with fewer delays during routine operations.
• Integrated high definition video – experience video over USB with resolution support up to 1920 x 1080.
• More cost effective than upgrading the processor or adding a hard drive.
• Reduce cable clutter – reduce desktop clutter for a cleaner workspace.
• Thoroughly tested and qualified ensuring the highest reliability for your HP notebook.
Adaptor solution­– Power and charge your battery simultaneously.
VGA port
eSATA/USB 2.0
Combo port
HDMI port
Make a big impression on your next presentation.
HP 65W Slim AC Adapter
HP Notebook Projector Companion
Part No: AX325AA
• Optimised slim form factor makes for an ideal travel companion.
• Comes with a USB power port that can be used to power or charge USB devices.
• Integrated surge protection to guard against power fluctuations.
• Adapters can be leveraged across multiple HP Business Notebook platforms for a convenient, worry-free experience.
Case – Stylish protection for your notebook.
RJ45/ethernet
port
• Maximise system performance by reducing bottlenecks caused by memory-intensive applications.
Part No: AX727AA#XXX
• Energy-efficient power adapters designed to draw minimal power.
ClickPad with
Gestures support
Memory – Extract maximum performance from your notebook.
• Ultra portable projector – only 0.42kg.
• DLP technology with 100 lumens brightness for excellent sharpness and brightness.
• LED light source allows up to 10,000 hours of usage life and lowers total ownership costs since it does not use conventional bulbs.
• Share the same power supply as your HP notebook so it's easier to travel with.
Security options – Keeping your data and notebook safe.
HP Professional Series Slipcase
HP 12.1" Display Privacy Filter
Part No: AT890AA
Part No: AJ356AA
• Designed for ultra-mobile professionals who are on the road frequently and for long periods of time.
• Store folders, business cards, PDAs, cell phones, pens and AC adapter etc.
• Protect your notebook screen from prying eyes. HP Privacy Filters are designed to fit HP Business Notebooks without
stick-on holders. You can attach and remove the privacy filter in seconds, and you can even leave it in place when your
notebook computer is closed.
HP ProBook 5220m Notebook PC
Windows®. Life without Walls™.
HP recommends Windows 7.
Specifications
Operating system
Processor4 Preinstalled:
Supported:
Genuine Windows 7 Home Basic 32 (limited localisations)1
Genuine Windows 7 Enterprise 321
Genuine Windows 7 Home Premium 321
Genuine Windows 7 Enterprise 641
Genuine Windows 7 Home Premium 641
Genuine Windows 7 Ultimate 321
Genuine Windows 7 Professional 321
Genuine Windows 7 Ultimate 641
Genuine Windows 7 Professional 641
Genuine Windows Vista Enterprise 323
Genuine Windows XP Professional available through downgrade rights from Windows 7 Professional 321,2 Genuine Windows Vista Enterprise 643
3
Genuine Windows Vista Business 32 ArcSoft Multimedia bundle
Genuine Windows Vista Home Basic 323
Red Flag Linux (PRC only)
Free DOS
Intel® Core™ i5 Mobile Processor Family
Intel® Core™ i3 Mobile Processor Family
Chipset
Mobile Intel HM57 Chipset
Memory5,6
DDR3 SDRAM 1333 MHz*, two slots supporting dual-channel memory, 1024/2048/4096 MB SODIMMs, up to 8192 MB total
Internal Storage7
250/320/500 GB 7200 rpm SATA HDD; Solid-state drive: 80 GB; HP 3D DriveGuard
Display 12.1-inch diagonal WXGA anti-glare (1280 x 800 resolution), 12.1-inch diagonal WXGA BrightView (1280 x 800 resolution)
Graphics8
Mobile Intel® HD Graphics
Audio/Visual
High definition audio, stereo speakers, digital microphone; optional integrated 2 MP webcam
Wireless support9
Broadcom 802.11a/b/g/n, Intel Centrino® Wireless-N 1000, Intel Centrino® Advanced-N 6200, Broadcom 802.11b/g/n, HP integrated Bluetooth® Wireless technology
Communications
Realtek Gigabit Network Connection, optional 56K v.92 modem
Expansion slots
6-in-1 Media Card Reader
Ports and connectors
3 USB 2.0 ports (1 USB; 1 powered USB; 1 eSATA/USB Combo), VGA, HDMI, headphone/microphone combo jack, AC adapter, RJ-11/modem, RJ-45/ethernetInput device
full-sized spill-resistant keyboard, ClickPad with gestures support (gestures not available for Linux and Free DOS)
* For some processors, memory bus runs at a maximum of 1066 MHz
Software
HP DayStarter, HP QuickLook 310, HP QuickWeb11, Corel® Home Office (60-day trial) 12, HP SoftPaq Download Manager, HP Support Assistant, HP Wireless Assistant, HP Power Assistant
Security
Kengsington Lock slot, Full Volume Encryption, HP Face Recognition, Credential Manager for HP ProtectTools, Device Access Manager for HP ProtectTools, Drive Encryption for HP
ProtectTools, DriveLock, Enhanced Pre-boot Security, File Sanitizer for HP ProtectTools, HP Disk Sanitizer, HP ProtectTools Security Manager, HP SpareKey, One-Step Logon, Privacy
Manager
Dimension (h x w x d)
0.96 (at front) x 11.4 x 8.3 in / 24.3 (at front) x 290 x 212 mm
Weight
Starting at 3.3 lb / 1.5 kg (weight will vary by configuration)
Power
4-cell (41 WHr) Lithium-Ion battery, 6-cell (62 WHr) Lithium-Ion battery, 65W HP Smart AC Adapter, HP Fast Charge
Warranty
Limited 1-year warranty options available
13
© 2010 Hewlett-Packard Development Company, L.P. All rights reserved. The information contained herein is subject to change without notice. The only warranties for HP products and services are set forth in the express
warranty statements accompanying such products and services. Nothing herein should be construed as constituting an additional warranty. HP shall not be liable for technical or editorial errors or omissions contained
herein. Bluetooth is a trademark of its proprietor and used by Hewlett-Packard Company under license. Microsoft and Windows are U.S. registered trademarks of Microsoft Corporation. Windows Vista is either a
registered trademark or trademark of Microsoft Corporation in the United States and/or other countries. Intel and Core are trademarks or registered trademarks of Intel Corporation or its subsidiaries in the U.S. and
other countries.
Footnote
1. This system may require upgraded and/or separately purchased hardware and/or a DVD drive to install
the Windows 7 software and take full advantage of Windows 7 functionality.
See http://www.microsoft.com/windows/windows-7/ for details.
2. Windows XP Professional is preinstalled on this system and includes end user rights and media for
Windows 7 Professional. You may only use one version at a time. You must back up all data (files, photos,
etc.) before uninstalling and installing operating systems to avoid loss of your data.
3. Certain Windows Vista product features require advanced or additional hardware.
See http://www.microsoft.com/windowsvista/getready/hardwarereqs.mspx and
http://www.microsoft.com/windowsvista/getready/capable.mspx for details. Windows Vista Upgrade
Advisor can help you determine which features of Windows Vista will run on your computer. To download
the tool, visit: http://www.windowsvista.com/upgradeadvisor
4. Dual/Quad Core is designed to improve performance of certain software products. Not all customers
or software applications will necessarily benefit from use of this technology. 64-bit computing on Intel
architecture requires a computer system with a processor, chipset, BIOS, operating system, device drivers
and applications enabled for Intel 64 architecture. Processors will not operate (including 32-bit operation)
without an Intel 64 architecture-enabled BIOS. Performance will vary depending on your hardware and
software configurations. Intel's numbering is not a measurement of higher performance.
5. Maximised dual-channel performance requires SODIMMs of the same size and speed in both memory slots.
6. Maximum memory capacities assume Windows 64-bit operating systems or Linux. With Windows 32 bit
operating systems, memory above 3 GB may not be available due to system resource requirements.
7. For hard drives, GB = 1 billion bytes. Up to 8 GB (for XP), 10 GB (for Vista) or 15 GB (for Windows 7) of
system disk is reserved for the system recovery software.
8. Shared video memory (UMA) uses part of the total system memory for video performance. System memory
dedicated to video performance is not available for other use by programs.
9. Wireless access point and Internet service is required and is not included. Availability of public wireless
access points limited
10. HP QuickLook 3 is accessible when the notebook is off in Windows XP, Windows Vista or Windows
7-based systems; not supported from hibernation. Timing may vary depending on the system configuration.
To enable the feature following the removal of the battery, reboot the notebook prior to subsequent use.
11. HP QuickWeb is accessible when the notebook is off in Windows XP, Windows Vista or Windows 7-based
systems; not supported from hibernation. Internet access required. Timing may vary depending on the
system configuration. To enable the feature following the removal of the battery, reboot the notebook prior
to subsequent use.
12. Corel Home Office 60-day trial version included. Functionality is limited afterwards. Full version requires
purchase.
13. HP Fast Charge recharges your primary battery up to 90% within 90 minutes when the system is off. Fast
Charge does not apply to the 9-cell battery. Sold separately or purchased as an optional feature.