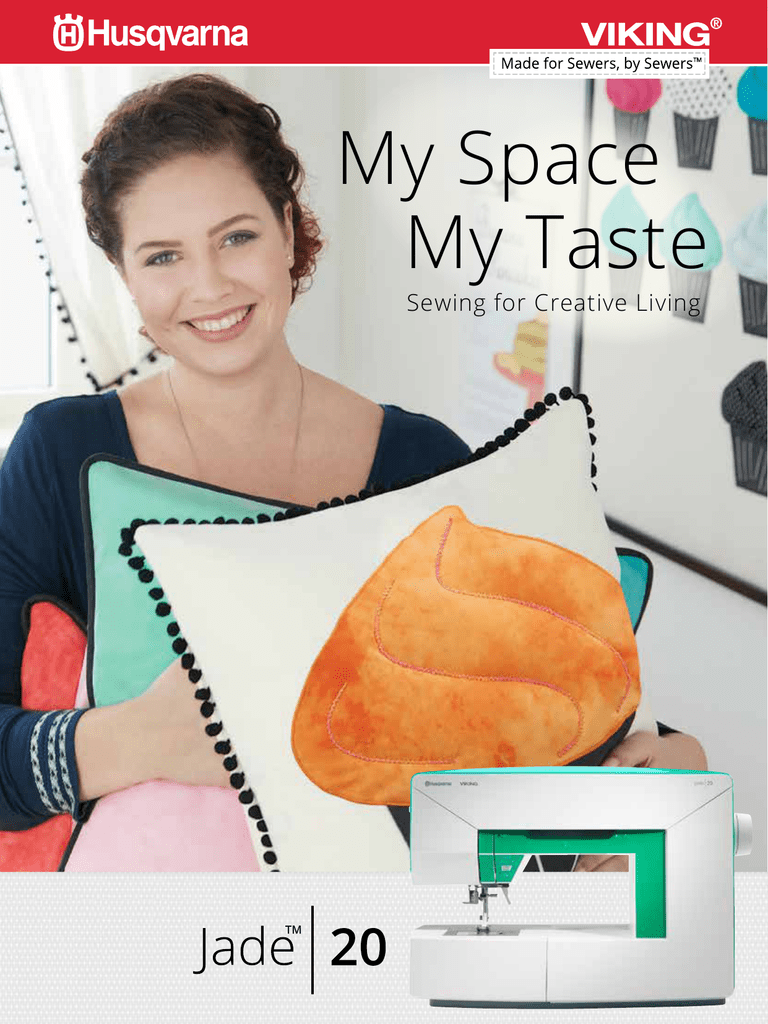 My Space
My Taste
Sewing for Creative Living
I DID IT AND SO CAN YOU!
My JADE™ 20 sewing machine is perfect for a beginning sewer.
A Sewing Guide is conveniently located in the lid. I just find the
fabric type and the sewing technique and it will tell me the perfect
stitch and settings to achieve the best results. The Sewing Guide
gives me the confidence to sew on any type of fabric.
SPREADING MY WINGS
Create a Space that is Uniquely Yours!
When I moved to my little studio apartment, I wanted to create a home that truly showed my
personality. Luckily, I found a sewing machine that could help me turn my dreams into reality!
My JADE™ 20 sewing machine helped me to turn my ideas into colorful creations. The Sewing
Guide shows me how to set the machine for any type of sewing – great for a learner like me.
Being a sewer is amazing! I can make my
ideas come to life with fabrics, colors and
patterns that make my space reflect my
personality. Different stitches and techniques
require different presser feet. My JADE™ 20
comes with 7 different presser feet that
cover all my basic needs and more. A
zipper, a buttonhole or a hem are all easy to
accomplish.
HUSQVARNA VIKING® offers a large selection
of optional presser feet and accessories. I can
expand my sewing knowledge and skills to
achieve whatever my heart desires!
It also has a large sewing space, perfect for sewing larger projects. With over 80 stitches, I can
make anything look unique.
TURNING ORDINARY
INTO BEAUTIFUL
The 82 utility and decorative stitches help you
customize almost anything. Use them to add
a unique flair to clothing, towels, pillows, and
so much more.
The start/stop function guarantees a constant
sewing speed. This is important when sewing
decorative stitches which require a consistent
speed. The speed can be adjusted to your
comfort level.
MAKING MY SPACE MY HOME
The 200mm (8 inches) of sewing space offers plenty of
room to sew large projects, like quilts, home decor and
garments. I loved having the space when I added a pompom fringe to a curtain and created a cupcake
wall hanging. These were two things that
helped me turn this tiny apartment
into a cute home.
Optional extension table available
ENJOY ALL THESE
SEWING PROJECTS
ONLINE!
• Cozy Cushions
• Rainbow Lampshade
• 3D Cupcake Wall Hanging
• Pom-Pom Fringe Curtains
• Embellished Shirt
www.husqvarnaviking.com/jade20
EQUIPPED FOR A NEW LIFESTYLE
Designed in Sweden
SEWING FEATURES
MACHINE FEATURES
• 200mm sewing space
• Uniquely designed accessory
compartment
• Start/stop function
• Sewing Guide
• 82 beautiful 7mm wide stitches
• Large assortment of optional accessories
• Needle stop up/down
• Presser foot recommendation-button
• One-step buttonholes
• Speed control
• 7 HUSQVARNA VIKING® original
snap-on presser feet included
• Built-in needle threader
• View presser foot recommendation
• Bobbin winds from the needle
• LED lights
Smart, built-in storage compartment!
• LED display
• Drop feed teeth
• Free motion with any stitch
• Mirror image side-to-side
• 29 needle positions
• Adjustable presser foot pressure
Full details on features available
at husqvarnaviking.com/jade20
Experience the JADE™ 20 sewing machine
at your nearest HUSQVARNA VIKING® retailer.
w w w .h u s q v a r n a v i k i n g . c o m
Change presser foot easily with the
snap-on/-off system
4710225-26 VIKING, JADE, KEEPING THE WORLD SEWING & design and MADE FOR SEWERS, BY SEWERS are trademarks of Singer Sourcing Limited LLC or its Affiliates.
HUSQVARNA and the "crowned H-mark" are trademarks of Husqvarna AB. © Singer Sourcing Limited LLC or its Affiliates. All rights reserved. All statements valid at time
of printing. Printed in Germany on environmentally friendly paper.
My JADE™ 20 sewing machine features a sleek modern
design. All accessories can be conveniently stored in
the three built-in compartments. It looks nice from
any angle.

* Your assessment is very important for improving the work of artificial intelligence, which forms the content of this project