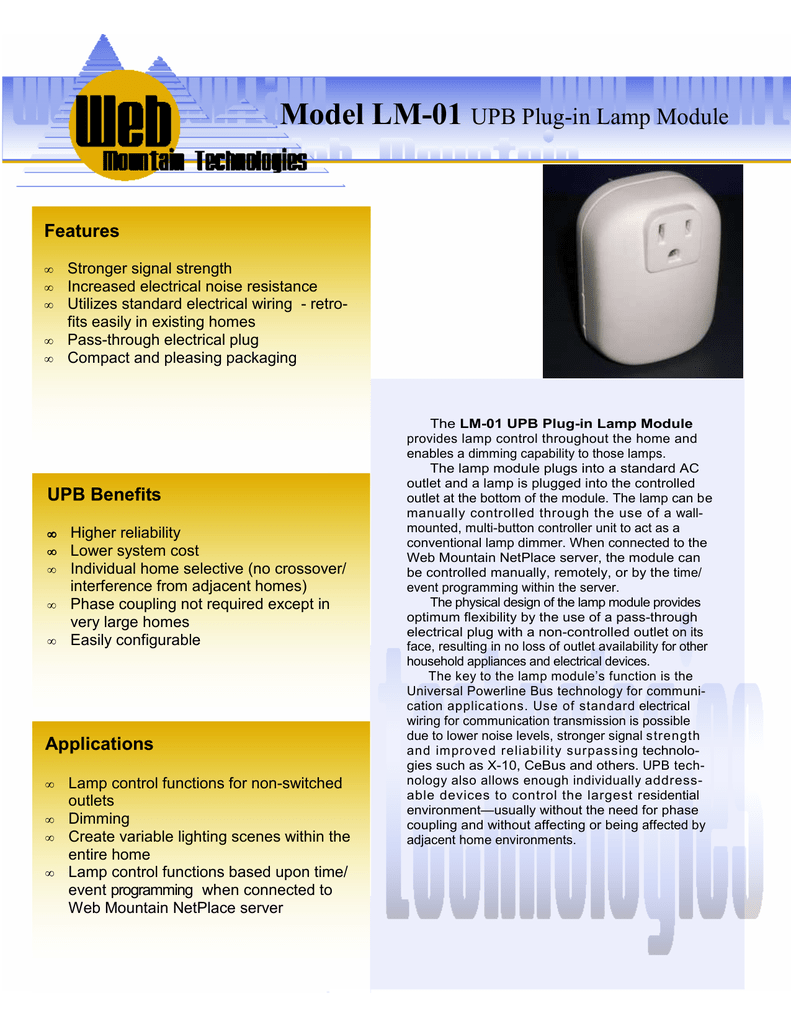 Model LM-01 UPB Plug-in Lamp Module
Features
•
•
•
•
•
Stronger signal strength
Increased electrical noise resistance
Utilizes standard electrical wiring - retrofits easily in existing homes
Pass-through electrical plug
Compact and pleasing packaging
UPB Benefits
•
•
•
•
•
Higher reliability
Lower system cost
Individual home selective (no crossover/
interference from adjacent homes)
Phase coupling not required except in
very large homes
Easily configurable
Applications
•
•
•
•
Lamp control functions for non-switched
outlets
Dimming
Create variable lighting scenes within the
entire home
Lamp control functions based upon time/
event programming when connected to
Web Mountain NetPlace server
The LM-01 UPB Plug-in Lamp Module
provides lamp control throughout the home and
enables a dimming capability to those lamps.
The lamp module plugs into a standard AC
outlet and a lamp is plugged into the controlled
outlet at the bottom of the module. The lamp can be
manually controlled through the use of a wallmounted, multi-button controller unit to act as a
conventional lamp dimmer. When connected to the
Web Mountain NetPlace server, the module can
be controlled manually, remotely, or by the time/
event programming within the server.
The physical design of the lamp module provides
optimum flexibility by the use of a pass-through
electrical plug with a non-controlled outlet on its
face, resulting in no loss of outlet availability for other
household appliances and electrical devices.
The key to the lamp module's function is the
Universal Powerline Bus technology for communication applications. Use of standard electrical
wiring for communication transmission is possible
due to lower noise levels, stronger signal strength
and improved reliability surpassing technologies such as X-10, CeBus and others. UPB technology also allows enough individually addressable devices to control the largest residential
environment—usually without the need for phase
coupling and without affecting or being affected by
adjacent home environments.
Model LM-01 UPB Plug-in Lamp Module
Web Mountain manufactures a full line of UPB
modules and IP-based home control servers.
Call or email for a complete product catalog.
UPB and TCP/IP—a Winning Combination!
Installation
Plug the module into a wall outlet, then plug the lamp to be
controlled into the outlet on the bottom of the module.
Specifications
Model Name Lamp Module
Model Number LM-01
Case Plug-in module with AC pass-through
Dimensions Approx. 1.375"D X 2.375"W X 3.25"H
Net Weight
4 oz.
Protocol UPB
Addressing 250 network codes; 250 individual device codes
Input Voltage 120V AC +/-10%, 60 Hz, 3 prong
Output 120V AC at full output
Max 15 A, pass-through and controlled outlet
Dimming 0 to 100%
Power Measurement Provides capability to measure power delivered to load (needs Web Mountain NetPlace
server to retrieve measurement)
Load Type Incandescent; intended for lamps
Maximum Load Power Delivered 400W
Minimum Power 60W
Certifications UL 1950, FCC Part 15, Class B
Operating Temperature 0° to +50° C, -30° to 120° F
Web Mountain Technologies, LLC
13882 E. Grand Ave., Aurora, CO 80015
info@webmtn.com
www.webmtn.com
Sales Ph: 720-207-9174
Office Ph: 303-627-1856
Fax: 303-627-7665
Copyright 2000-2004 Web Mountain Technologies, LLC. All rights reserved. NetPlace and LanBuilder are trademarks of Web
Mountain Technologies, LLC. X-10 is a registered trademark of X-10 PRO. Windows is a trademark of Microsoft Corporation.
Linux is a trademark of Linus Torvalds. Apple is a trademark of Apple Computer, Inc. Netscape is a registered trademark of
Netscape Communication Corporation. All other products and company names are trademarks of their respective holders.

* Your assessment is very important for improving the work of artificial intelligence, which forms the content of this project