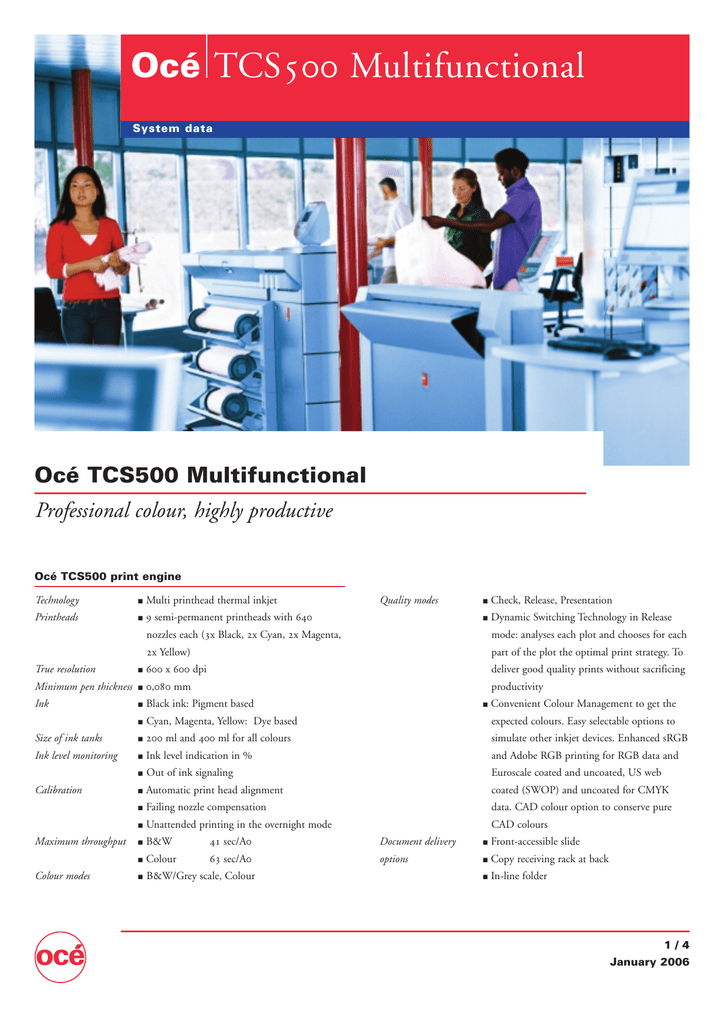 Océ TCS500 Multifunctional
System data
Océ TCS500 Multifunctional
Professional colour, highly productive
Océ TCS500 print engine
Technology
• Multi printhead thermal inkjet
Printheads
• 9 semi-permanent printheads with 640
True resolution
Quality modes
• Dynamic Switching Technology in Release
nozzles each (3x Black, 2x Cyan, 2x Magenta,
mode: analyses each plot and chooses for each
2x Yellow)
part of the plot the optimal print strategy. To
deliver good quality prints without sacrificing
• 600 x 600 dpi
Minimum pen thickness • 0,080 mm
Ink
• Check, Release, Presentation
productivity
• Convenient Colour Management to get the
• Black ink: Pigment based
• Cyan, Magenta, Yellow: Dye based
expected colours. Easy selectable options to
Size of ink tanks
• 200 ml and 400 ml for all colours
simulate other inkjet devices. Enhanced sRGB
Ink level monitoring
• Ink level indication in %
and Adobe RGB printing for RGB data and
• Out of ink signaling
Euroscale coated and uncoated, US web
• Automatic print head alignment
coated (SWOP) and uncoated for CMYK
• Failing nozzle compensation
data. CAD colour option to conserve pure
Calibration
CAD colours
• Unattended printing in the overnight mode
Maximum throughput
Colour modes
• B&W
41 sec/A0
Document delivery
• Front-accessible slide
• Colour
63 sec/A0
options
• Copy receiving rack at back
• B&W/Grey scale, Colour
• In-line folder
1/4
January 2006
Océ TCS500 system data
Media
Media sources
• 1, 2 or 3 easy front loadable rolls
Roll selection &
• Manual, Automatic
Camera
• Single 3 colour linear CCD, 21360 pixels per
Speed
• B&W 3 m/min (equals 2 inch/s)
colour line, 24 bits colour
switching
Media core size
•2"
Media types
• Uncoated (56 - 90 gr/m2)
• Colour 1 m/min (equals 0,7 inch/s)
at all scanning resolutions up to 600 dpi
2
Optional Speed Upgrade • B&W 5 m/min (equals 3,3 inch/s)
• Coated (85 - 120 gr/m )
2
• Transparent paper (90 - 112 gr/m )
• Colour 4 m/min (equals 2,7 inch/s)
• Polyester films (90 - 120 micron)
2
Scan accuracy
• 0.1% +/- 1 pixel
Maximal
1:1 accuracy for A0
• Below 0.3%
• Photo Gloss (120 - 175 gr/m )
Media sizes
Minimal
at lower resolutions
• Width
297 mm
914 mm
original
• Length
200 mm
5000 mm
Warm-up time
• None, instant behaviour even for colour
Scanner user interface
• Intuitive and multilanguage support
scanning
Footnote: Printing longer lengths possible but might influence
side margins
Width detection
• Automatic
• Up to 5 user defined templates for copying
Maximum roll length
• 120 meter
• Up to user defined templates for scan-to-file
Margins
• Leading & trailing strip: 5 mm
This means even complex jobs can be
performed at the touch of a single button.
• Left & right sides: 3 mm
Cut length
• Standard, synchro or user defined
Copy and scan modes
Supported media formats • DIN, ANSI, ARCHI
• Monochrome: Lines&text, Greys&lines, Dark
original, B&W and Grey Blueprint,
Transparent and Photo
Environment print engine
• Colour: Lines&text, Artwork, Map, Photo
Dimensions (h x w x d) • 1465 mm x 1958 mm x 1034 mm
Input modes
• Single sheet, Set collated or not collated
Weight
• 165 - 180 kg
Set memory
• Up to 999 copies from a set of up to 2,400
Electrical requirements
• 100/120/230 Volt 50/60 Hz
Power consumption
• EPA-sleep mode 59 W
A0 originals
Output roll
• Standby 158 W
• Run 205 W
Noise level
Safety approvals
No 60950) , CB Compliance with EN 60950
• Energy Star compliant
Océ TCS500 scan engine
Scanning technology
Output edges
• Leading and trailing edge adjustments.
Reproduction scale
• Custom zoom 10-1000%, adjustable in 0.1%
Image editing
• Image shift, align, mirror, crop, delete area
Standard cut and synchro cut modes.
• CE-compliance, TÜV-GS (IEC60950), UL,
Cul (according to standard CAN/CSA-C22.2
Other
defined criteria
• =< 44 dB (A) standby
• =< 65 dB (A) printing
steps. Auto zoom to standard paper formats.
Originals
Size recognition
measured width.
Original feed
• Face-down, right aligned. Automatic feed
Original sizes
• Image width: 200 - 914 mm
over long periods of time (innovative light
source), eliminating risks of distortion (single
Resolution
• Accurate digital automatic width detection,
indication on scanner panel of the exact
• Océ's patented Direct Scan colour technology,
illuminating the original for accurate colours
• Manual or automatic selection with user
off/on
mirror) and ensuring colour consistency and
• Original width: 200–1016 mm
sharpness (single high resolution reduction
• Original length: 200 mm–15 m
type camera)
• Maximum document thickness: 3 mm
• 575 dpi (optical), up to 600 dpi (interpolated)
Output reception
• Automatic rewinding or Integrated delivery
tray
2/4
January 2006
Océ TCS500 system data
Environment scan engine
Dimensions
• 1300 mm (W) › 650 mm (D) › 1050 mm
HDI
• AutoCAD 2000, 2000i, 2002, 2004, 2005,
2006 (on all supported platforms)
Océ Adobe PostScript 3 • Windows 2000, Windows XP, Windows
(H)/ 1300 mm (H) incl. operator panel
Weight
• 70 Kg
Electrical requirements
• 100-230 V, 50-60 Hz
web based software application for easy
Power consumption
• Sleep mode 5 W
printing of collated sets of documents
• Standby 18 W
• Run 105 W
Noise level
Job submission
Server2003, Mac OS9 and OSX
• Océ Print Exec® Workgroup LT, Powerful
Océ remote applications
• Sleep mode 0 dB(A)
Local and remote user communication system
• Standby 23 dB(A),
Océ Queue Manager
• View status of jobs
• View number of sets and number of pages per
• Operating 50 dB(A)
set for each job
Océ Power Logic® Controller
• Manage jobs: hold, resume, delete, move to
Platform
• Océ controller with embedded Windows XP
Memory
• 1024 Mb
Hard disk capacity
• 2 x 80 GB
Graphic User Interface
• Optional: keyboard, mouse and monitor
• Inbox for release by operator or remote user
Power consumption
• Run 87 W
• History queue for reprint of jobs
• Idle 67 W
• Four levels of user rights (password protected)
top
• Possible to change settings of printed jobs and
jobs on hold
• Off 3.1 W
Océ System Control
Electrical requirements
• 120/230 V, 50/60 Hz
Panel
Standard interface
• RJ45
Océ Settings Editor
Network
• Ethernet 10/100baseT
Network protocol
• TCP/IP, IPX/SPX
Printing protocol
• LPR/LPD/LPQ/LPRM, Pserver (Novell)
3.x/4.x/5.x, FTP
• View status of system components:
printer, controller, memory
• Customise and optimise the workflow by
editing and saving default settings.
• Separate settings for different users levels
Océ Scan Logic®
Language sensing
• Automatic
Océ Scan Logic is an optional scan-to-file software suite for the
File formats
• Vector: HP-GL, HP-GL/2, Calcomp
Océ TCS500 multifunctional system
• Raster: HP-RTL, TIFF 6.0, CALS, C4,
Applications
NIRS/NIFF
solution and Océ View Station LT for viewing
• (optional) Adobe Postscript 3 /PDF-printing
Concurrency
• Print and scan simultaneously
• Océ Scan Manager, integrated scanning
at point of scanning
Scan destinations
• Print and copy simultaneously
• 10 programmable destinations directly
selectable from scanner panel
• Scan and copy simultaneously
• Scan to Web using FTP
• Process next jobs during printing
• Scan to network directory
Number of prints
• 1 - 999
• Scan to controller
Plot manipulation
• (Auto) Rotation, auto-scaling, positioning
Scan technology
• Pen management
processing for B&W, Greys and full colour
• Leading and trailing strip adjustment (add or
remove up to 400 mm), horizontal mirroring
Drivers and job submission
for "right first time" results
Resolution
• Selectable from 72 up to 600 dpi
Data formats
• TIFF (uncompressed, Packbits, G3, G4 and
LZW), PDF (uncompressed, Flate, LZW and
Drivers
WPD
• Océ Colour Image Logic intelligent image
G4), CALS
• Windows 2000, Windows XP, Windows
Server2003, Windows Terminal Server, Citrix
Scan modes
• Single scan, stream feed productive batch
scanning
Metaframe
3/4
January 2006
File naming
User interface
• Automatically generates unique file names for
Océ Print Exec® Workgroup
each scan. Change file name at point of
Smart and efficient web based software application for printing
scanning.
single files or sets of files.
• 5 User defined job templates enabling
Functions
different scan jobs to be performed at the
printed
touch of a single button directly from the
• Define up to 50 configurations to easy apply
scanner panel
Viewing
document print settings
• Back channel communication with printer
• View scans at point of scanning. Making use
of a streaming technology particularly
status, validate action of new print job and
productive for viewing scanned documents in
view status of pending jobs
• Configurable stamps
colour
Minimum requirements • Graphical user interface on Océ Power Logic
• Banner page
• Previewing with powerful zoom option
controller
Options
• Create, send, store and load sets of files to be
• Available in 18 languages
• Océ View Station for editing and
enhancement of scanned documents on
remote PCs
• Océ Batch Processor for automated editing
Océ Account Center
Optional software application that enforces the users to enter valid
and enhancement of batches of scanned
accounting information before printing to the Océ TCS500. Cost can
documents on remote PCs
then be allocated to the appropriate users, departments and projects.
Functions
• Printer lock out
• Customised accounting fields
• Alphanumeric account input
• Open to third party accounting software
solutions
For information and services, visit us at www.oce.com
4/4
Printing for
© 2006 Océ. Illustrations and specifications do not necessarily apply to products and services offered in each local market. Technical specifications are
Professionals
subject to change without prior notice. Océ, Océ Power Logic, Océ Print Exec and Océ Scan Logic are registered trademarks of Océ-Technologies B.V.
All other trademarks are the property of their respective owners.