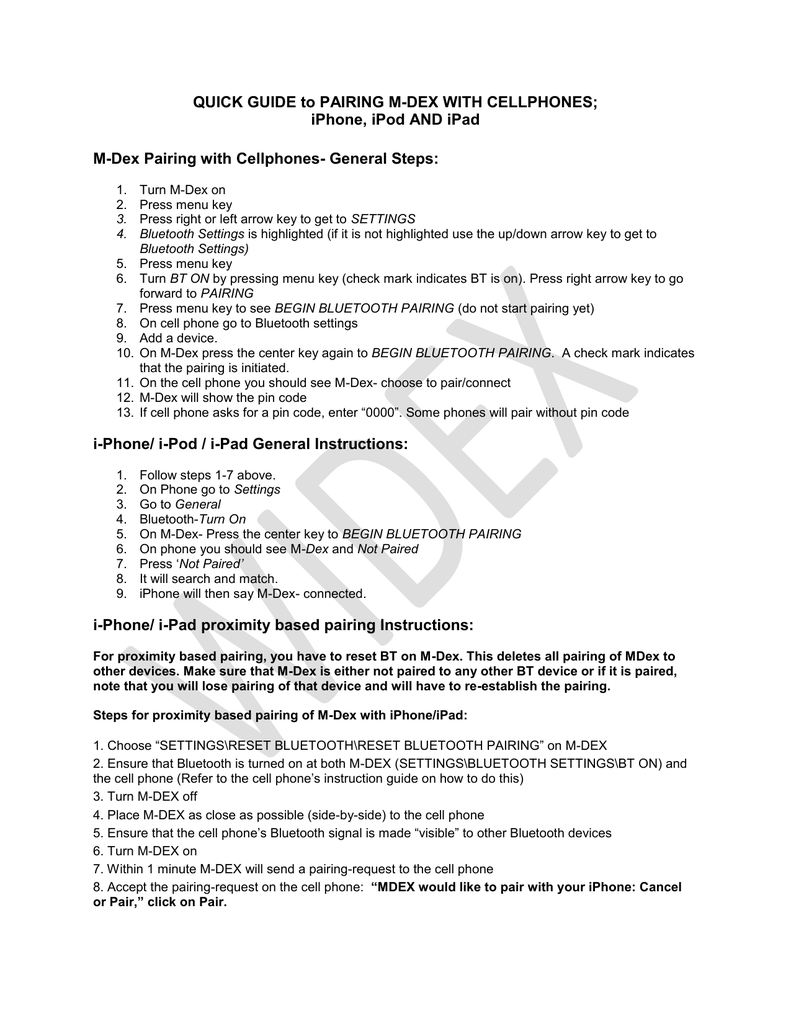 QUICK GUIDE to PAIRING M-DEX WITH CELLPHONES;
iPhone, iPod AND iPad
M-Dex Pairing with Cellphones- General Steps:
1.
2.
3.
4.
5.
6.
7.
8.
9.
10.
11.
12.
13.
Turn M-Dex on
Press menu key
Press right or left arrow key to get to SETTINGS
Bluetooth Settings is highlighted (if it is not highlighted use the up/down arrow key to get to
Bluetooth Settings)
Press menu key
Turn BT ON by pressing menu key (check mark indicates BT is on). Press right arrow key to go
forward to PAIRING
Press menu key to see BEGIN BLUETOOTH PAIRING (do not start pairing yet)
On cell phone go to Bluetooth settings
Add a device.
On M-Dex press the center key again to BEGIN BLUETOOTH PAIRING. A check mark indicates
that the pairing is initiated.
On the cell phone you should see M-Dex- choose to pair/connect
M-Dex will show the pin code
If cell phone asks for a pin code, enter "0000". Some phones will pair without pin code
i-Phone/ i-Pod / i-Pad General Instructions:
1.
2.
3.
4.
5.
6.
7.
8.
9.
Follow steps 1-7 above.
On Phone go to Settings
Go to General
Bluetooth-Turn On
On M-Dex- Press the center key to BEGIN BLUETOOTH PAIRING
On phone you should see M-Dex and Not Paired
Press 'Not Paired'
It will search and match.
iPhone will then say M-Dex- connected.
i-Phone/ i-Pad proximity based pairing Instructions:
For proximity based pairing, you have to reset BT on M-Dex. This deletes all pairing of MDex to
other devices. Make sure that M-Dex is either not paired to any other BT device or if it is paired,
note that you will lose pairing of that device and will have to re-establish the pairing.
Steps for proximity based pairing of M-Dex with iPhone/iPad:
1. Choose "SETTINGS\RESET BLUETOOTH\RESET BLUETOOTH PAIRING" on M-DEX
2. Ensure that Bluetooth is turned on at both M-DEX (SETTINGS\BLUETOOTH SETTINGS\BT ON) and
the cell phone (Refer to the cell phone's instruction guide on how to do this)
3. Turn M-DEX off
4. Place M-DEX as close as possible (side-by-side) to the cell phone
5. Ensure that the cell phone's Bluetooth signal is made "visible" to other Bluetooth devices
6. Turn M-DEX on
7. Within 1 minute M-DEX will send a pairing-request to the cell phone
8. Accept the pairing-request on the cell phone: "MDEX would like to pair with your iPhone: Cancel
or Pair," click on Pair.

* Your assessment is very important for improving the work of artificial intelligence, which forms the content of this project