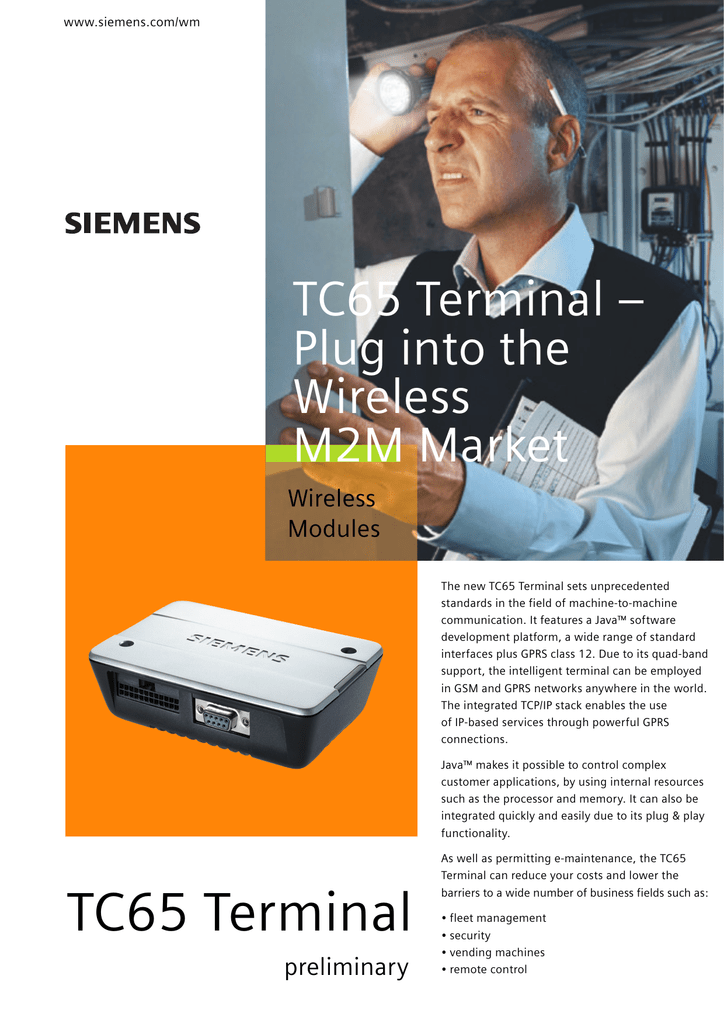 www.siemens.com/wm
TC65 Terminal –
Plug into the
Wireless
M2M Market
Wireless
Modules
The new TC65 Terminal sets unprecedented
standards in the field of machine-to-machine
communication. It features a Java™ software
development platform, a wide range of standard
interfaces plus GPRS class 12. Due to its quad-band
support, the intelligent terminal can be employed
in GSM and GPRS networks anywhere in the world.
The integrated TCP/IP stack enables the use
of IP-based services through powerful GPRS
connections.
Java™ makes it possible to control complex
customer applications, by using internal resources
such as the processor and memory. It can also be
integrated quickly and easily due to its plug & play
functionality.
TC65 Terminal
preliminary
As well as permitting e-maintenance, the TC65
Terminal can reduce your costs and lower the
barriers to a wide number of business fields such as:
• fleet management
• security
• vending machines
• remote control
TC65 Terminal – Succeed with Java™
The TC65 Terminal with Java™ technology is the missing link between M2M applications and the world of IPbased services involving GSM/GPRS communication. Having the latest version of IMP 2.0 embedded in it, the
TC65 Terminal offers a complete software development platform with which to create licence-free, hardwareindependent applications. The new standard provides control of M2M applications and enables user-friendly
over-the-air software updates (OTA) for reliable e-maintenance and secure data transmission using https and
PKI encryption. The variety of industrial interfaces and the plug & play functionality included allow quick and
easy implementation. With its extended temperature range as well, it is the perfect stand-alone device for
sophisticated M2M solutions. The TC65 Terminal is lead-free, meeting the European requirement on limiting
the use of hazardous substances in electrical and electronic devices (RoHS).
Wireless Modules
Benefits and hard facts
General features
• Quad-band:
850/900/1800/1900 MHz
• GSM release 99
• RF Output power:
- Class 4 ((2 W) for EGSM 850
and 900
- Class 1 ((1 W) for GSM 1800
and 1900
• AT commands Hayes GSM 07.05
and GSM 07.07
• SIM application toolkit
release 99
• Supply voltage range:
+ 8V … + 30V DC
• Power save mode
• Dimensions:130 x 90 x 38 mm
• Weight < 190 g
• Ambient temp. range:
- 30 to +65 °C
- Automatic switch off at +75 °C
- Storage temp. range:
- 40°C …+ 85°C
Specification for GPRS
data transmission
• Multislot class 12
• PBCCH support
• Coding scheme 1 to 4
• Class B mobile station
Open application platform
features
• ARM7 processor
• Memory: 400 kbytes (RAM)
and 1.7 Mbytes (Flash)
• Improved power-saving modes
• TCP/IP stack access via
AT commands
Specification for SMS
• Via GSM or GPRS
• Point-to-point MO and MT
• Text and PDU mode
• SMS cell broadcast
Java ™features
• CLDC 1.1 Hl
• J2ME™ with IMP 2.0
• Secure data transmission with
HTTPS and PKI
• Support of TCP, UDP, HTTP, FTP,
SMTP, POP3
• Application SW update
over-the-air (OTAP)
Specification for CSD
data transmission
• Up to 14.4 kbit/s
• V.110
• Non-transparent mode
• USSD support
Specification for fax
• Group 3,class 1
Specification for voice
• GSM-FR, GSM-HR, GSM-EFR
and AMR speech codecs
supported
• Adaptive multirate AMR
• Basic hands-free operation
• Echo cancellation
• Noise reduction
Approvals
• R&TTE, FCC, UL, IC, GCF,
PTCRB, E1 mark
• Local approvals and network
operator certifications
Interfaces
• 24 pin Micro-N-Lok connector
2
- I C bus and SPI bus
- 2 x analog in (ADC)
- 10 GPIOs
- VDD (2.9 V)
• SMA antenna connector (50 Ω)
• 9 pin sub-D connector for serial
interfaces with the ITU-T V.24
protocol
• Operating status LED
• ON/OFF button
• SIM card interface 3V, 1.8V
• Plug-in power supply
• Handset audio interface
More about Siemens
Wireless Modules at:
www.siemens.com/wm
Copyright 2005, Siemens AG
Wireless Modules
Haidenauplatz 1
81667 Munich, Germany
Subject to changes in technology,
design and availability
Order No.:
A31001-W25-A315-X-7600
Printed in Germany
Java and all Java based marks
are trademarks or registered
trademarks of Sun Microsystems,
Inc. in the United States and
other countries.

* Your assessment is very important for improving the work of artificial intelligence, which forms the content of this project