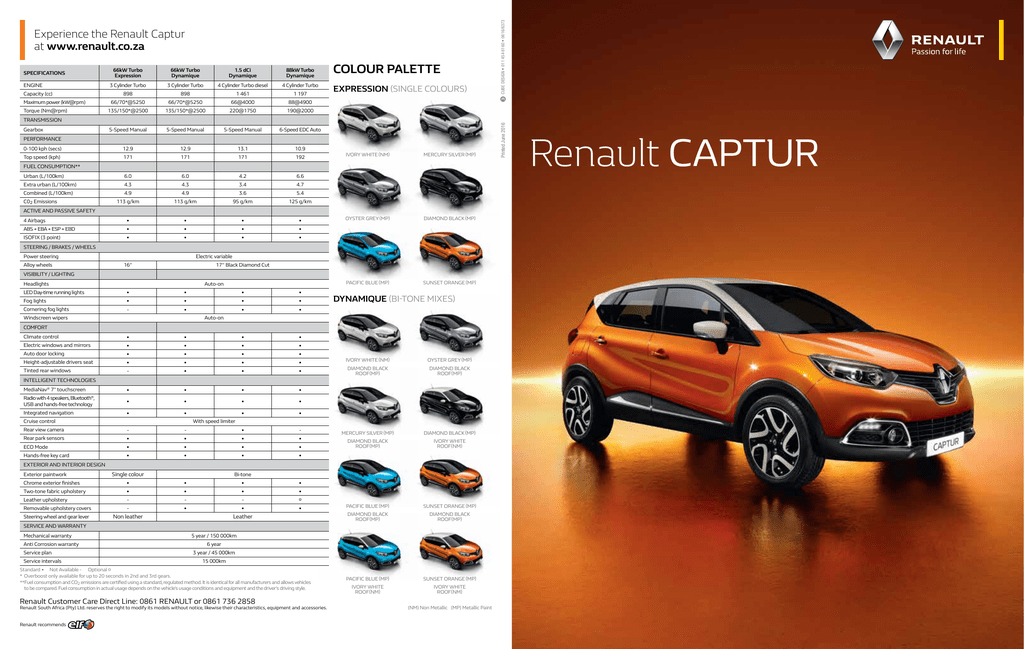 66kW Turbo
Dynamique
1.5 dCi
Dynamique
88kW Turbo
Dynamique
3 Cylinder Turbo
3 Cylinder Turbo
4 Cylinder Turbo diesel
4 Cylinder Turbo
898
898
1 461
1 197
66/70*@5250
66/70*@5250
66@4000
88@4900
135/150*@2500
135/150*@2500
220@1750
190@2000
5-Speed Manual
5-Speed Manual
5-Speed Manual
6-Speed EDC Auto
0-100 kph (secs)
12.9
12.9
13.1
10.9
Top speed (kph)
171
171
171
192
Urban (L/100km)
6.0
6.0
4.2
6.6
Extra urban (L/100km)
4.3
4.3
3.4
4.7
Combined (L/100km)
4.9
4.9
3.6
5.4
113 g/km
113 g/km
95 g/km
125 g/km
•
•
•
•
•
•
•
•
•
•
•
•
ENGINE
Capacity (cc)
Maximum power (kW@rpm)
Torque (Nm@rpm)
COLOUR PALETTE
EXPRESSION (SINGLE COLOURS)
TRANSMISSION
Gearbox
PERFORMANCE
IVORY WHITE (NM)
MERCURY SILVER (MP)
OYSTER GREY (MP)
DIAMOND BLACK (MP)
PACIFIC BLUE (MP)
SUNSET ORANGE (MP)
FUEL CONSUMPTION**
C02 Emissions
ACTIVE AND PASSIVE SAFETY
4 Airbags
ABS + EBA + ESP + EBD
ISOFIX (3 point)
STEERING / BRAKES / WHEELS
Power steering
Alloy wheels
Electric variable
16"
17" Black Diamond Cut
VISIBILITY / LIGHTING
Headlights
LED Day-time running lights
Fog lights
Cornering fog lights
Auto-on
•
•
-
•
•
•
Windscreen wipers
•
•
•
•
•
•
DYNAMIQUE (BI-TONE MIXES)
Auto-on
COMFORT
•
•
•
•
-
•
•
•
•
•
•
•
•
•
•
•
•
•
•
•
MediaNav® 7" touchscreen
•
•
•
•
Radio with 4 speakers, Bluetooth®,
USB and hands-free technology
•
•
•
•
Integrated navigation
•
•
•
•
•
•
•
•
•
•
•
Climate control
Electric windows and mirrors
Auto door locking
Height-adjustable drivers seat
Tinted rear windows
INTELLIGENT TECHNOLOGIES
Cruise control
Rear view camera
Rear park sensors
ECO Mode
Hands-free key card
IVORY WHITE (NM)
OYSTER GREY (MP)
DIAMOND BLACK
ROOF(MP)
DIAMOND BLACK
ROOF(MP)
MERCURY SILVER (MP)
DIAMOND BLACK (MP)
DIAMOND BLACK
ROOF(MP)
IVORY WHITE
ROOF(NM)
PACIFIC BLUE (MP)
SUNSET ORANGE (MP)
DIAMOND BLACK
ROOF(MP)
DIAMOND BLACK
ROOF(MP)
PACIFIC BLUE (MP)
SUNSET ORANGE (MP)
IVORY WHITE
ROOF(NM)
IVORY WHITE
ROOF(NM)
With speed limiter
•
•
•
•
•
•
Single colour
•
•
Non leather
•
•
•
EXTERIOR AND INTERIOR DESIGN
Exterior paintwork
Chrome exterior finishes
Two-tone fabric upholstery
Leather upholstery
Removable upholstery covers
Steering wheel and gear lever
Bi-tone
•
•
•
Leather
•
•
o
•
SERVICE AND WARRANTY
Mechanical warranty
Anti Corrosion warranty
Service plan
Service intervals
5 year / 150 000km
6 year
3 year / 45 000km
15 000km
Standard • Not Available - Optional o
* Overboost only available for up to 20 seconds in 2nd and 3rd gears.
**Fuel consumption and CO2 emissions are certified using a standard, regulated method. It is identical for all manufacturers and allows vehicles to be compared. Fuel consumption in actual usage depends on the vehicle's usage conditions and equipment and the driver's driving style.
Renault Customer Care Direct Line: 0861 RENAULT or 0861 736 2858
Renault South Africa (Pty) Ltd. reserves the right to modify its models without notice, likewise their characteristics, equipment and accessories.
Renault recommends
(NM) Non Metallic (MP) Metallic Paint
CUBE DESIGN • 011 454 6160 • 0616/6373
66kW Turbo
Expression
SPECIFICATIONS
Printed June 2016
Experience the Renault Captur
at www.renault.co.za
Renault CAPTUR
Capture Life.
The Renault Captur is higher, to allow you to
see better. It's sleeker, to make heads turn.
It's niftier, taking city street corners, weaving
through handy shortcuts and setting off for new
adventures becomes second nature. When the
Captur stops, it's instantly ready to set off again,
seeking out new vistas, desires and encounters.
Explore life to
the full
Capture Life.
Derived from the concept car of
the same name, the Renault Captur
embodies a new approach to vehicle
design.
Renault have created a compact
crossover that unites the best of three
worlds: the personality and sturdiness
of an SUV, the functionality and
roominess of an MPV and the driving
Fully equipped
urban explorer
Efficient, powerful
yet frugal
The Renault Captur has everything
to help you on even your wildest
expeditions: the Renault MediaNav®
touchscreen multimedia tablet, F1®
inspired turbo engines, Hill Start
Assist, seats with unzippable covers,
even a hands-free card for added peace
of mind.
The Renault Captur is available with
2 petrol Turbo engines and 1 new
diesel derivative.
What's the objective? To be the best in their category in
terms of driving pleasure. With a lively response, sharp
acceleration, and flexibility at all speeds, the Formula 1®
technology derived Energy engines combine driving
pleasure with fuel economy, delivering remarkably
moderate fuel consumption and CO2 emissions.
The Renault Captur moulds to your
personality and surrounds you with
stylish details. The continuous shape of
the dashboard and the interior panels
envelops you like a cocoon. The 'zip
collection' customisable seat covers*
are made from soft fabric in a variety
of colours and are unzippable and
machine washable.
pleasure and dynamism of a Hatch.
* Seat covers standard on Dynamique models and are also available as an optional accessory.
Agile, dynamic
and elegant
MediaNav ®
Just touch
Original, modular
and cheerful
The Renault Captur's design is
expressed through smooth, flowing,
even lines. It is superbly practical, agile
and ingenious. The Captur exudes
What could be more exciting than having the
future at your fingertips? With the Renault
MediaNav® touchscreen multimedia tablet, you
can explore a range of functionalities with ease:
integrated navigation, multimedia, radio and
telephone system with Bluetooth® connectivity.
More than ample interior space! The rear passengers
enjoy knee room of up to 216mm. The 1/3-2/3 folding
rear bench has 3 seats, converts into a flat floor
and slides on rails, allowing the Captur's volume to be
adjusted and its passenger compartment arranged
to suit your needs.
originality with its bi-tone* paintwork
to match each individual's lifestyle.
* Bi-tone paintwork only available on Dynamique models
66kW Turbo
engine now
with overboost!
The 66kW Turbo engine is
an 898 cm3, three-cylinder
Turbo engine that delivers its
power without flinching!
response and even better
mid-range acceleration.
The engine allows sharp
acceleration from low
speeds (90% of its torque
available at 1,650 rpm),
avoiding excessively frequent
gear changes and ensuring
pleasant city driving.
The overboost* function
brings the maximum torque
to 150Nm for more dynamic
It consumes only 4.9 L/100km
and its emissions are limited
to 113 g/km of CO2.
88kW 1.2
Turbo engine
with EDC auto
66kW 1.5 dCi
engine super
efficiency
The 1197 cm3, fourcylinder, 88kW Turbo engine
combines great power and
controlled fuel consumption
(5.4 L/100km and 125 g/km
of CO2).
The new 1461 cm3, fourcylinder, common rail diesel
engine is the perfect mix of
performance and efficiency.
Responsive, lively and agile,
it is both powerful and quiet.
Its 88kW delivers torque of
190Nm at 2,000 rpm.
For even greater driving
pleasure, it is connected to
Renault's 6-speed dualclutch EDC automatic
gearbox. Upshifting is fast
and smooth, with no jerking
or loss in acceleration. Fuel
consumption is comparable
to that of a manual gearbox.
With outputs of 66kW and
220Nm, it delivers great low
down torque and has been
developed by Renault to
deliver outstanding economy.
Figures of just 3.6L/100km
and CO2 emission of 95g/km
speak for themselves.
* Overboost only available for up to 20 seconds in 2nd and 3rd gears.
Features and images may vary and be optional depending on model, and are subject to change without notice.