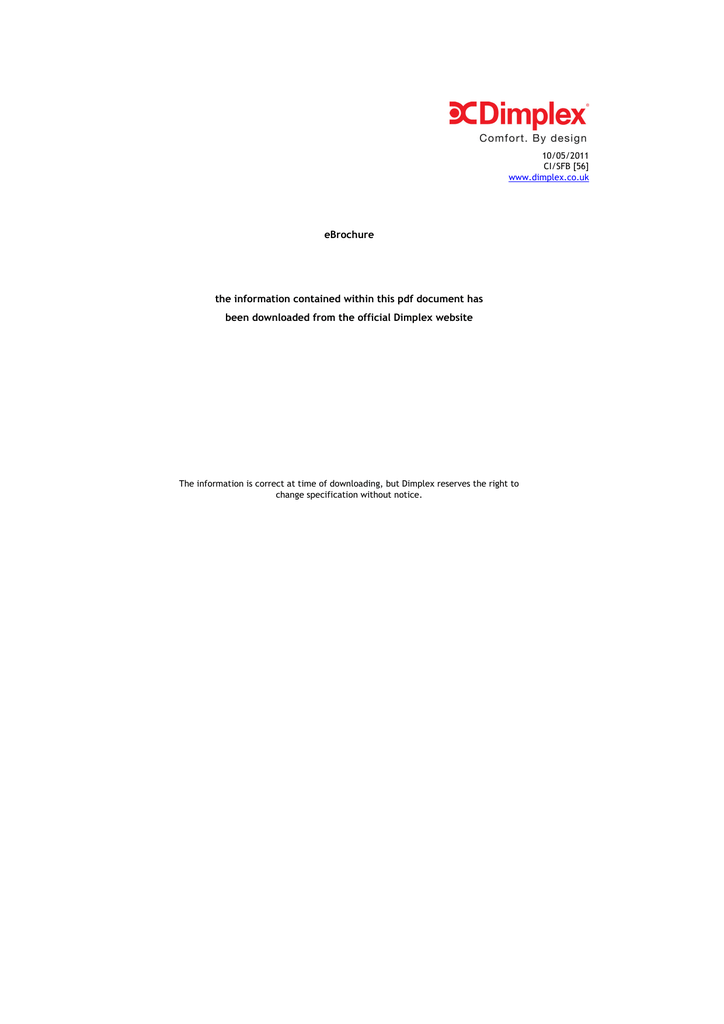 10/05/2011
CI/SFB [56]
www.dimplex.co.uk
eBrochure
the information contained within this pdf document has
been downloaded from the official Dimplex website
The information is correct at time of downloading, but Dimplex reserves the right to
change specification without notice.
EPX range
Features
Stylish design with forward facing louver grille for optimum heat circulation.
Aesthetics to complement DuoHeat radiators,with pure white finish.
Electronic thermostatic control, providing room temperature stability to +/-0.3ºC.
Pre-set background temperature at 5ºC below thermostat setting.*
Range of optional plug-in electronic timer modules, including:
– 24 hour digital timer
– Single-zone pilot wire programmer
– Runback timer
Compatible with Dimplex 4-zone, wall mounted pilot wire and mains borne signalling
multi-heater programmers.
Splash-proof (IPX4) rated, for use in bathrooms or wet areas.
Virtually noiseless operation.
Simple detachable wall bracket for easy installation.
* When connected to a programming unit supporting set back feature.
INSTALLED HEATING - PANEL HEATERS
EPX range
24-hour Digital Timer (RX24Ti)
1 timer required per heater. Provides 24 hour programmable on/off
control.
Single Zone, Pilot Wire Programmer (RXPW1)
Controls up to 10 slave heaters linked via pilot wire. Provides 7 day
programmable on/off control.
Runback Timer (RXRBTi)
1 timer required per heater. Provides installer programmable runback
time up to 4 hours (in 30 min increments). Can be locked into heater.
Technical Specifications
Controls
Multi-zone Control
1 Thermostat control
o
User selection of room temperature from 5 C
(frost protection) to 30oC using slider control.
Slider can be locked in position if required.
2 Power controls and indicators
Soft-touch on/off button, together with
indicators showing when power to heater is on
and when element is operating.
3 Plug-in control modules (optional)
A range of optional plug-in control modules,
which can be removed from the heater for easy
programming, provide the flexibility for the EPX
to meet a wide range of control specifications:
Compatible with Dimplex 4-zone pilot wire and mains borne signalling
controllers. (RX9913 receivers required for MBS system)
Thermostat
Electronic type, accurate to +/- 0.3ºC.
Element
Compact, finned, mineral-filled sheathed type, providing virtually
noiseless operation.
Thermal Cut-out
Auto reset type.
Construction
Durable epoxy-polyester powder coated steel casing, with forward
facing grille. Temperature resistant PBT thermoplastic moulded parts.
Colour/Finish
White front, back, grille and plastic parts.
Installation
Detachable wall mounting bracket.
Electrical Connections
1.2m, 4 core cable (live, neutral, earth, pilot) supplied fitted to each
heater.
IP Rating
Splashproof IPX4.
Electronic Control
Dimplex electronic panel heaters feature highly accurate electronic thermostats, providing superior
comfort and operating efficiency. As the room temperature nears the desired set point, power to the
elements is reduced, and the room temperature closely monitored to an accuracy of less than 0.3oC,
minimising overshoot and temperature drift, resulting in better energy-efficiency and user comfort.
Being electronic, control is virtually noiseless and reliable.
Model No.
Loading
Height
Width (A)
Depth
X
Weight
EPX500
0.5kW
430mm
450mm
108mm
117mm
5.2kg
EPX750
0.75kW
430mm
620mm
108mm
287mm
6.6kg
EPX1000
1kW
430mm
620mm
108mm
287mm
6.6kg
EPX1250
1.25kW
430mm
690mm
108mm
355mm
7.1kg
EPX1500
1.5kW
430mm
690mm
108mm
355mm
7.1kg
EPX2000
2kW
430mm
860mm
108mm
527mm
8.5kg
After Sales Service
After sales service if required is absolutely no problem with Dimplex – we have a network of appointed Service Agents
spread throughout the Country who are qualified and trained to repair or service any of our appliances.
Bathrooms
Any electrical appliances installed in a bathroom should be fitted by a competent electrician in accordance with the
current I.E.E. Regulations. Portable heaters are NOT suitable for use in a bathroom. Unless otherwise specified,
heaters that can be permanently fixed have to be so mounted that any controls cannot be reached by a person using a
bath or shower. This restriction does not apply to Dimplex heated towel rails, which do not have controls.
Safety
Dimplex products are designed to comply with EN60335 the British Standard covering the safety requirements of
electric heating appliances, and momentary contact with any part of the heater should not cause injury. However, in
order to be effective, heaters or towel rails of any type do get hot especially (if applicable) around the air outlet
grille. Therefore if aged or infirm persons, or young children, are likely to be left unsupervised in the vicinity of a
heater we advise that precautions should be taken. We recommend that a guard is fitted around the heater, as is
normal with many types of heating appliances in similar circumstances, to ensure contact with the heater is avoided
and objects cannot be inserted into the product. Heating appliances should never be covered or positioned where
objects may fall onto them.
Specifications
Dimplex policy is one of continuous improvement; the Company therefore reserves the right to alter specifications
without notice. Although every care has been taken in the reproduction of product finishes in this brochure, the colour
photographs should be taken only as a guide. This information is correct at the time of printing. You are advised to
consult your dealer before purchasing.
Plugs
All portable appliances are supplied with a fitted plug.
British Electrotechnical Approvals Board - BEAB Approved
The mark of the British Electrotechnical Approvals Board signifies that the appliance bearing it has been produced to
the stringent safety requirements for domestic electrical appliances as laid down in EN60335.
CE Mark
Products carrying the CE mark comply with European safety standards and the European Standard for electro-magnetic
compatibility.
Installation Guidance
This information is designed to assist you with your choice of Dimplex products and it is not intended as an installation
guide. For safety, products should only be installed by a competent person, in accordance with current regulations
and the manufacturers instruction. If you require further advice concerning the installation of our products especially where the installed dimensions may be critical to your choice and the location of the product - please
consult your supplier.
Dimplex, Millbrook House, Grange Drive, Hedge End, Southampton, SO30 2DF
For Northern Ireland please contact - Glen Dimplex N.I. Limited, Unit No. 24, Seagoe Industrial Estate, Portadown,
Craigavon, Co. Armagh, BT63 5TH.
© Dimplex. All rights reserved. Material contained in this publication may not be reproduced in whole or in part,
without prior permission in writting from Dimplex.
Please note that the dimensions contained within this publication do not in all cases include clearances required
around installed product for safe operation.