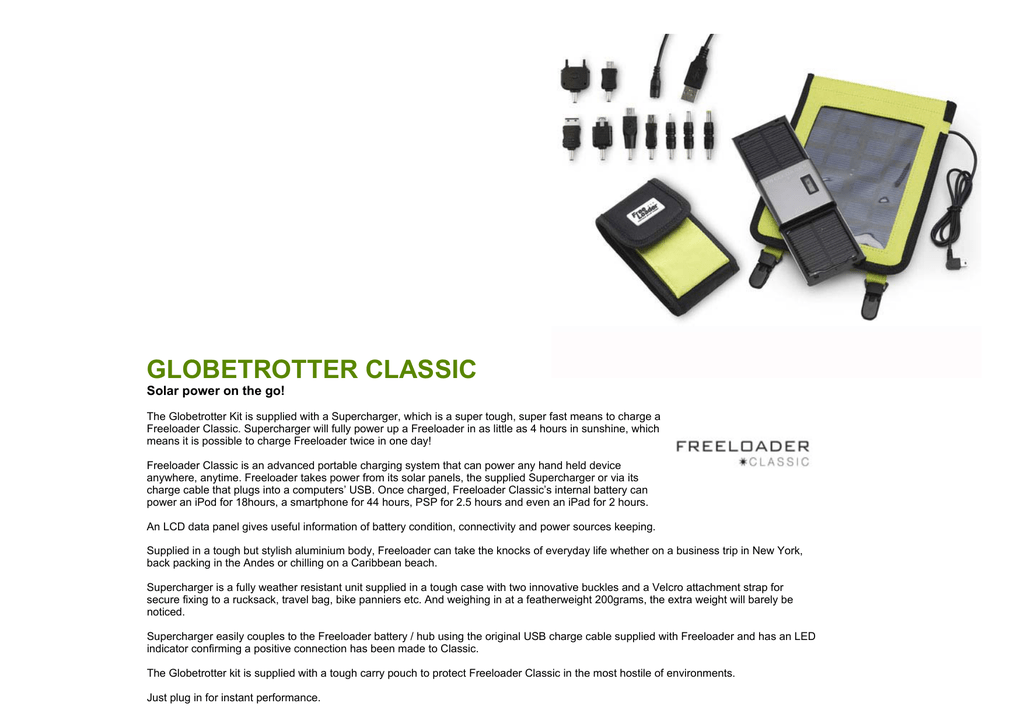 GLOBETROTTER CLASSIC
Solar power on the go!
The Globetrotter Kit is supplied with a Supercharger, which is a super tough, super fast means to charge a
Freeloader Classic. Supercharger will fully power up a Freeloader in as little as 4 hours in sunshine, which
means it is possible to charge Freeloader twice in one day!
Freeloader Classic is an advanced portable charging system that can power any hand held device
anywhere, anytime. Freeloader takes power from its solar panels, the supplied Supercharger or via its
charge cable that plugs into a computers' USB. Once charged, Freeloader Classic's internal battery can
power an iPod for 18hours, a smartphone for 44 hours, PSP for 2.5 hours and even an iPad for 2 hours.
An LCD data panel gives useful information of battery condition, connectivity and power sources keeping.
Supplied in a tough but stylish aluminium body, Freeloader can take the knocks of everyday life whether on a business trip in New York,
back packing in the Andes or chilling on a Caribbean beach.
Supercharger is a fully weather resistant unit supplied in a tough case with two innovative buckles and a Velcro attachment strap for
secure fixing to a rucksack, travel bag, bike panniers etc. And weighing in at a featherweight 200grams, the extra weight will barely be
noticed.
Supercharger easily couples to the Freeloader battery / hub using the original USB charge cable supplied with Freeloader and has an LED
indicator confirming a positive connection has been made to Classic.
The Globetrotter kit is supplied with a tough carry pouch to protect Freeloader Classic in the most hostile of environments.
Just plug in for instant performance.

* Your assessment is very important for improving the work of artificial intelligence, which forms the content of this project