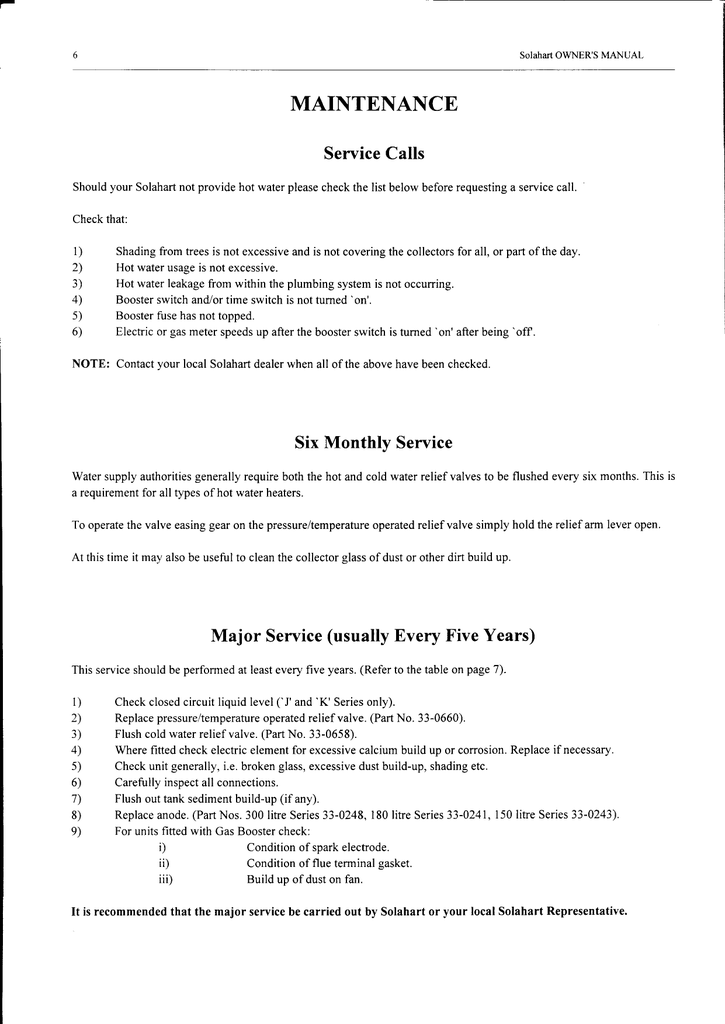 lSolahart OWNER'S MANUAL
MAINTENANCE
Service Calls
Should your Solahart not provide hot water please check the list below before requesting a service call.
Check that:
1)
2)
3)
4)
5)
6)
Shading from trees is not excessive and is not covering the collectors for all, or part ofthe day.
Hot water usage is not excessive.
Hot water leakage from within the plumbing system is not occurring.
Booster switch and./or time switch is not turned 'on'.
Booster fuse has not topped.
Electric or gas meter speeds up after the booster switch is turned 'on' after being 'off
.
NOTE: Contact your local Solahart dealer when all of the above have been checked.
Six Monthly Service
Water supply authorities generally require both the hot and cold water relief valves to be flushed every six months. This is
a requirement for all types of hot water heaters.
To operate the valve easing gear on the pressure/temperature operated relief valve simply hold the relief arm lever open.
At this time it may also be useful to clean the collector glass of dust or other dirt build up.
Major Service (usually Every Five Years)
This service should be performed at least every five years. (Refer to the table on page 7).
1)
2)
3)
4)
5)
6)
7)
8)
9)
Check closed circuit liquid level ('J' and
'K'
Series only).
Replace pressure/temperature operated relief valve. (Part No. 33-0660).
Flush cold water relief valve. (Part No. 33-0658).
Where fitted check electric element for excessive calcium build up or corrosion. Replace if necessary.
Check unit generally, i.e. broken glass, excessive dust build-up, shading etc.
Carefully inspect all connections.
Flush out tank sediment build-up (if any).
Replace anode. (PartNos.300litre Series 33-0248, 180lihe Series 33-0241,
l50litre
Series 33-0243).
For units fitted with Gas Booster check:
i)
Condition of spark electrode.
ii)
Condition of flue terminal gasket.
iiD
It is recommended that the major
Build up of dust on fan.
service be carried out by Solahart or your local Solahart Representative.
Solahart OWNER'S MANUAL
Water Quality - Is it suitable for the Solahart Water Heater?
Your Solahart heater is suitable for use with water for which the total dissolved solid content is less than 1,000 ppm and
for which the total hardness does not exceed 200 ppm CaCO,. It is recommended that water supplies having calcium
hardness (CaCO,) and an alkalinity in excess of 150 ppm should be treated by a softening process prior to use with this
heater.
A water analysis can be obtained from your water supply authority.
Anode Replacement Period
Your Solahart tank is a cylinder lined with two coats of vitreous enamel. The fitted sacrificial anode is a low cost item that
is simple to replace. All metals corrode in hot water. Bar metal tanks (eg. copper, stainless steel) generally do not have an
anode. Replacing the anode is less expensive than replacing the complete tank.
In
or less the sacrificial magnesium anode must be changed
years.
yearly
the
water T.D.S. is more than 600 but less than 1,000 ppm.
five
Three
changes
will
necessary
where
every
be
Water qualify details should be obtained from the water authority where special water supplies are used. The following
areas where the total dissolved solids (T.D.S.) is 600 ppm
table is a guide to anode replacement intervals.
Total dissolved
solids (ppm)
Recommended
anode replacement
period
5 years
600
600 - 1,000
3 years
Less than 2 years
refer to Solahart for
Over 1,000
a special anode for
these waters
Generally, where the water is supplied from a bore or well, the quality of the water
change (or less than three years) will be required. A water analysis is recommended.
To replace the anode the Solahat serviceman
will be such that a three year anode
will do the following;
4)
s)
Turn off the electrical power or gas supply (whichever applicable).
Turn off the water supply.
Release excess water pressure at the pressure/temperature relief value by holding the relief arm open.
Remove the terminal cover plate or flue cowl (for units fitted with gas booster).
Unscrew the hexagon nut located to the right of the electric element (or burner tube) and withdraw the old anode.
6)
Insert the new anode assembly into the cylinder through the plug hole.
7)
Tighten the plug, tum on the water supply, check that the nut joint is water tight, re-fit the cover (or flue
terminal). Open a hot water tap to dispel air from the tank, or at the pressure/temperature operated relief value.
1)
2)
3)
Turn on the electrical or gas supply (whichever).
WARNING: Do not turn power on until heater is filled with water otherwise damage to the heating element will
8)
result.

* Your assessment is very important for improving the work of artificial intelligence, which forms the content of this project