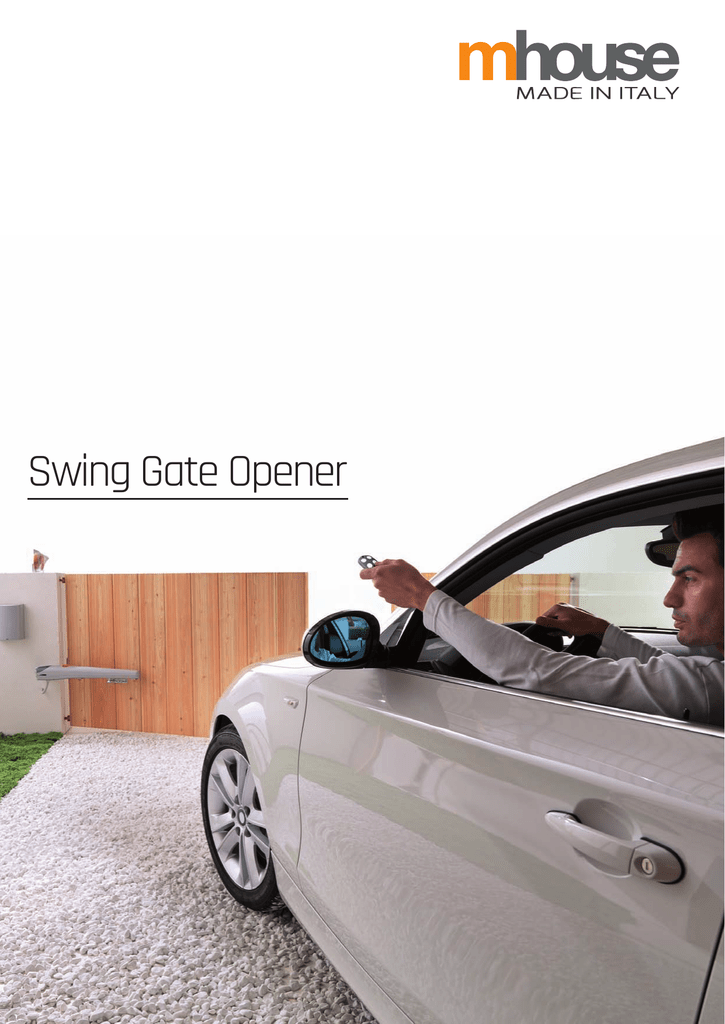 Swing Gate Opener
Everything's easy,
Everything's included!
Mhouse has developed a leading-edge range of
products combining a complete set of functions
and ease of installation and use.
Style and Substance
Mhouse has created a perfect Italian-style
line of products characterised by careful,
efficient design, so distinctive as to be
always recognizable.
A good design is the basis of quality.
Mhouse's awareness to achieve the finest
results is revealed in every detail:
cutting-edge technology, high quality
materials, accurate finish.
Four Motors
WG2S
WG20S
WS200S
WU200S
For double gates up
to 250kg.
For gates up to 450kg.
Double or single kits
available.
For gates mounted
on brick pillars.
Underground
gate motors for
double gates.
Three Power Options
1
External Transformer
Extends the reach of
a power point
1m cable &
3-pin plug
(pre-wired)
< Cable to 50m >
Motor
Low voltage cable
2-core + plus earth 2.5mm 2
(not supplied)
Control
Box
Existing
External
Power Point in
Transformer Garage or Garden
Safe
Low votage 24V cable is safe for children and animals.
EXTERNAL
TRANSFORMER
connect to power
No trench
Australian laws say 230V cable be laid in a 600mm deep trench.
24V (garden light) cable can sit above or just below the surface.
upto 50m AWAy
use
power cable (not supplied)
1.5mm upto 30m
2.5mm upto 50m
Look for this sticker
Economical
No need for an electrician to install a power point at the gate.
Easy DIY
Uses any power point up to 50m from the gate. The power point
can be in the house, garage or garden.
Safety XT
Kits
Intro XT
Motor and
release keys
WG2S / WG20S/ WS200S
WG2S / WG20S/ WS200S
Motor and
release keys
Remote
ControlExternal
External
Box Transformer
Transformer
Obstacle
Sensors
Remotes
Signal Booster
Warning Light
External
Transformer
Control
Box
2
3-Pin Plug
•
Uses a 240V power
point at the gate
•
•
240V power must be
fitted by an electrician
For busy gates
A good option for
new homes
240V
Power Point
1m cable &
3-pin plug
(pre-wired)
Motor
Control
Box
Kits
Intro
Safety
WG2S / WG20S / WS200S / WU200S
WG2S / WG20S / WS200S / WU200S
Motor and
release keys
Motor and
release keys
Remote
Control
Box
Obstacle
Sensors
Remotes
Control
Box
Signal Booster
Warning Light
3
•
•
•
•
The easiest
to install
Ideal for long driveways
No electrician
No digging
Easy DIY
Solar
Panel
2.5m
Cable
(pre-wired)
Battery
Box
Motor
Control
Box
2.5m
Cable
* subject to sun conditions
** not suitable for high traffic use
Kits
(pre-wired)
Solar Power Kit
Solar Panel
Battery
Box
AAC-SUN
+
Safety
Motor and
release keys
WG2S / WG20S / WS200S / WU200S
Remotes
+
Intro
WG2S / WG20S / WS200S / WU200S
Motor and
release keys
Obstacle
Sensors
Signal Booster
Warning Light
Not suitable for busy gates
Remote
Control
Box
Control
Box
Optional Accessories
& Safety Devices
Garage Door Piggyback
Now you can operate
your gate and garage
door on one remote.
Extra
Remote
Can be used on up to
four different
automation devices.
Battery included.
See easygate.com.au Wireless
Keypad
Signal Booster
Warning Light
For entry without
a remote. No
wires. Easy to
install. Tough cast
aluminium body.
Boosts the remote's
signal range and
announces the gate
opening.
Extra
Obstacle
Sensors
Stops the gate when an obstacle
is detected. Eg. a
child, pedestrian or
car. Mounts on gate
posts.
Back-up
Battery
Continue to operate
the gate even if the
local power is down
or a fuse is blown.
for more accessories
Selector Guide
Choose the right motor for your gate
Does the driveway
slope uphill at the gate?
More information needed.
Contact your dealer for
further assistance.
yes
New gates?
no
Install bearing
hinges!
yes
no
Install bearing
hinges!
Is the gate in a
windy location?
WG2S
Are the individual gates less
than 250kg and 2.2m wide?
yes
no
Are the gates clad
with colourbond, slat
or timer infill?
no
no
yes
Is the gate in a
windy location?
yes
Are the individual gates less
than 450kg and 4.5m wide?
yes
no
WG20S
yes
Models not suitable.
Contact your dealer for
further assistance.
no
easygate.com.au
Tech Support
1800 241 733
How-To Instructions and Videos
New Gate Questionnaire
Short Cuts videos help you get the most from your
automatic gate.
Every Gate is Unique. Completing a questionnaire
will start you on the path to a well-considered gate
system tailored to your property.
Simple instructions that'll come in handy from
time-to-time. Videos include installing accessories
plus general maintenance and simple set up.
Mhouse is
supplied by
An Australian company since 1928
See how easy it is: easygate.com.au
Saves time and money - A questionnaire sent to
your gate installer helps them understand your
expectations and provides the critical info needed
to recommend and quote the right solution.

* Your assessment is very important for improving the work of artificial intelligence, which forms the content of this project