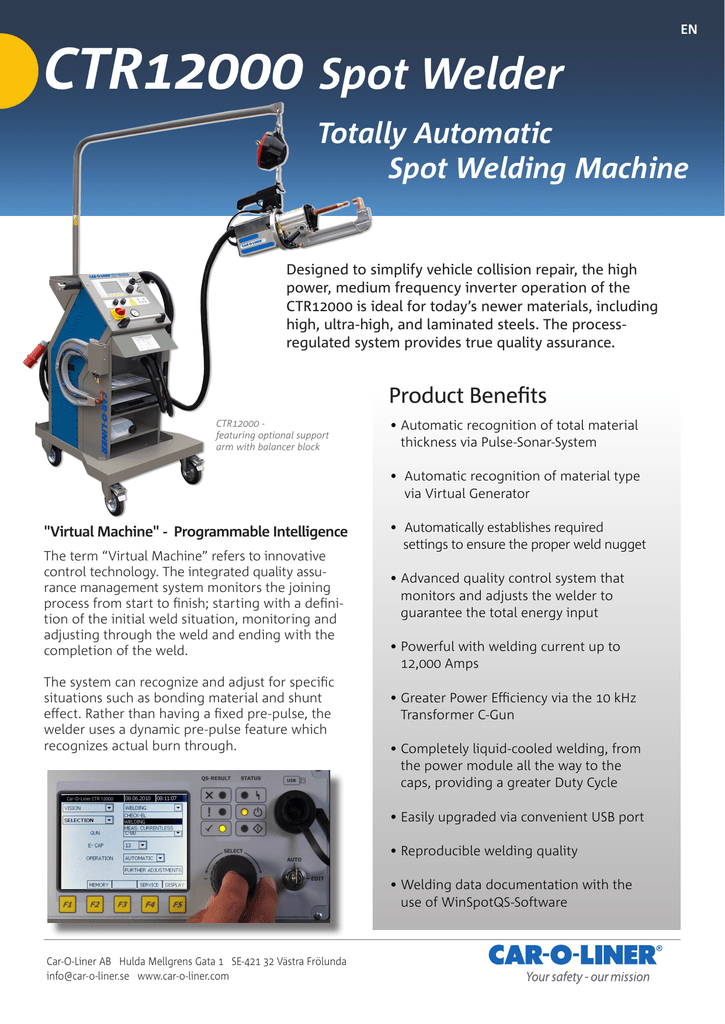 EN
CTR12000 Spot Welder
Totally Automatic
Spot Welding Machine
Designed to simplify vehicle collision repair, the high
power, medium frequency inverter operation of the
CTR12000 is ideal for today's newer materials, including
high, ultra-high, and laminated steels. The processregulated system provides true quality assurance.
Product Benefits
CTR12000 featuring optional support
arm with balancer block
• Automatic recognition of total material thickness via Pulse-Sonar-System
• Automatic recognition of material type via Virtual Generator
"Virtual Machine" - Programmable Intelligence
The term "Virtual Machine" refers to innovative
control technology. The integrated quality assurance management system monitors the joining
process from start to finish; starting with a definition of the initial weld situation, monitoring and
adjusting through the weld and ending with the
completion of the weld.
The system can recognize and adjust for specific
situations such as bonding material and shunt
effect. Rather than having a fixed pre-pulse, the
welder uses a dynamic pre-pulse feature which
recognizes actual burn through.
• Automatically establishes required
settings to ensure the proper weld nugget
• Advanced quality control system that
monitors and adjusts the welder to
guarantee the total energy input
• Powerful with welding current up to
12,000 Amps
• Greater Power Efficiency via the 10 kHz
Transformer C-Gun
• Completely liquid-cooled welding, from the power module all the way to the
caps, providing a greater Duty Cycle
• Easily upgraded via convenient USB port
• Reproducible welding quality
• Welding data documentation with the
use of WinSpotQS-Software
Car-O-Liner AB Hulda Mellgrens Gata 1 SE-421 32 Västra Frölunda
info@car-o-liner.se www.car-o-liner.com
TECHNICAL DATA
The CTR12000 includes the following:
CTR12000 Spot Welder
Max voltage
Max power:
3 x 400V 50 Hz*
75kVA
Fuse (delayed action):
Protection type:
Insulation class:
Compressed air supply:
16-32 A**
IP21
F
8 bar (116 PSI)
C-Gun 40 mm throat depth
Power unit for transformer gun (10 KHZ)
Output current:
0-200 A
Output voltage:
560V
Cooling
Cooling power:
Tank capacity:
Flow rate:
C-Gun 80 mm throat depth,
cooled
1000W
20 l (5.3 gal)
6 l/min (1.6 gal/min)
Configuration
Dimensions (HxWxD) approx:
(without balancer kit)
Approx. weight:
(without balancer kit)
Accessories case, electrode set
and 13mm caps.
Wheel extension
1220 x 680 x 800mm
(48" x 27" x 32")
95 kg (210 lbs)
C-Gun 350 mm throat depth,
cooled
Technical data transformer C- Gun
Connection Data
Primary voltage / Frequency:
560V/10 kHz
Primary power
(100% duty cycle):
20kVA
Protection type:
IP21
Insulation class:
F
Cooling type:
Liquid Cooled
Optional accessories:
C-Gun 500 mm throat depth,
cooled
Welding Circuit
Welding current:
No-load voltage:
12,000 A
12.5 VDC
Mechanical Data
Electrode force:
Weight approx:***
Cable length:
0 - 500 daN (0 - 1124 lbf)
11 kg (24 lbs)
6 m (19.7 ft)
Support arm with balancer block
* Special voltage versions available: 220/230V, 208V, 460V
** Recommendation32A (delayed action)
*** With the C-80 Yoke. Weight varies with other Yokes
Optional Equipment
Complete Set Spotter/Dent fixer
Consisting of: multifunction spot welding gun for dent repairs,
pulling, push-spotting and shrinking. With pulling hammer, workpiece
cable with connector, ground cable 2500 mm, accessories box and
delivery plate.
Welding Data Documentation
Integrity
Willingness
to change
Winning
spirit
©Car-O-Liner AB
Innovative
CAR-O-LINER is recognized
for its leadership in the
marketplace by continuously delivering high quality products and exceptional customer service.
35511
www.car-o-liner.com
2011-09
WinSpotQS is a documentation software program that records weld data
and generates reports on the repair process. Users can create multiple repair
orders at one time, record data, store the information and add additional
repair order information if desired. The QS Traffic Light icons also appear on
the report for quick reference. Orders are easily transferred to a computer via
USB flash drive.

* Your assessment is very important for improving the work of artificial intelligence, which forms the content of this project