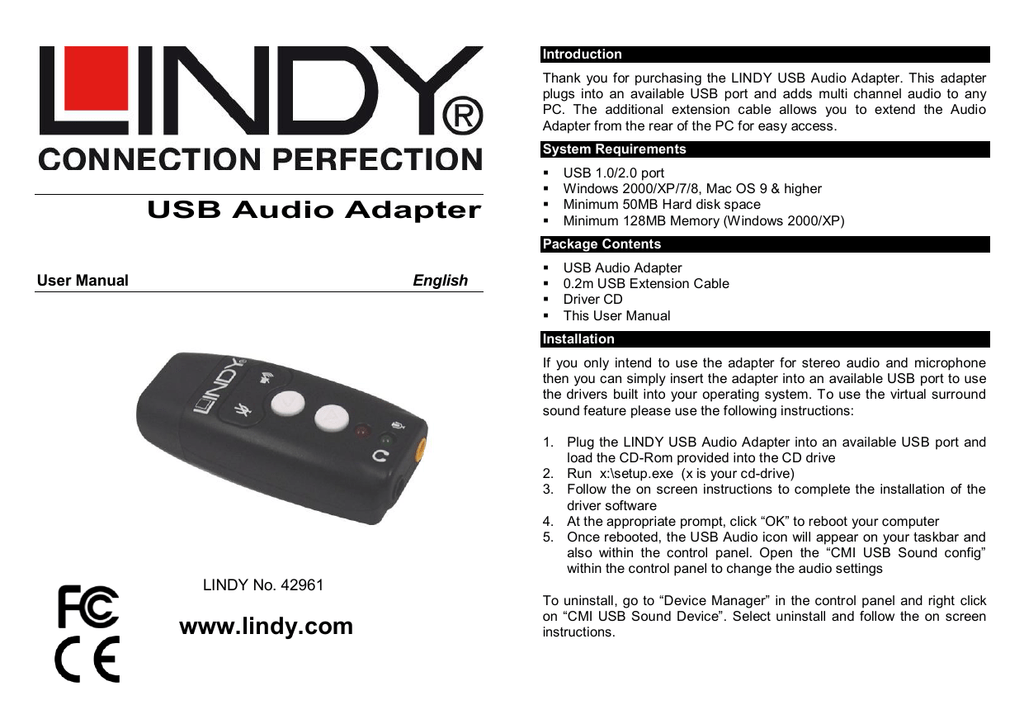 Introduction
Thank you for purchasing the LINDY USB Audio Adapter. This adapter
plugs into an available USB port and adds multi channel audio to any
PC. The additional extension cable allows you to extend the Audio
Adapter from the rear of the PC for easy access.
System Requirements
USB Audio Adapter




USB 1.0/2.0 port
Windows 2000/XP/7/8, Mac OS 9 & higher
Minimum 50MB Hard disk space
Minimum 128MB Memory (Windows 2000/XP)
Package Contents
User Manual
English




USB Audio Adapter
0.2m USB Extension Cable
Driver CD
This User Manual
Installation
If you only intend to use the adapter for stereo audio and microphone
then you can simply insert the adapter into an available USB port to use
the drivers built into your operating system. To use the virtual surround
sound feature please use the following instructions:
1. Plug the LINDY USB Audio Adapter into an available USB port and
load the CD-Rom provided into the CD drive
2. Run x:\setup.exe (x is your cd-drive)
3. Follow the on screen instructions to complete the installation of the
driver software
4. At the appropriate prompt, click "OK" to reboot your computer
5. Once rebooted, the USB Audio icon will appear on your taskbar and
also within the control panel. Open the "CMI USB Sound config"
within the control panel to change the audio settings
LINDY No. 42961
www.lindy.com
To uninstall, go to "Device Manager" in the control panel and right click
on "CMI USB Sound Device". Select uninstall and follow the on screen
instructions.
Operation
LED Function:
Headphones: Green LED flashes during activity
Microphone: Red LED is lit when microphone is muted
Ports & Controls:
Microphone Port
Headphone Port
Microphone Mute Button
Headphone Mute Button
Volume Up
Volume Down
Certifications
FCC Certifications
This equipment has been tested and found to comply with the limits for a
Class B digital device, pursuant to part 15 of the FCC Rules. These limits
are designed to provide reasonable protection against harmful
interference when the equipment is operated in a commercial
environment.
CE Certification
This equipment complies with the EMC directive 89/336/EEC and
technical standards EN 55022, EN55024 and EN61000-3-2/-3. The
report shows the maximum emission levels emanating from the device
are within the compliance requirements. This product has been
manufactured under the scope of RoHS compliance according to EU
Directive 2011/65/EU
WEEE (Waste of Electrical and Electronic Equipment),
Recycling of Electronic Products
It is no longer allowable to simply throw away electrical and electronic
equipment. Instead, these products must enter the recycling process.
Each individual EU member state has implemented the WEEE
regulations into national law in slightly different ways. Please follow your
national law when you want to dispose of any electrical or electronic
products. More details can be obtained from your national WEEE
recycling agency.
Germany
Die Europäische WEEE Direktive sowie das deutsche Elektro- und
Elektronikgerätegesetz – ElektroG verbieten das Entsorgen von
Elektro- und Elektronikgeräten über die Hausmülltonne! Diese Geräte
sind den lokalen Sammelsystemen bzw. örtlichen Sammelstellen
zuzuführen. Die Kosten und Verantwortung für den Recyclingprozess
übernimmt die Gesamtheit der Hersteller.
France
En 2006, l'union Européenne a introduit la nouvelle réglementation
(DEEE) pour le recyclage de tout équipement électrique et électronique.
Chaque Etat membre de l' Union Européenne a mis en application la
nouvelle réglementation DEEE de manières légèrement différentes.
Veuillez suivre le décret d'application correspondant à l'élimination des
déchets électriques ou électroniques de votre pays.
Italy
Nel 2006 l'unione europea ha introdotto regolamentazioni (WEEE) per la
raccolta e il riciclo di apparecchi elettrici ed elettronici. Non è più
consentito semplicemente gettare queste apparecchiature, devono
essere riciclate. Ogni stato membro dell' EU ha tramutato le direttive
WEEE in leggi statali in varie misure. Fare riferimento alle leggi del
proprio Stato quando si dispone di un apparecchio elettrico o elettronico.
Per ulteriori dettagli fare riferimento alla direttiva WEEE sul riciclaggio
del proprio Stato.
LINDY No.42961
www.lindy.com
th
4 Edition March 2013
United Kingdom
The European Union has introduced regulations (WEEE) for the
collection and recycling of all waste electrical and electronic equipment.

* Your assessment is very important for improving the work of artificial intelligence, which forms the content of this project