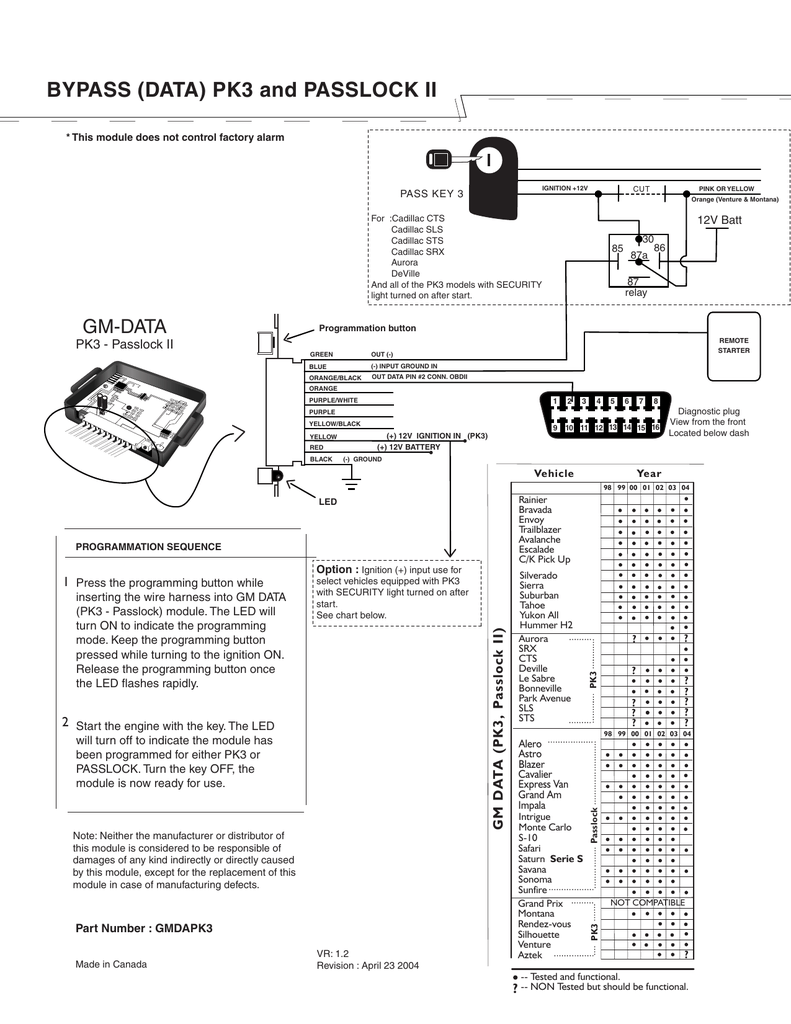 BYPASS (DATA) PK3 and PASSLOCK II
* This module does not control factory alarm
CUT
IGNITION +12V
PASS KEY 3
12V Batt
For :Cadillac CTS
Cadillac SLS
Cadillac STS
Cadillac SRX
Aurora
DeVille
And all of the PK3 models with SECURITY
light turned on after start.
GM-DATA
PK3 - Passlock II
PINK OR YELLOW
Orange (Venture & Montana)
30
86
85
87a
87
relay
Programmation button
GREEN
OUT (-)
BLUE
(-) INPUT GROUND IN
ORANGE/BLACK
OUT DATA PIN #2 CONN. OBDII
REMOTE
STARTER
ORANGE
PURPLE/WHITE
1
2
9
10 11 12 13 14 15 16
3
4
5
7
6
8
PURPLE
YELLOW/BLACK
YELLOW
RED
BLACK
(+) 12V IGNITION IN (PK3)
(+) 12V BATTERY
Diagnostic plug
View from the front
Located below dash
(-) GROUND
Vehicle
Year
98 99 00 01 02 03 04
Rainier
Bravada
Envoy
Trailblazer
Avalanche
Escalade
C/K Pick Up
select vehicles equipped with PK3
with SECURITY light turned on after
start.
See chart below.
2 Start the engine with the key. The LED
will turn off to indicate the module has
been programmed for either PK3 or
PASSLOCK. Turn the key OFF, the
module is now ready for use.
Note: Neither the manufacturer or distributor of
this module is considered to be responsible of
damages of any kind indirectly or directly caused
by this module, except for the replacement of this
module in case of manufacturing defects.
Part Number : GMDAPK3
Made in Canada
VR: 1.2
Revision : April 23 2004
Silverado
Sierra
Suburban
Tahoe
Yukon All
Hummer H2
Aurora
SRX
CTS
Deville
Le Sabre
Bonneville
Park Avenue
SLS
STS
Alero
Astro
Blazer
Cavalier
Express Van
Grand Am
Impala
Intrigue
Monte Carlo
S-10
Safari
Saturn Serie S
Savana
Sonoma
Sunfire
Grand Prix
Montana
Rendez-vous
Silhouette
Venture
Aztek
?
?
PK3
inserting the wire harness into GM DATA
(PK3 - Passlock) module. The LED will
turn ON to indicate the programming
mode. Keep the programming button
pressed while turning to the ignition ON.
Release the programming button once
the LED flashes rapidly.
Option : Ignition (+) input use for
GM DATA (PK3, Passlock II)
1 Press the programming button while
?
?
?
?
?
?
?
?
?
98 99 00 01 02 03 04
Passlock
PROGRAMMATION SEQUENCE
NOT COMPATIBLE
PK3
LED
-- Tested and functional.
?
? -- NON Tested but should be functional.

* Your assessment is very important for improving the work of artificial intelligence, which forms the content of this project