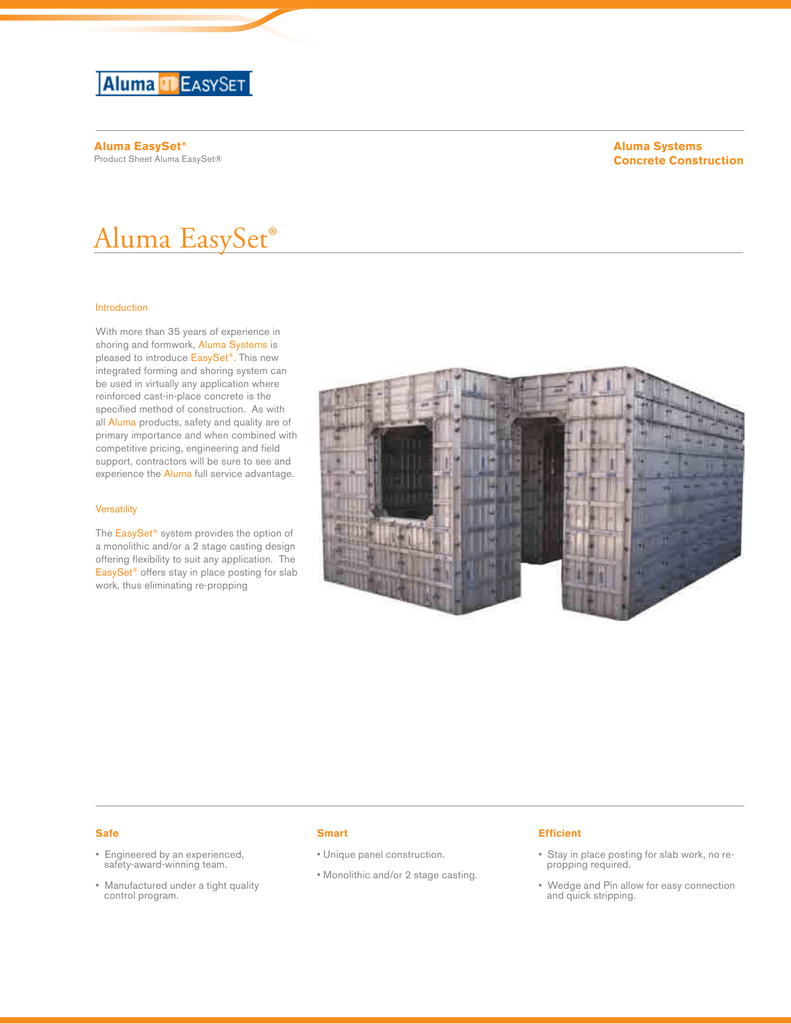 Aluma EasySet®
Aluma Systems
Concrete Construction
Product Sheet Aluma EasySet®
Aluma EasySet®
Introduction
With more than 35 years of experience in
shoring and formwork, Aluma Systems is
pleased to introduce EasySet®. This new
integrated forming and shoring system can
be used in virtually any application where
reinforced cast-in-place concrete is the
specified method of construction. As with
all Aluma products, safety and quality are of
primary importance and when combined with
competitive pricing, engineering and field
support, contractors will be sure to see and
experience the Aluma full service advantage.
Versatility
The EasySet® system provides the option of
a monolithic and/or a 2 stage casting design
offering flexibility to suit any application. The
EasySet® offers stay in place posting for slab
work, thus eliminating re-propping
Safe
Smart
Efficient
• Engineered by an experienced,
safety-award-winning team.
• Unique panel construction.
• Stay in place posting for slab work, no repropping required.
• Manufactured under a tight quality
control program.
• Monolithic and/or 2 stage casting.
• Wedge and Pin allow for easy connection
and quick stripping.
system Features
Aluma EasySet®
Aluma EasySet® offers a lightweight, cost effective, and complete all aluminum solution to the contractor's shoring and forming requirements.
Although this system is primarily aimed at low-rise residential developments, it can be utilized for any CIP application.
• E - fficient, ease of assembly, no crane required, economical.
• A - daptable, can be used as monolithic or in two stage casting
applciations for any geometry.
• S - ystematic, specifically designed to suit the clients needs,
simple and easy to erect.
• Y - Why...because of the unbeatable value and service Aluma
supplies with all its products.
system components
Aluma EasySet®
Door Opening
Monolithic Stairs
Stripping Corner
EasySet Panel
Stripping Panel
Wall
Window
Opening
Wall Form
Plumbing
Brace
Starter
Panels
Corner Catwalk
Bracket &
Support
Catwalk Support
Strongback
Cast in Anchor
Standard Catwalk
Bracket
Aligner Bracket &
Box Aligner
Guardrail Support
Aligner Bracket
EasySet Post
Shore & Post
Head Panel
system Features
Aluma EasySet®
Centre Extrusion
Side or End Rail
Side Extrusion
Stainless Ring
Bushing
Box Stiffener
Hole Details
Stainless Ring
Bushing
End Rail
Corner Stiffener
Non Structural Weld
Each extrusion of the
Aluma EasySet® panel
is manufactured using
6061-T6 aluminum alloy,
configured to integrate the
face sheets and rails using
interlocking connections.
Each
extrusion
is
mechanically locked by
an aluminum stiffener`
minimizing the amount of
welding, therefore reducing
the maintenance required
over the life of the panel
while maintaining structural
integrity and rigidity.
The stiffeners provide two
functions:
Continuous Structural (1) Structural strength
(2) Practicality. Panels can
Weld All Around
be easily maneuvered via
the stiffeners.
Mechanical Lock
Quick strike chamfers allow for easy removal of slab and wall
panels and create a systematic striking sequence that will be
repeated every time the system is used.
EasySet
Stripping Corner
150 Stripping
Panel
Typical EasySet
Wall Panel
Pouring Position
Easy to clean, flat side
rails are designed for
the rigidity and strength
required
by
today's
construction
demands.
Rails are notched for tie
placement.
Aluma EasySet® system offers an
integrated pin and wedge system
on all standard wall and deck
panels which is easily replaceable
if damaged.
By having an integrated pin, there
are less loose pieces to account
for on site, reducing labour time
and lost hardware. Loose wedge
and pins are included in the system
to connect smaller non-standard
panels and accessories.
Stripping Position
The combination of pin and wedge connections allow easy connection of accessories
such as guardrail brackets, aligner brackets and plumbing brace brackets.
Aluma EasySet® flat ties fits into
pre-cut recesses in the EasySet
panel and is secured to the panels
using the Pin & Wedge. When
properly secured, the flat ties
provide lateral restrain for wall
panels.
System features
Aluma EasySet®
To properly secure panels at an outside
corner, a 60x60 aluminum angle is used to
connect the two adjacent panels.
For multi-story buildings, at set of EasySet
Starter Panels are employed to provide
a starting platform for the panels of the
subsequent pour which maintains a consistent
construction joint.
When the structure ends at a slab edge,
the slab edge panel will be anchored into
the concrete with a re-useable high tensile
concrete screw & M16 bolt. The slab edge
panels can now act as starter panels for any
panels that are required to form any upturn
beams above the slab edge.
Aluma EasySet ®
Catwalk Brackets are
fixed to completed
concrete walls using
a simple pin & wedge
connection to existing
ties to provide a safe
working platform for
workers to access the
exterior of the building.
At locations where there
is an opening, a Catwalk
Support Strongback
can be used to provide
mounting point for the
Catwalk Bracket.
Aluma EasySet® panels are fully strikeable,
propping remains in position to support green
concrete.
Aluma EasySet® Corner Catwalk Bracket allow additional perimeter access where
required, providing additional room at the corners of the building.
Aluma EasySet®
Aluma EasySet® Stair forms are designed to allow walls and stairs to be poured simultaneously. The stairs forms can be completed with a step
cover to allow for even faster pouring. As an added safety feature, a thread plate is attached to each step cover to provide safe access for workers
to travel up & down the stairs. Stairs without top covers can be provided upon request.
Custom EasySet Wall
Panels
EasySet Stairs
Side Form
Step Cover with
Thread Plate
EasySet Post Shore
EasySet Stair Form for Single Flight Stairs
EasySet Stairs Ledger
Form
Step Cover with
Thread Plate
EasySet Stairs
Side Form
EasySet Panel
with Thread Plate
EasySet Panel
with Thread Plate
EasySet Stairs Ledger
Form
EasySet Stair Form for Multi-Flight Stairs
Stair forms can be easily
configured for use inside
building cores as an
alternative to precast stairs.
It can also be supplied
as an independent stair
core form for multi-storey
buildings.
Aluma EasySet®
Aluma EasySet® Walls & Column Forms can be used to form large walls & columns where flat ties are not practical or not preferred. In this case
to ensure the strength of the system, double box walers & ties are used.
EasySet Double
Box Waler (50x50)
EasySet Double
Box Waler (100x50)
Waler Support
Bracket
Plumbing Brace
Tie & Wing Nut
(By Contractor)
Hitch Pin & Rivet
Waler - Panel
Connector
Waler Support
Bracket
EasySet Double
Box Waler (100x50)
Ties & Tie Plates
(By Contractor)
Corner Tie Bracket
Using Hitch Pin & Rivets, Corner Tie Brackets
are connected to the Walers to provide more tie
support at column/wall corner locations.
EasySet Double
Box Waler (100x50)
EasySet Panel
Stiffener
Waler - Panel
Connector
Waler Support
Bracket
The Waler Support Bracket hooks onto the
panel stiffeners of an EasySet panel. The
bracket supports the double box waler until
it is tied through by contractor.
M16x40 Bolt
Assembly
60x60 Angle
All Walers can also be are connected to the EasySet panels
with the Waler-Panel Connector at any hole location. This
tightens and aligns the form as well as gangs them together.
To protect the EasySet
Panels from damage and to
allow easy striking. Angles
are bolted to the bottom
to the panels allowing the
panel to be tilted away
during striking.
system features
Aluma EasySet®
• Aluma EasySet® is designed for 6100 kg/m2
concrete pressure.
• Typical tie bar spacing at 30 cm or 60 cm
c/c depending on wall height and pour rate.
• Panel width between 15 to 60 cm with
standard panel height in increments of 30
cm to a maximum height of 2.1 m (approx. 20
kg/m2).
• Face sheet thickness from 3.2 mm to 3.5 mm.
For custom panels the face sheet thickness
is 4.0 mm.
• Chamfered edge panels have been
developed to assure quick and easy stripping.
• Extruded corners with chamfer edges are
made to allow monolithic wall/slab pour and
quick-easy stripping
Brand Energy and Infrastructure Services
Aluma Systems
Concrete Construction
1325 Cobb International Dr
Ste A-1
Kennesaw, GA
USA 30152
55 Costa Road
Toronto, Ontario
Canada L4K 1M8
T 678.285.1400
F 770.514.0285
www.Aluma.com
T 905.669.5282
F 905.660.8045
T 888.284.9897
Aluma Systems is a Brand Services Company © Brand Services Inc.
Consult our Engineering Department for assistance in the application of these accessories. Illustrations and photos are not to scale. All dimensions nominal.
• Custom widths and lengths can be supplied
according to project requirements.

* Your assessment is very important for improving the work of artificial intelligence, which forms the content of this project