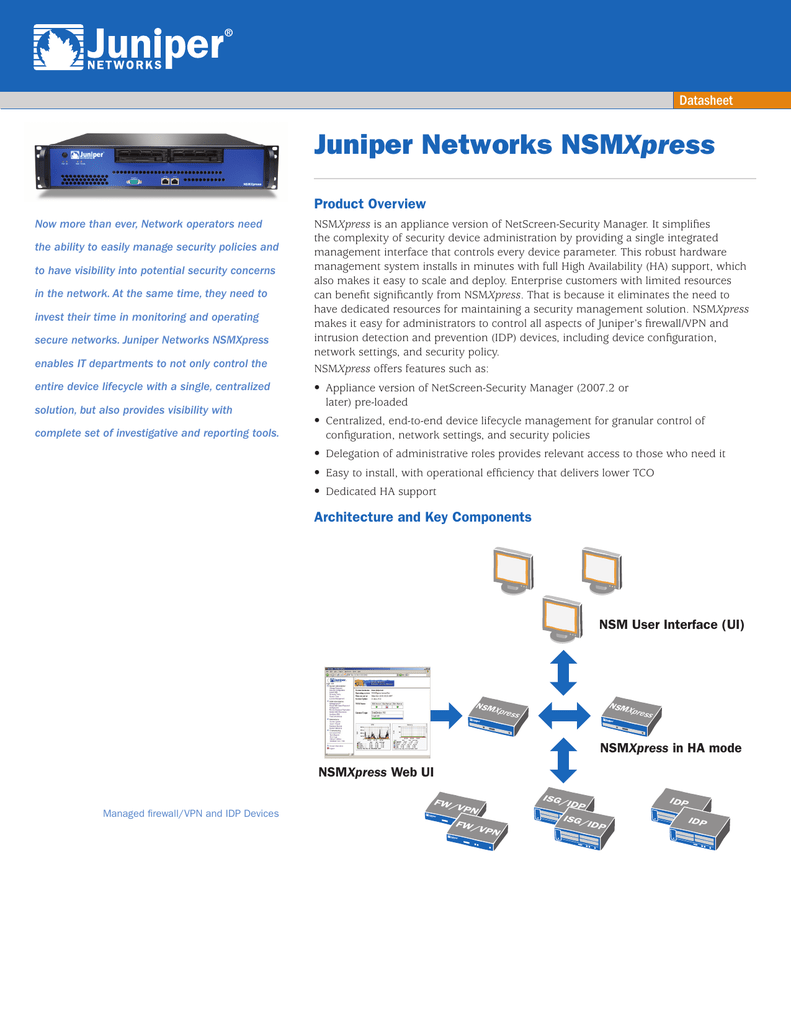 Datasheet
Juniper Networks NSMXpress
Product Overview
Now more than ever, Network operators need
the ability to easily manage security policies and
to have visibility into potential security concerns
in the network. At the same time, they need to
invest their time in monitoring and operating
secure networks. Juniper Networks NSMXpress
enables IT departments to not only control the
entire device lifecycle with a single, centralized
solution, but also provides visibility with
complete set of investigative and reporting tools.
NSMXpress is an appliance version of NetScreen-Security Manager. It simplifies
the complexity of security device administration by providing a single integrated
management interface that controls every device parameter. This robust hardware
management system installs in minutes with full High Availability (HA) support, which
also makes it easy to scale and deploy. Enterprise customers with limited resources
can benefit significantly from NSMXpress. That is because it eliminates the need to
have dedicated resources for maintaining a security management solution. NSMXpress
makes it easy for administrators to control all aspects of Juniper's firewall/VPN and
intrusion detection and prevention (IDP) devices, including device configuration,
network settings, and security policy.
NSMXpress offers features such as:
• Appliance version of NetScreen-Security Manager (2007.2 or
later) pre-loaded
• Centralized, end-to-end device lifecycle management for granular control of
configuration, network settings, and security policies
• Delegation of administrative roles provides relevant access to those who need it
• Easy to install, with operational efficiency that delivers lower TCO
• Dedicated HA support
Architecture and Key Components
NSM User Interface (UI)
NSMX
NSMX
press
press
NSMXpress in HA mode
NSMXpress Web UI
Managed firewall/VPN and IDP Devices
FW/
ISG/
VPN
FW/
VPN
IDP
ISG/
IDP
IDP
IDP
2
Features and Benefits
Features
Feature Description
Benefits
Hardened OS
Juniper's security team monitors and maintains
NSMXpress OS, which is optimized for performance
and security.
Users don't have to worry about security
vulnerabilities, support, or patch management for
the OS.
Web Management
Intuitive Web UI for managing and maintaining
NSMXpress.
Allows users to configure common NSMXpress
parameters and tasks like Network settings,
scheduling updates, troubleshooting, utilities and
backups via a web interface.
Recovery Option
Menu-driven recovery option allows users to revert
back to factory defaults or restore to the last
configuration.
Users can easily reset the box to its original state
or quickly restore lost data.
Scheduled Database Backups
NSMXpress supports both local and remote
backups. By default it will perform nightly back-ups
locally.
Users can set up an automatic task for backing up
their data either locally or remotely.
Status Monitoring
The system monitors the status of NSMXpress and
sends daily emails to the administrator regarding
the health of the appliance.
Users can monitor and maintain the health of the
appliance.
Server Role Option
Ability to choose the role of the appliance to be
either a regional server or central manager.
User will get a chance to change the role of the
server if they need to. This is a one time switch.
Central Update
One place to get all the updates. NSMXpress can
perform either automatic or manual updates.
Not only can it download the latest OS upgrades,
but it can also update NetScreen-Security Manager
Attack DB through proxy settings.
One stop Support
Juniper Networks Technical Assistance Center
supports all aspects of NSMXpress.
Users don't have to go to several places to get
support.
Juniper Networks Firewall/VPN and Intrusion
Detection and Prevention Device Support
NSMXpress
Number of Devices Supported
Firewall/VPN
500
IDP
50 (10 running profiler)
Firewall/VPN + IDP
200 + 20 (5 running profiler)
Specifications
Dimensions and Power
Dimensions
(W x H x D)
Weight
Rack Mountable
A/C Power Supply
System Battery
Efficiency
MTBF
Material
Fans
NSMXpress
16.7 x 3.5 x 16.2 in
(42.42 x 8.89 x 41.15 cm)
28.5 lb (12.94 kg) typical (unboxed)
Yes, 19"
100-240 VAC, 50-60 Hz, 2.5 A 260 Watts
CR2032 3 V lithium coin cell
65% minimum, at full load
78,000 Hours
18 gauge (.048") cold-rolled steel
2 externally accessible, hot swappable ball-bearing fans
Panel Display
Front Panel Power Button
Power LED, Temp
PS Fail
HDD Activity Yes
Yes
Yes
Yes
Ports
Traffic
Management
Fast Ethernet
Gigabit Ethernet
Console
Two RJ-45 Ethernet-10/100/1000 Full or half duplex
(auto-negotiation)
One RJ-45 Ethernet-10/100/1000 full or half-duplex
(auto-negotiation)
IEEE 802.3u compliant
IEEE 802.3z or IEEE 802.3ab compliant
One 9-pin serial console port
Environment
Operating
Storage
Relative Humidity (operating)
Relative Humidity (storage)
Altitude (operating)
Altitude (storage)
50° to 95° F (10° C to 35° C)
-40° to 158° F (-40° C to 70° C)
8% to 90% non-condensing
5% to 90% non-condensing
-50 to 10,000 ft (3,000 m)
-50 to 35,000 ft (10,600 m)
Power Consumption
Thermal dissipation
Thermal dissipation
Thermal dissipation
Peak inrush current
416 BTU/hr (typical)
470 BTU/hr (max single power supply)
559 BTU/hr (max dual power supply)
50A Max. @ 115VAC, 80A Max. @ 230VAC
Certifications
Safety Certifications
Emissions Certifications
Warranty
EN60950-1:2001+ A11, UL60950-1:2003, CSA C22.2 No.
60950-1, IEC 60950-1:2001
FCC Class A, VCCI Class A, CE class A
90 Days
3
Ordering Information
Product Part Number
NSMXpress, 25 devices
NSMXpress, HA
NetScreen-Security Manager, 25 devices
NetScreen-Security Manager, additional 50 devices
NetScreen-Security Manager, additional 100 devices NetScreen-Security Manager, additional 500 devices
NetScreen-Security Manager, additional 1000 devices
NS-SM-A-BSE
NS-SM-A-HA
NS-SM-S-BSE
NS-SM-ADD-50
NS-SM-ADD-100
NS-SM-ADD-500
NS-SM-ADD-1K
Juniper Networks Firewall/VPN and IDP Device Support
NetScreen-Hardware Security
Client (HSC)
NetScreen-5XP
NetScreen-5GT
NetScreen-5GT ADSL
NetScreen-25
NetScreen-50
NetScreen-204
NetScreen-208
NetScreen-500
NetScreen-500 GPRS
SSG 5
SSG 20
SSG 140
SSG 320M
SSG 350M
SSG 520
SSG 550
ISG 1000
ISG 1000 w/IDP
ISG 2000
ISG 2000 w/IDP
NetScreen-5200
NetScreen-5400
IDP 10
IDP 50
IDP 100
IDP 200
IDP 500
IDP 600
IDP 1000
IDP 1100
Juniper Networks ScreenOS Support
ScreenOS 5.4.0
ScreenOS 5.3.0
ScreenOS 5.2.0
ScreenOS 5.1.0
ScreenOS 5.0.0 ScreenOS 5.1/5.2/5.3-GPRS
ScreenOS 4.0.1
ScreenOS 4.0.1-MCAST
ScreenOS 4.0.0-DIAL2
ScreenOS 4.0.3
ScreenOS 4.0.1-SBR
ScreenOS 4.0.1-SIBR
ScreenOS 4.0.0
Netscreen-Security Manager IDP Support
IDP 4.0
IDP 4.1
Note: For more information on NetScreen-Security Manager, please refer to the data sheet.
4
About Juniper Networks
Juniper Networks, Inc. is the leader in high-performance
networking. Juniper offers a high-performance network
infrastructure that creates a responsive and trusted environment
CORPORATE HEADQUARTERS
AND SALES HEADQUARTERS FOR
NORTH AND SOUTH AMERICA
Juniper Networks, Inc.
1194 North Mathilda Avenue
Sunnyvale, CA 94089 USA
Phone: 888.JUNIPER (888.586.4737)
or 408.745.2000
Fax: 408.745.2100
www.juniper.net
EUROPE, MIDDLE EAST, AFRICA
REGIONAL SALES HEADQUARTERS
Juniper Networks (UK) Limited
Building 1
Aviator Park
Station Road
Addlestone
Surrey, KT15 2PG, U.K.
Phone: 44.(0).1372.385500
Fax: 44.(0).1372.385501
Copyright 2008 Juniper Networks, Inc. All rights reserved. Juniper Networks, the Juniper
Networks logo, NetScreen, and ScreenOS are registered trademarks of Juniper Networks, Inc.
in the United States and other countries. JUNOS and JUNOSe are trademarks of Juniper
Networks, Inc. All other trademarks, service marks, registered trademarks, or registered service
marks are the property of their respective owners. Juniper Networks assumes no responsibility
for any inaccuracies in this document. Juniper Networks reserves the right to change, modify,
transfer, or otherwise revise this publication without notice.
100204-005 Jan 2008
for accelerating the deployment of services and applications over a
single network. This fuels high-performance businesses. Additional
information can be found at www.juniper.net.
EAST COAST OFFICE
Juniper Networks, Inc.
10 Technology Park Drive
Westford, MA 01886-3146 USA
Phone: 978.589.5800
Fax: 978.589.0800
ASIA PACIFIC REGIONAL SALES HEADQUARTERS
Juniper Networks (Hong Kong) Ltd.
26/F, Cityplaza One
1111 King's Road
Taikoo Shing, Hong Kong
Phone: 852.2332.3636
Fax: 852.2574.7803
To purchase Juniper Networks solutions, please
contact your Juniper Networks sales representative
at 1-866-298-6428 or authorized reseller.