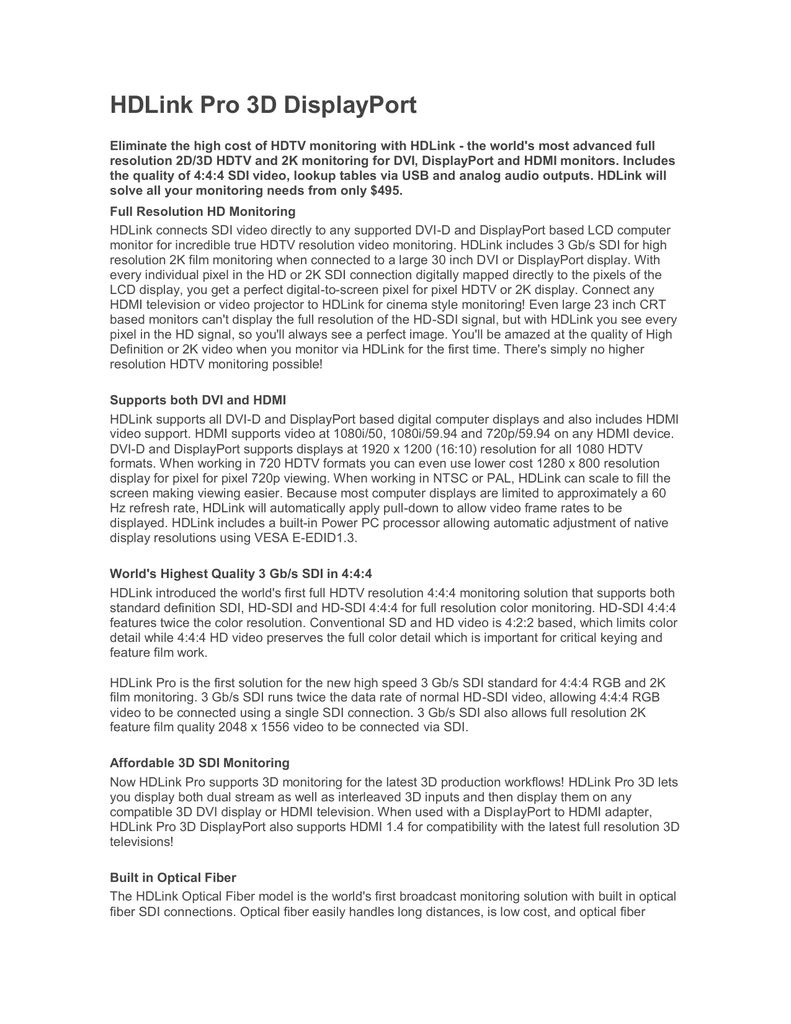 HDLink Pro 3D DisplayPort
Eliminate the high cost of HDTV monitoring with HDLink - the world's most advanced full
resolution 2D/3D HDTV and 2K monitoring for DVI, DisplayPort and HDMI monitors. Includes
the quality of 4:4:4 SDI video, lookup tables via USB and analog audio outputs. HDLink will
solve all your monitoring needs from only $495.
Full Resolution HD Monitoring
HDLink connects SDI video directly to any supported DVI-D and DisplayPort based LCD computer
monitor for incredible true HDTV resolution video monitoring. HDLink includes 3 Gb/s SDI for high
resolution 2K film monitoring when connected to a large 30 inch DVI or DisplayPort display. With
every individual pixel in the HD or 2K SDI connection digitally mapped directly to the pixels of the
LCD display, you get a perfect digital-to-screen pixel for pixel HDTV or 2K display. Connect any
HDMI television or video projector to HDLink for cinema style monitoring! Even large 23 inch CRT
based monitors can't display the full resolution of the HD-SDI signal, but with HDLink you see every
pixel in the HD signal, so you'll always see a perfect image. You'll be amazed at the quality of High
Definition or 2K video when you monitor via HDLink for the first time. There's simply no higher
resolution HDTV monitoring possible!
Supports both DVI and HDMI
HDLink supports all DVI-D and DisplayPort based digital computer displays and also includes HDMI
video support. HDMI supports video at 1080i/50, 1080i/59.94 and 720p/59.94 on any HDMI device.
DVI-D and DisplayPort supports displays at 1920 x 1200 (16:10) resolution for all 1080 HDTV
formats. When working in 720 HDTV formats you can even use lower cost 1280 x 800 resolution
display for pixel for pixel 720p viewing. When working in NTSC or PAL, HDLink can scale to fill the
screen making viewing easier. Because most computer displays are limited to approximately a 60
Hz refresh rate, HDLink will automatically apply pull-down to allow video frame rates to be
displayed. HDLink includes a built-in Power PC processor allowing automatic adjustment of native
display resolutions using VESA E-EDID1.3.
World's Highest Quality 3 Gb/s SDI in 4:4:4
HDLink introduced the world's first full HDTV resolution 4:4:4 monitoring solution that supports both
standard definition SDI, HD-SDI and HD-SDI 4:4:4 for full resolution color monitoring. HD-SDI 4:4:4
features twice the color resolution. Conventional SD and HD video is 4:2:2 based, which limits color
detail while 4:4:4 HD video preserves the full color detail which is important for critical keying and
feature film work.
HDLink Pro is the first solution for the new high speed 3 Gb/s SDI standard for 4:4:4 RGB and 2K
film monitoring. 3 Gb/s SDI runs twice the data rate of normal HD-SDI video, allowing 4:4:4 RGB
video to be connected using a single SDI connection. 3 Gb/s SDI also allows full resolution 2K
feature film quality 2048 x 1556 video to be connected via SDI.
Affordable 3D SDI Monitoring
Now HDLink Pro supports 3D monitoring for the latest 3D production workflows! HDLink Pro 3D lets
you display both dual stream as well as interleaved 3D inputs and then display them on any
compatible 3D DVI display or HDMI television. When used with a DisplayPort to HDMI adapter,
HDLink Pro 3D DisplayPort also supports HDMI 1.4 for compatibility with the latest full resolution 3D
televisions!
Built in Optical Fiber
The HDLink Optical Fiber model is the world's first broadcast monitoring solution with built in optical
fiber SDI connections. Optical fiber easily handles long distances, is low cost, and optical fiber
cables last virtually forever because you can keep plugging them into faster equipment in the future,
and the same cables will go much faster. Optical fiber cables can be installed by your local
electrician, and the cables can be purchased from your local electrical wholesaler. That's because
optical fiber is used all the time in computer networking, so it's low cost and commonly available!
Now you can build a native optical fiber facility!
Standard Definition, HDTV or 2K
HDLink supports all SDI based formats from standard definition NTSC/PAL to HD-SDI 1080 and
720 and even 2K film resolution when used with DVI displays. HDLink features 3 Gb/s SDI, so also
works with real time 2K monitoring as used on Blackmagic Design's Multibridge Eclipse, Multibridge
Pro and DeckLink HD Extreme. With HDLink you'll get the best image quality possible with format
compatibility guaranteed years into the future. HDLink's SDI video input automatically switches
between SD, HD and 2K. Unlike CRT based monitors, HDLink also supports all HDTV frame rates
and formats including progressive HD formats.
SMPTE 352M video payload identification ancillary data is used for automatic input format
recognition and RGB/YUV color space detection. Color precision is at an incredible 10 bit in both
SD and HD formats. Video data is automatically rounded down to the bit depth of the connected
LCD display for superior viewing quality.
Color Management via 3D Lookup Tables
For matching LCD display colorimetry and simulating various types of film stocks, HDLink Pro
model features more advanced 3D lookup tables. Advanced 3D lookup tables increase color control
because a blend of red, green and blue video can be output to each primary color on the connected
display. Only advanced 3D lookup tables can give full color control for accurate simulation of almost
any feature film stock. Lookup tables are fully adjustable via a high speed USB 2.0 host computer
connection using the included HDLink Utility software for Windows and Mac OS X. Custom lookup
tables also allow film industry log video to be converted to linear for monitoring when used for
feature film work. Preset gamma tables for Panasonic and Grass Valley Thomson Viper cinegamma are included.
Supports LCD Displays
HDLink supports DVI-D and DisplayPort based digital computer displays. For 1080 and 720 HDTV
formats, a 1920 x 1200 (16:10) resolution display is recommended. However, if you're working in
720 HDTV formats only, then a lower cost 1280 x 800 resolution display is recommended. When
working in NTSC or PAL, HDLink can scale up the displayed image to fill the display making
viewing easier. Because most computer displays are limited to approximately a 60 Hz refresh rate,
HDLink will automatically apply pull-down to allow video frame rates to be displayed. HDLink
includes a built-in Power PC processor allowing automatic adjustment of native display resolutions
using VESA E-EDID1.3.
Analog Audio Monitoring Output
Audio outputs are de embedded from the SDI input and then converted to analog at an incredible
24 bit. HDLink supports 6 channels out allowing easy monitoring of 5.1 surround sound audio.
Audio is output on RCA connectors so you can easily connect to standard HiFi systems. If the
connected display requires pull-down processing then HDLink will apply a variable audio delay
ensuring perfect audio to video sync. To protect speakers and eliminate loud pops and other audio
glitches, HDLink gently mutes the audio if video formats change or when SDI signals are connected
and disconnected.
Three Fantastic Models
HDLink is available in three models to match your workflow needs. If you need Dual Link 4:4:4
monitoring then HDLink Pro DVI or HDLink Pro 3D DisplayPort models are ideal at only $495. If you
don't need Dual Link 4:4:4, as you're running a 3 Gb/s SDI facility, and you need optical fiber SDI
built in, then HDLink Optical Fiber is perfect at only $795.
Mac OS X and Windows Support
Connect to HDLink via USB for all settings, lookup table downloads, and for software updates on
Mac OS X or Windows computers.
Perfect with a 24" Display
Connect HDLink to any 24" DVI or DisplayPort displayt as an ideal monitoring solution for your edit
suite. In combination with uncompressed broadcast capture cards such as DeckLink,
uncompressed HD images have never looked so good.
Configure and Update via USB
Included free, HDLink Utility lets you configure advanced features such as 2D/3D lookup tables,
color settings and blue only mode. Control software is available for both Mac OS X and Windows
with USB 2.0 connectivity allowing firmware upgrades via internet downloadable updates.
Digital to Screen
HDLink connects SDI video direct to your display using DVI-D, DisplayPort or HDMI, so you get a
fully digital connection to the screen. This totally eliminates noise and other analog limitations to
your monitoring.
Use any Display
Although most LCD computer displays support the EDID display status from the monitor, some
monitors and projectors may not. In that rare case HDLink Utility lets you manually override settings
so you can find a custom rate that allows your monitor to display.
Ideal Monitoring
DeckLink is the industry leading uncompressed broadcast video card and when combined with
HDLink, you have an unbeatable combination. DeckLink has helped thousands of creative people
edit uncompressed - now HDLink is doing the same for HD and even 3D monitoring.
HD Monitoring for Everyone
Blackmagic Design's Studio Videohub is the ideal electronic patch panel allowing all users in a
workgroup to connect to each other. Because Videohub features independent monitoring outputs,
combined with HDLink allows full HD resolution monitoring for everyone.
No Switches
Unlike any other converter, HDLink is incredibly easy to setup. Using HDLink Utility connected via
USB you can change lift, gain and gamma settings for each color channel as well as upload gamma
tables. Settings are saved between power cycles, until changed.