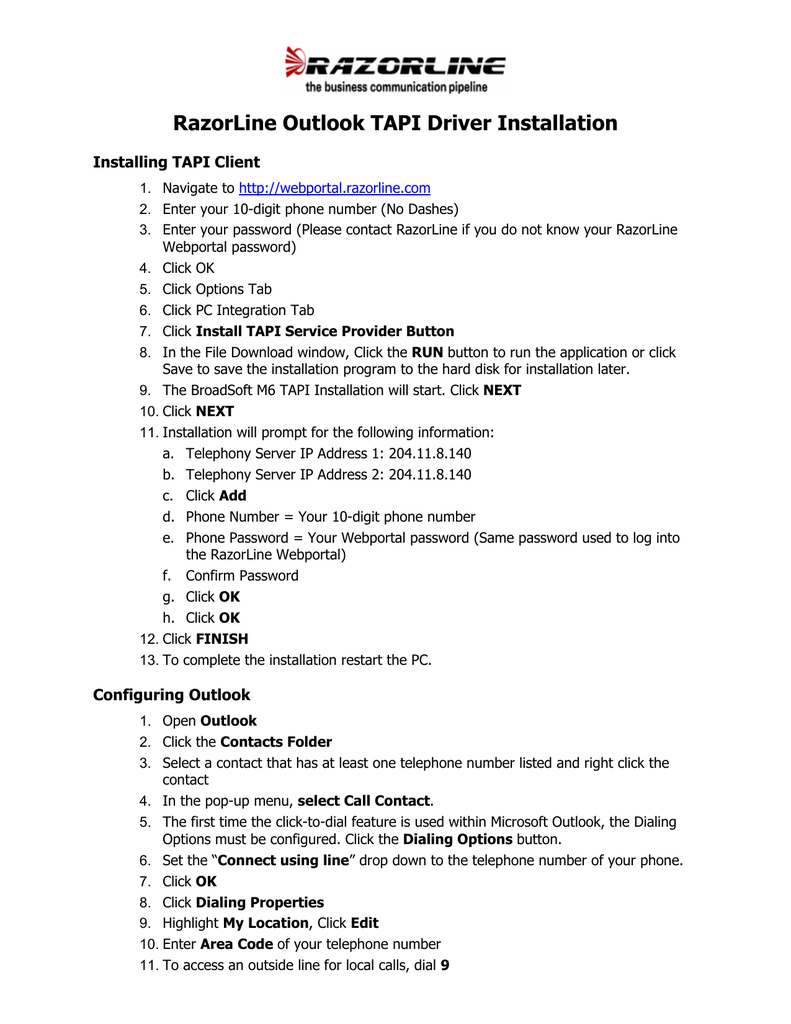 RazorLine Outlook TAPI Driver Installation
Installing TAPI Client
1. Navigate to http://webportal.razorline.com
2. Enter your 10-digit phone number (No Dashes)
3. Enter your password (Please contact RazorLine if you do not know your RazorLine
Webportal password)
4. Click OK
5. Click Options Tab
6. Click PC Integration Tab
7. Click Install TAPI Service Provider Button
8. In the File Download window, Click the RUN button to run the application or click
Save to save the installation program to the hard disk for installation later.
9. The BroadSoft M6 TAPI Installation will start. Click NEXT
10. Click NEXT
11. Installation will prompt for the following information:
a. Telephony Server IP Address 1: 204.11.8.140
b. Telephony Server IP Address 2: 204.11.8.140
c. Click Add
d. Phone Number = Your 10-digit phone number
e. Phone Password = Your Webportal password (Same password used to log into
the RazorLine Webportal)
f. Confirm Password
g. Click OK
h. Click OK
12. Click FINISH
13. To complete the installation restart the PC.
Configuring Outlook
1. Open Outlook
2. Click the Contacts Folder
3. Select a contact that has at least one telephone number listed and right click the
contact
4. In the pop-up menu, select Call Contact.
5. The first time the click-to-dial feature is used within Microsoft Outlook, the Dialing
Options must be configured. Click the Dialing Options button.
6. Set the "Connect using line" drop down to the telephone number of your phone.
7. Click OK
8. Click Dialing Properties
9. Highlight My Location, Click Edit
10. Enter Area Code of your telephone number
11. To access an outside line for local calls, dial 9
12. To access an outside line for long distance calls, dial 9
a. NOTE – If you use long distance codes, follow the 9 with ,# <your long distance
code>
b. EX – 9,#100
13. Use this carrier code to make long-distance calls:
a. If using Windows 2000, this option is not available
14. Use this carrier code to make long-distance calls:
a. If using Windows 2000, this option is not available
15. Dial Using Tone
16. Check "Phone number will be dialed as" and verify that you are dialing 9 for an
outside line and 1 for a long distance call. Make sure you are not dialing 911.
17. Click OK
18. Click Start Call to dial the selected contact.
19. When the other party answers, the Call Status will change to Connected.
20. Click End Call to disconnect the call. The Call Status will return to On Hook
Post Installation
After the initial configuration, the click-to-dial process is simple.
1. Right-Click a Contact
2. Click Call Contact
Operating System Requirements
Windows Vista
Windows XP SP3
Windows 2000 SP4
TAPI will not work if not using an up-to-date service pack.
Troubleshooting Tips
Symptom
Resolution
Received "unable to detect dial tone" message
via Windows.
Edit the Dialing Options and ensure the
Connect Using Line is subscriber's telephone
number.
Received "unable to connect" message via
Windows
Go to Start-Control Panel-Phone and Modem
Options-Advanced Tab. Select the BroadSoft
M6 Telephony Service Provider and Click
Remove. Close all open Windows and restart
the computer. Reinstall the TAPI Driver using
the instructions above.
Received "another program is using the
selected telephony device" message via
Windows.
Upgrade to the latest Service Pack (See
Operating System Requirements) Uninstall the
BroadSoft M6 Telephone Service Provider.
Reboot PC. Reinstall the TAPI Driver using the
instructions above.

* Your assessment is very important for improving the work of artificial intelligence, which forms the content of this project