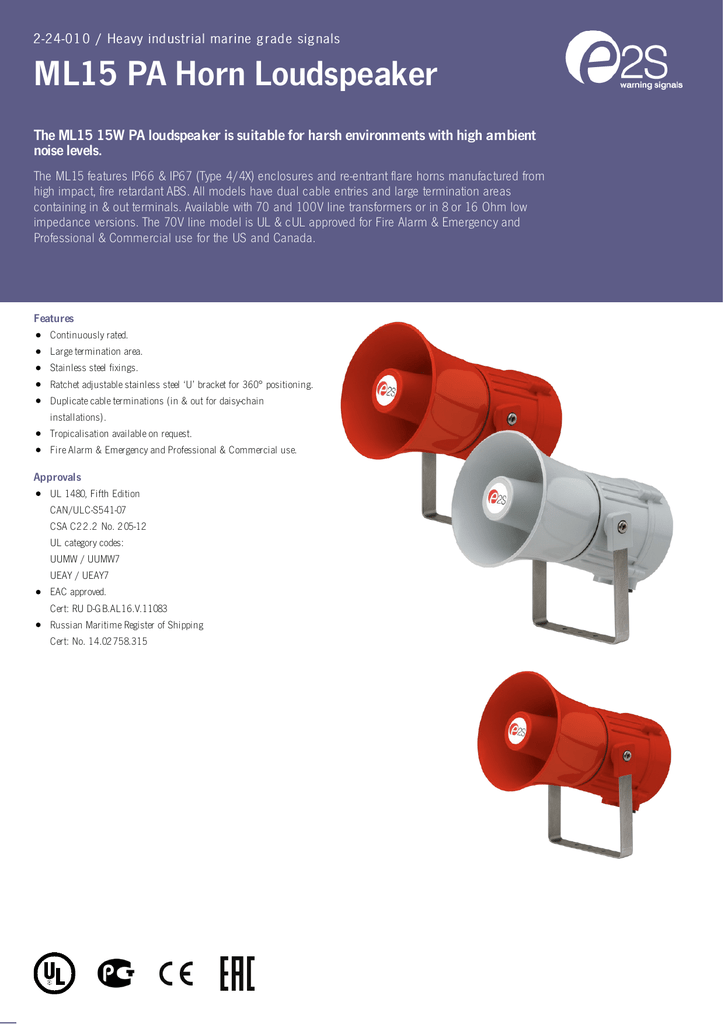 2-24-01 0 / Heavy ind ustr ial mar ine g r ad e sig nals
ML15 PA Horn Loudspeaker
The ML15 15W PA loudspeaker is suitable for harsh environments with high ambient
noise levels.
The ML15 features IP66 & IP67 (Type 4/4X) enclosures and re-entrant flare horns manufactured from
high impact, fire retardant ABS. All models have dual cable entries and large termination areas
containing in & out terminals. Available with 70 and 100V line transformers or in 8 or 16 Ohm low
impedance versions. The 70V line model is UL & cUL approved for Fire Alarm & Emergency and
Professional & Commercial use for the US and Canada.
Features
Continuously rated.
Large termination area.
Stainless steel fixings.
Ratchet adjustable stainless steel 'U' bracket for 360° positioning.
Duplicate cable terminations (in & out for daisy-chain
installations).
Tropicalisation available on request.
Fire Alarm & Emergency and Professional & Commercial use.
Approvals
UL 1480, Fifth Edition
CAN/ULC-S541-07
CSA C2 2 .2 No. 2 05-12
UL category codes:
UUMW / UUMW7
UEAY / UEAY7
EAC approved.
Cert: RU D-G B.AL16.V.11083
Russian Maritime Register of Shipping
Cert: No. 14.02 758.315
Specification
Part Codes
SPL:
108dB +/-3dB @ 1w @ 1m - Pink noise
118dB +/-3dB @ 15w @ 1m
Part Code:
Product type:
Ident.: Desc ri pti on:
ML15
Rated power:
15 Watts RMS
Flare type:
F
Flare Horn
Voltage:
V100
V070
R008
R016
100V Line
70V Line
8 O hm Low impedance
16 O hm Low impedance
Cable entries:
A
B
C
M2 0x1.5 & ½ " NPT
M2 0x1.5 & M2 0x1.5
½ " NPT & ½ " NPT
Stopping plug
material:
N
Nylon
Bracket:
1
2
304 (A2 ) Stainless Steel
316 (A4) Stainless Steel
Approvals:
A1
B1
CE, EAC, RMRS
UL, cUL
Enclosure:
R
G
Red
G rey
70v line tappings: 15w / 7.5w / 3w / 1w
(z=336.67 O hms / 653.33 O hms /
1.6kO hms / 4.9kO hms)
100v line tappings: 15w / 7.5w / 3w / 1w
(z=666.87 O hms / 1.34kO hms /
3.34kO hms / 10kO hms)
Low impedence:
8 O hm or 16 O hm
Dispersion:
12 0° @ 1kHz & 32 ° @ 4kHz
Frequency range:
400Hz to 8000 Hz
DC Line
monitoring:
2 .2 uF Capacitor (Transformer version)
470uF Capacitor
(Low impedance version)
Ingress protection: IP66 & IP67 (Third party tested)
UL50E / NEMA2 50: 4 / 4X / 3R / 13
Housing material: High impact UL94 V0 & 5VA FR ABS
Colour:
G rey (RAL7038) or Red (RAL3000)
Cable entries:
2 x M2 0; 1 x M2 0 & 1 x 1/2 "NPT; 2 x 1/2 "NPT
supplied with 1 blanking plug
Terminals:
0.5 to 2 .5mm² cables.
O perating temp:
-40 to +66°C [-13° to +131°F]
Storage tempe:
-40 to +70°C [-40° to +158°F]
e.g: ML15FV070CN1A1R
ML15 15W PA Loudspeaker with flare horn.
70V line transformer with dual 1/2 "NPT cable entries.
UL & cUL approved.
Red enclosure.
*NO TE:
UL & cUL approval only available on 70V line version
Relative humidity: 90% at 2 0°C [68°F]
Weight:
70/100V line: 2 .60kg/5.72 Ibs
Low impedance: 2 .2 0kg/4.84Ibs
*SPL data +/-3dB(A). Measured at optimum voltage.
E2S Warning Signals sales@e2s.com www.e2s.com
27 Jan 2016
N o liability is accepted for any consequence of the use of this d ocument. The technical specification of this unit is subject to chang e without notice d ue to our policy of continual prod uct d evelopment. All d imensions are approximate. This unit is sold subject to our stand ard
cond itions of sale, a copy of which is available on request.

* Your assessment is very important for improving the work of artificial intelligence, which forms the content of this project