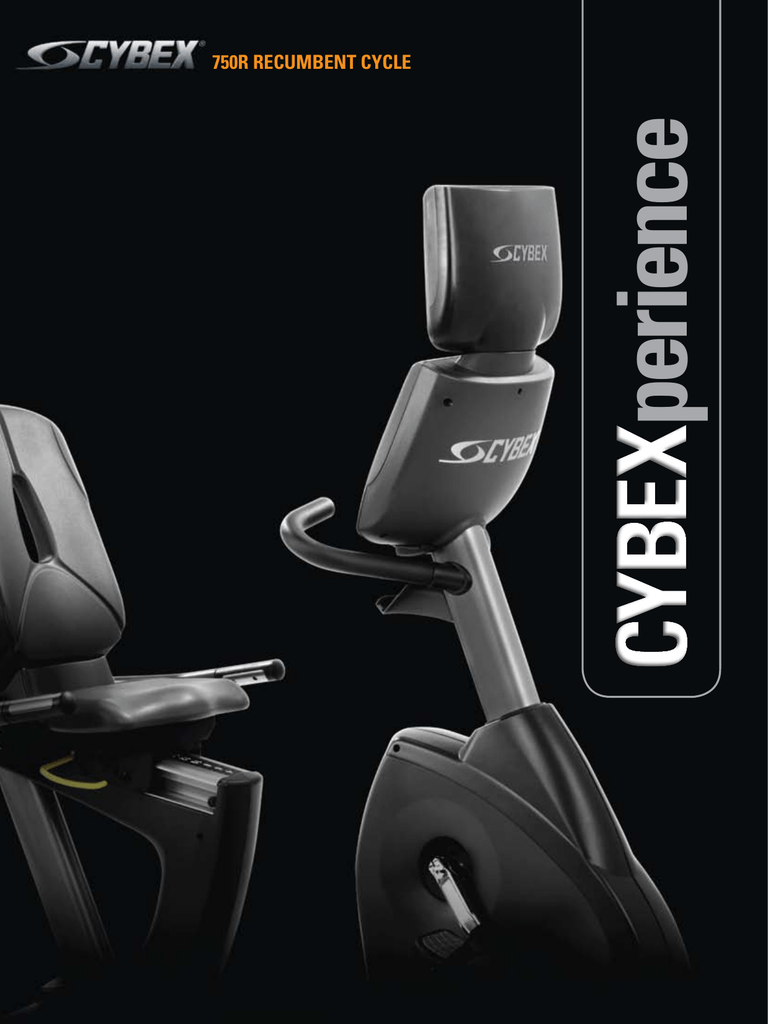 perience
750R RECUMBENT CYCLE
750R RECUMBENT CYCLE
Exceptionally Broad Power Range
Three Modes of Resistance
750 Family Display
*Optional Personal Entertainment Module: Digital & iPOD compatible TV
specifications
Product Number
Dimensions (L × W × H)
Modes of Operation
Programs
Display
Heart Rate Monitoring
Resistance Range
Power
Resistance Type
750R
63.5" × 25" × 49.5" (161 cm × 64 cm × 126 cm)
Bike Mode, Constant Power, Isokinetic
Bike Mode: Quick Start & Manual; Constant Power: Nine programs (21 levels each & Heart Rate Control); Advanced
Function (Manual Isokinetic Mode, Manual Constant Power Mode, YMCA Fitness Test & Nine custom programs)
Graphic display of profile via 10 × 15 LED. Upper display may scan or select between distance, calories,
calories/hour, METs, watts, rpm and heart rate including multi-color indication of heart rate range
Lower display shows time, speed and level
Contact and Polar® Wireless
Minimum—20 Watts for self powered; Maximum—900 Watts
Self-powered, optional AC adapter for full time display
Hybrid ECB with brushless internal generator for low drag and high power capability
Drive type
Single stage drive with self-tensioning idlers for minimal mechanical drag and low maintenance
Crank type
165 mm, three-piece heavy-duty mountain bike type
Maximum User Weight
400 lbs. (181 kg)
Connectivity
Dual CSAFE RJ-45 Connector (Fitlinxx Level 3 Pending)
Compliance
ETL Listed to UL1647, ASTM, EN 957, CE Low Voltage Directive, FCC Class B
Color
Grey shrouds with choice of five standard (white, black, platinum sparkle, metaltone gold,
black chrome) colors and a virtually unlimited variety of custom colors
GLOBAL HEADQUARTERS: 10 Trotter Drive • Medway • MA 02053 USA • T 1.508.533.4300 • F 1.508.533.5500
www.cybexintl.com
CYBEX INTERNATIONAL UK LTD: Oak Tree House • Atherstone Road • Measham • Derbyshire
DE12 7EL UK • T 44.845.606.0228 • F 44.845.606.0227
© 2008, Cybex International, All rights reserved. Specifications subject to change 9/08. *Actual color may differ from samples shown.

* Your assessment is very important for improving the work of artificial intelligence, which forms the content of this project