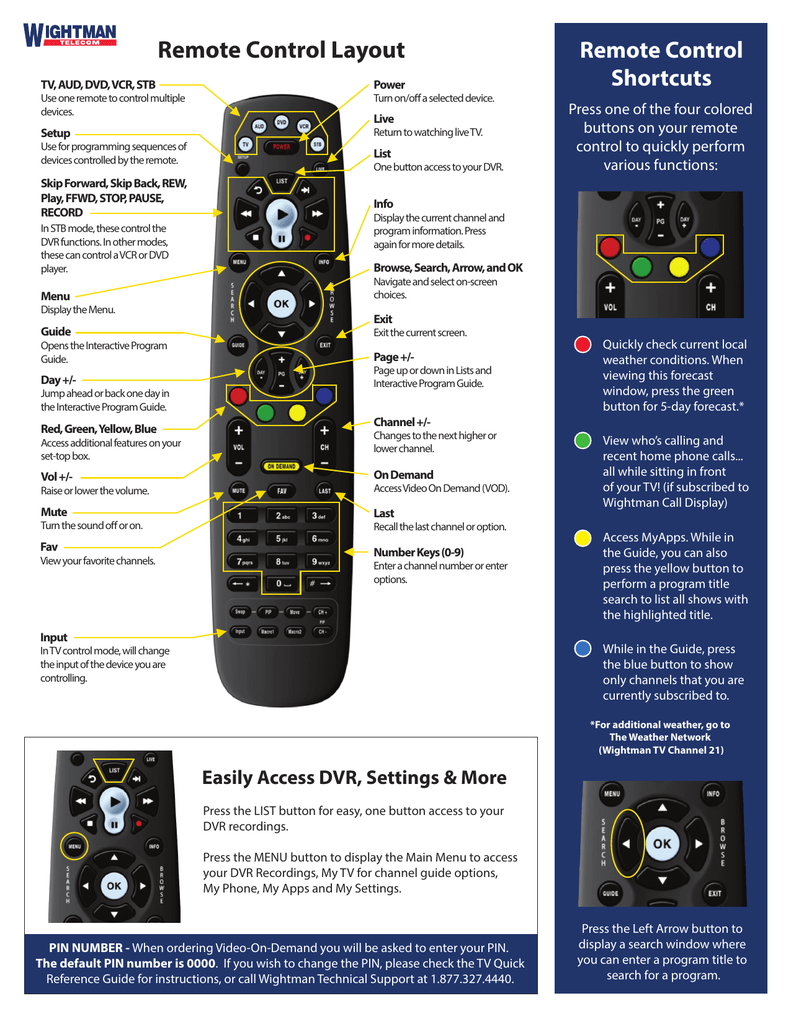 Remote Control Layout
TV, AUD, DVD, VCR, STB
Use one remote to control multiple
devices.
Setup
Use for programming sequences of
devices controlled by the remote.
Skip Forward, Skip Back, REW,
Play, FFWD, STOP, PAUSE,
RECORD
In STB mode, these control the
DVR functions. In other modes,
these can control a VCR or DVD
player.
Menu
Display the Menu.
Guide
Opens the Interactive Program
Guide.
Day +/-
Jump ahead or back one day in
the Interactive Program Guide.
Red, Green, Yellow, Blue
Access additional features on your
set-top box.
Power
Turn on/off a selected device.
Live
Return to watching live TV.
List
One button access to your DVR.
Display the current channel and
program information. Press
again for more details.
Browse, Search, Arrow, and OK
Navigate and select on-screen
choices.
Exit
Exit the current screen.
Page +/-
Page up or down in Lists and
Interactive Program Guide.
Channel +/-
Changes to the next higher or
lower channel.
On Demand
Raise or lower the volume.
Access Video On Demand (VOD).
Mute
Last
Fav
View your favorite channels.
Press one of the four colored
buttons on your remote
control to quickly perform
various functions:
Info
Vol +/-
Turn the sound off or on.
Remote Control
Shortcuts
Recall the last channel or option.
Number Keys (0-9)
Enter a channel number or enter
options.
Input
Quickly check current local
weather conditions. When
viewing this forecast
window, press the green
button for 5-day forecast.*
View who's calling and
recent home phone calls...
all while sitting in front
of your TV! (if subscribed to
Wightman Call Display)
Access MyApps. While in
the Guide, you can also
press the yellow button to
perform a program title
search to list all shows with
the highlighted title.
While in the Guide, press
the blue button to show
only channels that you are
currently subscribed to.
In TV control mode, will change
the input of the device you are
controlling.
*For additional weather, go to
The Weather Network
(Wightman TV Channel 21)
Easily Access DVR, Settings & More
Press the LIST button for easy, one button access to your
DVR recordings.
Press the MENU button to display the Main Menu to access
your DVR Recordings, My TV for channel guide options,
My Phone, My Apps and My Settings.
PIN NUMBER - When ordering Video-On-Demand you will be asked to enter your PIN.
The default PIN number is 0000. If you wish to change the PIN, please check the TV Quick
Reference Guide for instructions, or call Wightman Technical Support at 1.877.327.4440.
Press the Left Arrow button to
display a search window where
you can enter a program title to
search for a program.
Playback Controls
List Select to see a list of recorded programs. Press the LIST button a second time to see
what is scheduled to be recorded. Press LIST a third time to access your Series Rules.
Live Select to return to the current part of a live broadcast.
Skip Forward Skip forward 30 seconds while watching a recording or live TV.
Skip Back Skip backward ten seconds while watching a recording or while
watching live TV.
Play Begin or resume watching a recording. Also display/remove the status bar.
Fast Forward Fast forward through parts of a recording. Press multiple times
to go forward faster.
Record Record a program
Pause Pause the program you are currently watching. While paused, the
Fast-Forward button will play the program frame by frame in slow motion.
Stop Stop watching a recording or stop a recording that is in progress.
Rewind Rewind through parts of a recording. Press multiple times to rewind faster.
Guide Access the program Guide. Press a second time for alternate view.
Arrows/Browse/Search/OK Press to navigate through the guides, menu options
or to make selections.

* Your assessment is very important for improving the work of artificial intelligence, which forms the content of this project