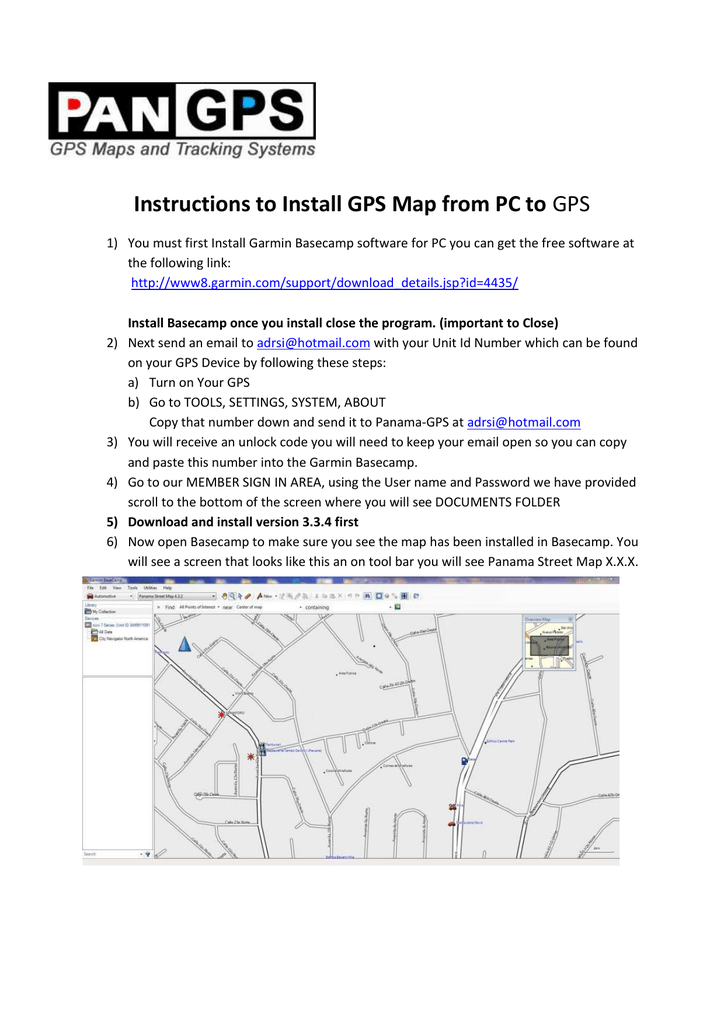 Instructions to Install GPS Map from PC to GPS
1) You must first Install Garmin Basecamp software for PC you can get the free software at
the following link:
http://www8.garmin.com/support/download_details.jsp?id=4435/
2)
3)
4)
5)
6)
Install Basecamp once you install close the program. (important to Close)
Next send an email to adrsi@hotmail.com with your Unit Id Number which can be found
on your GPS Device by following these steps:
a) Turn on Your GPS
b) Go to TOOLS, SETTINGS, SYSTEM, ABOUT
Copy that number down and send it to Panama-GPS at adrsi@hotmail.com
You will receive an unlock code you will need to keep your email open so you can copy
and paste this number into the Garmin Basecamp.
Go to our MEMBER SIGN IN AREA, using the User name and Password we have provided
scroll to the bottom of the screen where you will see DOCUMENTS FOLDER
Download and install version 3.3.4 first
Now open Basecamp to make sure you see the map has been installed in Basecamp. You
will see a screen that looks like this an on tool bar you will see Panama Street Map X.X.X.
7) You must next install your UNLOCK KEY which would have been sent to you after you
found your UNIT ID Number.
8) On the Tool Bar you will see UTILITIES. Click on this.
9) Click on MANAGE MAP PRODUCTS
10) You will see this screen:
11) Click on the tab UNLOCK REGIONS
12) Click On Add you will see the next screen:
13) Copy and Paste the 25 Digit number from the email, IT MUST BE EXACT,
14) You can put in the comments field Panama Street Map.
15) Click OKAY – Your map is now unlocked
16) SHUT DOWN Garmin Basecamp at this stage.
17) GO to Member Sign in Area www.panama.gps.com
18) Sign in and scroll to the bottom of the screen download and install the latest version
X.X.X.
19) This will install the Newer version into Garmin Basecamp, If you have a problem install
just install again and do REPAIR.
20) Open Garmin Basecamp.
21) Make sure your GPS is turned off and connect to the computer, the computer will turn it
on and install drivers so that you can transfer the map to your GPS.
22) On the left side of the screen you will see your GPS Unit Number you should now right
Click on the All Data it will now show you INSTALL MAPS ON Nuvi:
23) You will see welcome to MAPINSTALL WIZARD Click Next
24) You will now see WOULD YOU LIKE MAPINSTALL TO AUTOMATICALLY MAPS AROUND
YOUR WAYPOINTS, ROUTES AND TRACKS – Select YES
25) You will now see this screen:
26) At this point you should see what appears as a small version of the map on and the area
above the map is pink and on the right hand side you will see a small green line in the
Storage area list.
27) If you see these items – CLICK ON NEXT
If you do not see the Pink area and the Green indicator on the right simply place you
cursor in the area directly on the map ONE TIME LEFT CLICK your click is like a on – off
switch. ON TO ACTIVATE, OFF TO DEACTIVATE MAP Selection YOU MUST SEE THE
GREEN ON THE RIGHT SIDE.
28) The map will begin to install on your GPS, once it is completed, you are done.
TO VERIFY THE MAP HAS BEEN TRANSFERRED FOLLOW THESE INSTRUCTIONS:
1) Disconnect your GPS from the Computer
2) Turn on Your GPS
3) Go to TOOLS, SETTINGS, MAP, INFO, you should now see Panama Street Map X.X.X
Understand if you are not in Panama the maps will only show streets and directions only
when you are actually in Panama, the reason being the GPS unit Uses the Satellites to load
the map.

* Your assessment is very important for improving the work of artificial intelligence, which forms the content of this project