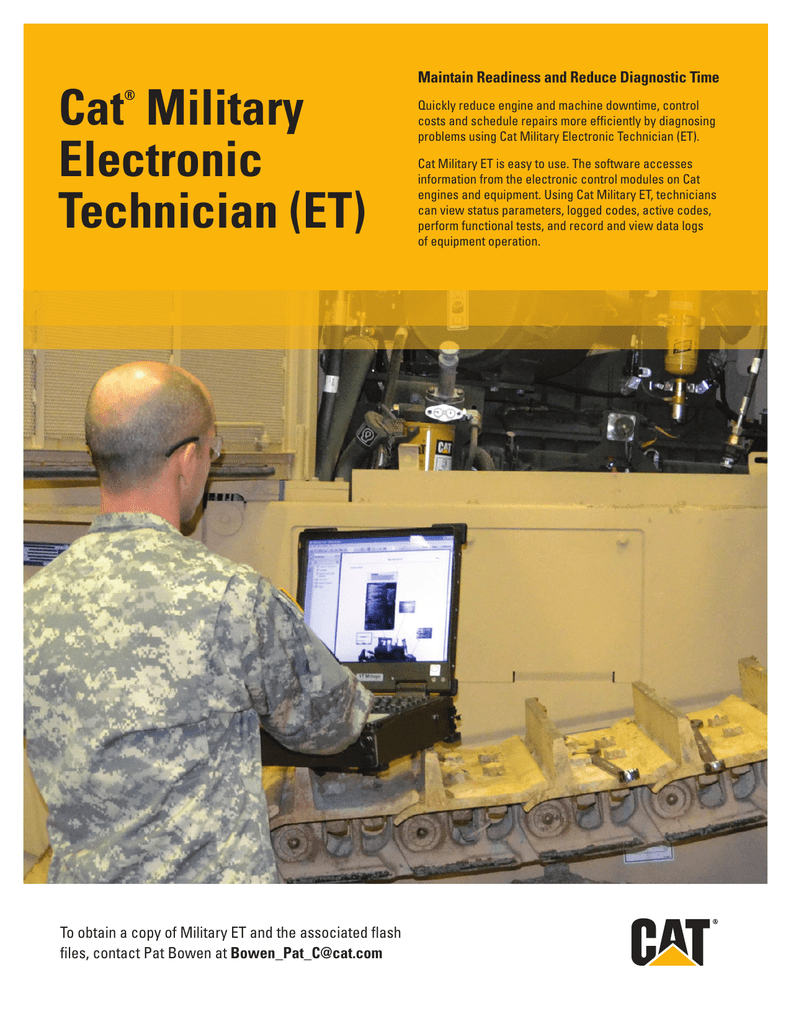 Cat Military
Electronic
Technician (ET)
®
To obtain a copy of Military ET and the associated flash
files, contact Pat Bowen at Bowen_Pat_C@cat.com
Maintain Readiness and Reduce Diagnostic Time
Quickly reduce engine and machine downtime, control
costs and schedule repairs more efficiently by diagnosing
problems using Cat Military Electronic Technician (ET).
Cat Military ET is easy to use. The software accesses
information from the electronic control modules on Cat
engines and equipment. Using Cat Military ET, technicians
can view status parameters, logged codes, active codes,
perform functional tests, and record and view data logs
of equipment operation.
Cat Military Electronic Technician
Control Spending
• View active and logged diagnostic codes to quickly
identify problem areas
• Review logged event codes to show engine overspeeds,
high temperatures, and more
• Monitor fuel consumption
• Perform diagnostic tests to quickly identify the root
cause of problems
• Calibrate key components to ensure maximum
operating efficiency
• Use Data Logger to record real-time data
• View previously recorded data logs to monitor trends in
the health of your equipment to ensure peak performance
Maximize Efficiency
• Search help options to guide every task
• Retrieve engine data quickly for fuel
used, miles traveled, idle time and
hours operated
• Display status of engine speed, throttle
position, timing advance, fuel flow
and more
• Check an electronic control module's
configuration and change user settings
The above chart depicts logging data from four parameters: Engine Speed, Fuel Position, Rated Fuel
Limit and Boost Pressure. These are measured simultaneously for a precise diagnosis of a problem area.
Recommended PC Configuration
• IBM PC compatible with Pentium IV 2.4 GHz processor
• 2 GB RAM
• 2 GB available hard disk drive or higher
• File transfer device
• 15.4 inch XGA screen (1280x1024 compatible)
TM
• Microsoft® Windows XP Professional SP3 (or later),
Vista Business, or Windows 7 Professional
• RS232 port with 16550AF UART or Compatible (for use
with Comm Adapter II)
• USB 1.1 or 2.0 port (for use with Comm Adapter 3)
• Built-in pointing device or mouse
• Microsoft Internet Explorer 8.0 or newer version
Recommended Communication Hardware
• 317-7484 Communication Adapter 3 Group
• This tool group includes all of the pieces listed below.
They are also available as individual parts.
• 317-7485 Communications Adapter 3 (CA3)
• 353-5083 PC Cable (USB) Assembly
• 327-8981 Data Link Cable Assembly
• EERE3500 Media CD
• NEHS1032 Tool Operating Manual (on CD)
• 6V-7145 Carrying Case
catdfp.com
© 2013 Caterpillar | All Rights Reserved | CAT, CATERPILLAR, their respective logos, "Caterpillar Yellow" and the POWER EDGE trade
dress, as well as corporate and product identity used herein, are trademarks of Caterpillar and may not be used without permission.

* Your assessment is very important for improving the work of artificial intelligence, which forms the content of this project