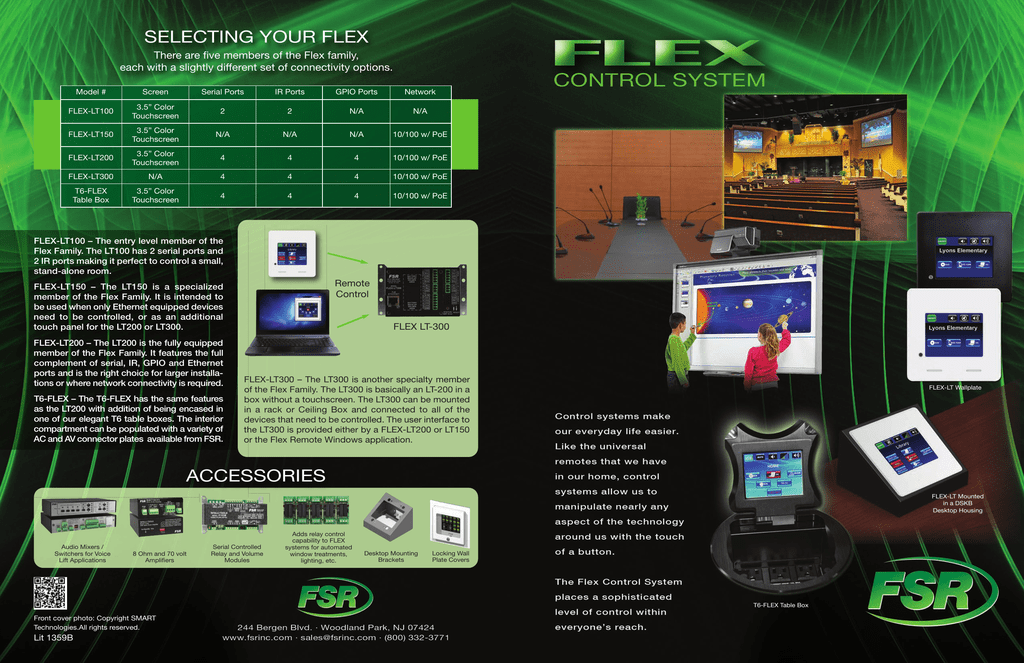 SELECTING YOUR FLEX
There are five members of the Flex family,
each with a slightly different set of connectivity options.
Model #
Screen
Serial Ports
IR Ports
GPIO Ports
Network
FLEX-LT100
3.5" Color
Touchscreen
2
2
N/A
N/A
FLEX-LT150
3.5" Color
Touchscreen
N/A
N/A
N/A
10/100 w/ PoE
FLEX-LT200
3.5" Color
Touchscreen
4
4
4
10/100 w/ PoE
FLEX-LT300
N/A
4
4
4
10/100 w/ PoE
T6-FLEX
Table Box
3.5" Color
Touchscreen
4
4
4
10/100 w/ PoE
FLEX-LT100 – The entry level member of the
Flex Family. The LT100 has 2 serial ports and
2 IR ports making it perfect to control a small,
stand-alone room.
Remote
Control
FLEX-LT150 – The LT150 is a specialized
member of the Flex Family. It is intended to
be used when only Ethernet equipped devices
need to be controlled, or as an additional
touch panel for the LT200 or LT300.
FLEX-LT200 – The LT200 is the fully equipped
member of the Flex Family. It features the full
complement of serial, IR, GPIO and Ethernet
ports and is the right choice for larger installations or where network connectivity is required.
T6-FLEX – The T6-FLEX has the same features
as the LT200 with addition of being encased in
one of our elegant T6 table boxes. The interior
compartment can be populated with a variety of
AC and AV connector plates available from FSR.
FLEX LT-300
FLEX-LT300 – The LT300 is another specialty member
of the Flex Family. The LT300 is basically an LT-200 in a
box without a touchscreen. The LT300 can be mounted
in a rack or Ceiling Box and connected to all of the
devices that need to be controlled. The user interface to
the LT300 is provided either by a FLEX-LT200 or LT150
or the Flex Remote Windows application.
FLEX-LT Wallplate
ACCESSORIES
FLEX-LT Mounted
in a DSKB
Desktop Housing
Audio Mixers /
Switchers for Voice
Lift Applications
8 Ohm and 70 volt
Amplifiers
Serial Controlled
Relay and Volume
Modules
Adds relay control
capability to FLEX
systems for automated
window treatments,
lighting, etc.
Desktop Mounting
Brackets
Locking Wall
Plate Covers
T6-FLEX Table Box
Front cover photo: Copyright SMART
Technologies.All rights reserved.
Lit 1359B
THE
A PEEK UNDER THE HOOD
Every AV equipped boardroom and classroom could benefit from
a control system. With one, the entire room can be manipulated
from a simple touch.
The Flex control system is a small, powerful and affordable solution
perfect for nearly any installation. It features a
3.5" color LCD touchscreen and all of the connectivity needed to control the lighting, shades
and every piece of AV equipment installed all
from one central location.
The Flex can be mounted in a wall, podium, desktop or boardroom table. Multiple Flex panels can
be used within a room so that room control is always convenient.
A Flex can also be remotely controlled from a
Windows computer using the Flex Remote
Control software. The software connects to the
Flex installed in the room and replicates the
screen on the desktop.
LIGHTING
SHADES
SCREEN
SOUND
DOC CAM
PROJECTOR
DVD/BLU RAY
CABLE/DVR
With the touch of a finger or a click of the
mouse, Flex places control of your room at your
fingertip.
THE FLEX SOFTWARE
COMPUTER RUNNING FLEX MANAGER
NETWORK
Flex Manager has a built-in scheduler that can command the Flex panels
to turn on or off and lock them to prevent unwanted use during off hours.
Flex Manager's Scheduler is also a money saver by turning each projector
off at the end of the day to prevent unnecessary hours being placed on
the projector bulbs.
Flex Manager can also monitor the lamp life of each projector. With this
information a replacement bulb can be obtained and kept on hand for
when the bulbs burn out.
· 3.5" Color LCD Touchscreen – Provides a bright,
interactive, easy to use and
engaging interface for the
simplest or most complex task.
· Network Port – The Network
Port on the Flex can serve many
purposes. First, it can supply
power to the Flex via Power over
Ethernet or PoE. Attach a Flex to
a PoE switch and there is no
need to attach an additional
power supply. The second function of the Network Port is to
give the Flex the capability to
communicate with other Network equipped devices including
other Flex Panels. The third function of the Network Port is to
allow applications from the Flex
Software Suite to communicate
with the Flex panel to provide
usage statistics, remote Help
Desk services and automated
scheduling.
· Up to 4 Serial Ports – Serial
is still the most common way to
control a device such as a projector, audio / video switcher and
much more. With up to 4 Serial
Ports a Flex control system is
ready to meet your needs.
For iPad, iPhone
Android tablets
and phones.
Available from
the app store.
· Up to 4 IR Ports – While serial
has many advantages, several
devices such as DVD players,
DVR's and cable boxes require
IR control. The Flex Control
Panel has up to 4 IR ports and
each is capable of driving multiple emitters.
· 4 GPIO Ports – GPIO ports are unique in that they can be inputs or
outputs and can be very handy. When set as an input, a GPIO port can
be triggered from a contact closure or a switch to tell the Flex to do
something. As an output, a GPIO port can control devices with
compatible inputs such as screens, drapes, etc…
TABLETS AND SMARTPHONES
RUNNING FLEX APP
SOFTWARE TOOLS FOR
MANAGERS AND ADMINISTRATORS
Flex Manager is at the heart of the Flex Software Suite. It provides
managers and administrators with the current state and health of each
Flex Panel, as well as accumulating usage statistics beneficial for budget
planning and justification.
· Small Footprint – The Flex
Control Panel can be mounted in
a wall in a standard 2 gang
opening or mounted on a desk,
shelf or podium with the optional
DSKB-2 mounting bracket.
FLEX HELP DESK
Flex Help Desk is a stand alone application
intended to be used by the IT or AV departments in a help desk capacity. It scans the
network for all Flex panels and monitors their
current condition. Should a help call come in,
the person manning the help desk can sign
onto the Flex in the troubled room and
remotely operate it.
The Help
Desk operator
shown is an
exact replica
of the Flex
panel in the
room allowing
quick and
simple remote control to help
the room get back up and running.

* Your assessment is very important for improving the work of artificial intelligence, which forms the content of this project