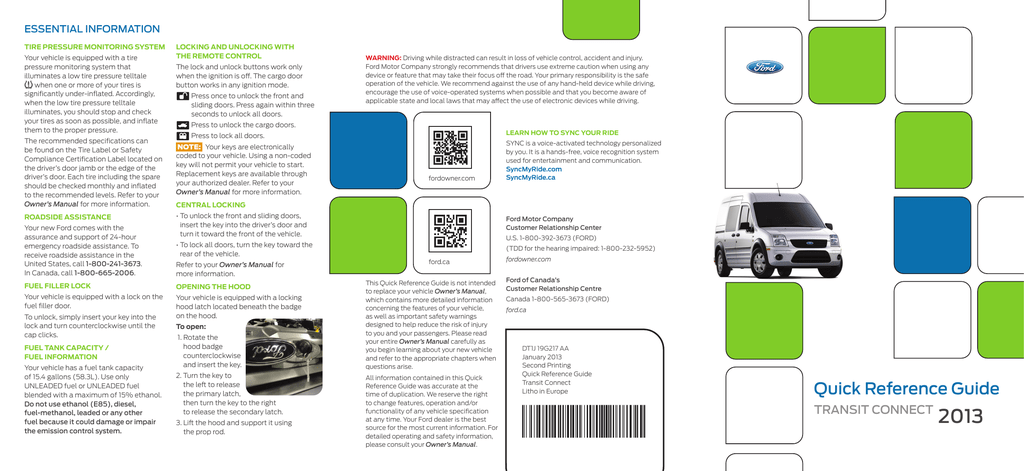 ESSENTIAL INFORMATION
TIRE PRESSURE MONITORING SYSTEM
Your vehicle is equipped with a tire
pressure monitoring system that
illuminates a low tire pressure telltale
when one or more of your tires is
significantly under-inflated. Accordingly,
when the low tire pressure telltale
illuminates, you should stop and check
your tires as soon as possible, and inflate
them to the proper pressure.
The recommended specifications can
be found on the Tire Label or Safety
Compliance Certification Label located on
the driver's door jamb or the edge of the
driver's door. Each tire including the spare
should be checked monthly and inflated
to the recommended levels. Refer to your
Owner's Manual for more information.
ROADSIDE ASSISTANCE
Your new Ford comes with the
assurance and support of 24-hour
emergency roadside assistance. To
receive roadside assistance in the
United States, call 1-800-241-3673.
In Canada, call 1-800-665-2006.
FUEL FILLER LOCK
Your vehicle is equipped with a lock on the
fuel filler door.
To unlock, simply insert your key into the
lock and turn counterclockwise until the
cap clicks.
FUEL TANK CAPACITY /
FUEL INFORMATION
Your vehicle has a fuel tank capacity
of 15.4 gallons (58.3L). Use only
UNLEADED fuel or UNLEADED fuel
blended with a maximum of 15% ethanol.
Do not use ethanol (E85), diesel,
fuel-methanol, leaded or any other
fuel because it could damage or impair
the emission control system.
LOCKING AND UNLOCKING WITH
THE REMOTE CONTROL
The lock and unlock buttons work only
when the ignition is off. The cargo door
button works in any ignition mode.
Press once to unlock the front and
sliding doors. Press again within three
seconds to unlock all doors.
WARNING: Driving while distracted can result in loss of vehicle control, accident and injury.
Ford Motor Company strongly recommends that drivers use extreme caution when using any
device or feature that may take their focus off the road. Your primary responsibility is the safe
operation of the vehicle. We recommend against the use of any hand-held device while driving,
encourage the use of voice-operated systems when possible and that you become aware of
applicable state and local laws that may affect the use of electronic devices while driving.
Press to unlock the cargo doors.
LEARN HOW TO SYNC YOUR RIDE
Press to lock all doors.
NOTE: Your keys are electronically
coded to your vehicle. Using a non-coded
key will not permit your vehicle to start.
Replacement keys are available through
your authorized dealer. Refer to your
Owner's Manual for more information.
fordowner.com
SYNC is a voice-activated technology personalized
by you. It is a hands-free, voice recognition system
used for entertainment and communication.
SyncMyRide.com
SyncMyRide.ca
CENTRAL LOCKING
• To unlock the front and sliding doors,
insert the key into the driver's door and
turn it toward the front of the vehicle.
Ford Motor Company
Customer Relationship Center
• To lock all doors, turn the key toward the
rear of the vehicle.
(TDD for the hearing impaired: 1-800-232-5952)
Refer to your Owner's Manual for
more information.
OPENING THE HOOD
Your vehicle is equipped with a locking
hood latch located beneath the badge
on the hood.
To open:
1. Rotate the
hood badge
counterclockwise
and insert the key.
2. Turn the key to
the left to release
the primary latch,
then turn the key to the right
to release the secondary latch.
3. Lift the hood and support it using
the prop rod.
U.S. 1-800-392-3673 (FORD)
ford.ca
This Quick Reference Guide is not intended
to replace your vehicle Owner's Manual,
which contains more detailed information
concerning the features of your vehicle,
as well as important safety warnings
designed to help reduce the risk of injury
to you and your passengers. Please read
your entire Owner's Manual carefully as
you begin learning about your new vehicle
and refer to the appropriate chapters when
questions arise.
All information contained in this Quick
Reference Guide was accurate at the
time of duplication. We reserve the right
to change features, operation and/or
functionality of any vehicle specification
at any time. Your Ford dealer is the best
source for the most current information. For
detailed operating and safety information,
please consult your Owner's Manual.
fordowner.com
Ford of Canada's
Customer Relationship Centre
Canada 1-800-565-3673 (FORD)
ford.ca
DT1J 19G217 AA
January 2013
Second Printing
Quick Reference Guide
Transit Connect
Litho in Europe
Quick Reference Guide
TRANSIT CONNECT
2013
INSTRUMENT PANEL
1
HEADLAMP CONTROL:
Turns the headlamps off.
Turns on the parking lamps.
Turns on the headlamps.
Turns on the fog lamps* by
pulling the control toward you.
Turns on the rear fog lamps* by
pulling the control toward you
until you feel the second detent.
2
SYNC CONTROLS:
Use the touch-sensitive buttons
to access voice, phone and media
sources. See the SYNC section in
this guide for more details.
3
WINDSHIELD WIPERS
AND WASHERS
Move the lever down for a
single wipe.
For intermittent wiping, move
the control up one position and
adjust the rotary control to the
desired speed.
For normal operation, move the
control up two positions.
For high-speed wiping, move the
control up three positions.
SYNC®1
To activate the windshield washer,
push the washer control button
on the edge of the stalk.
Rear window wiper and washer*
ull the lever toward you for
P
intermittent wiping.
Pull
further toward you to
operate the washer.
4
HEATED FRONT WINDSHIELD*
The heated windshield control is
located on the instrument panel.
To switch it on or off, push
the button .
NOTE: The heated windshield turns
off automatically. It will turn off after
a predetermined amount of time, if a
low-battery condition is detected or
when the engine is turned off.
5
HAZARD FLASHER CONTROL
6
AM/FM STEREO WITH SINGLE CD*
Seek, scan, set and play radio stations
and CDs. Refer to the Audio System
chapter in your Owner's Manual for
more information.
POWER WINDOWS
Press or pull the window switches
located on the center console
near the cup holders to open
or close a window.
*if equipped
4
3
1
2
5
6
GETTING STARTED WITH YOUR SYNC® SYSTEM:
SYNC is a hands-free, voice recognition system used for entertainment,
information and communication. SYNC…Say the word.
GENERAL TIPS
or more complete information on SYNC,
F
refer to your Owner's Manual, visit the
SYNC website2 or call toll-free number3.
4.Put your phone into Bluetooth
discovery mode. Refer to your phone's
user guide if necessary.
5.When prompted on your phone's
display, enter the six-digit PIN provided
by SYNC in the radio display.
Before you get started:
1.Set up your owner account by visiting
your SYNC website2. Register by
following the on-screen instructions.
After registering, you can see what
services you are eligible for.
2.SYNC uses a wireless connection
called
Bluetooth® to communicate
with your phone. Turn Bluetooth mode
on in your phone's menu options. This
lets your phone find SYNC. For more
details on setting up your phone with
SYNC, visit SYNC online2 or your phone
manufacturer's website.
Pairing Your Phone with SYNC:
In order to use many of the features of
SYNC, you must first pair and connect
your phone with SYNC. To pair your phone
for the first time:
1.Make sure that your vehicle is in P
(Park) and both your ignition and
radio are turned on.
2. Press the phone button. When the
display indicates no phone is paired,
press OK.
3. When the display asks you to add
a device, press OK. The display will
then show Find SYNC, which means
the device is now ready to pair your
phone. Press OK.
6.The display indicates when the pairing
is successful.
NOTE: The system may prompt you to:
Set your phone as the primary/
favorite (the primary phone will
receive messages and voice mails).
Download your phone book
(this is required to use the full set
of voice commands).
TIPS:
Make sure you accept SYNC's
request to access your phone.
To pair subsequent phones, please
refer to Pairing Subsequent Phones
in the SYNC chapter of your
Owner's Manual.
If you are experiencing pairing
problems, try performing a clean
pairing by deleting your phone
from SYNC, deleting the SYNC
connection from your phone, and
then repeating the Pairing Your
Phone process.
1
If equipped.
2
.S. Customers: SyncMyRide.com.
U
Canada Customers: SyncMyRide.ca.
3
U.S. Customers: 1-800-392-3673 (select 1 or
2 for language, then Option 3 and Option 1);
Canadian Customers: 1-800-565-3673 (select
1 or 2 for language, then Option 3 and Option 1).
USING SYNC® VOICE COMMANDS –
SYNC...SAY THE WORD:
USING SYNC TO
ACCESS DIGITAL MEDIA:
Press the voice button and when prompted,
speak your voice command. For a list of
voice commands, say "What can I say?"
Use the media hub to plug in your media
devices such as phones and MP3 players
and use SYNC to play all of your favorite
tunes. Since SYNC indexes your music,
the more you have stored on your device,
the longer it will take SYNC to index.
USING MY PHONE WITH SYNC:
NOTE: You must download your phone
book to make phone calls with voice
commands by name.
Making a phone call:
Use SYNC to make a phone call to
anyone in your phone book by pressing
the voice button and when prompted,
give a voice command:
For example, you could say, "Call Jake
Smith at home". When the system
confirms the number, say "Dial" again to
initiate the call.
NOTE: You can also make phone calls by
pressing the voice button. When prompted,
give the voice command, "Dial," then
verbally say the phone number.
Answering incoming calls:
Whenever you have an incoming call, you
will be able to see the name and number
of the person calling in your display. Press
the phone button to answer an incoming
call. You can hang up at any time by
pressing and holding the phone button.
Do not disturb mode:
This feature blocks incoming calls and
text messages, and saves them for later.
You still have access to outgoing calls
when this feature is active. Say the voice
command "Do not disturb on" to enable
and "Do not disturb off" to disable.
Using voice commands to play music:
1.Plug your media player into your
USB port.
2. Press the voice button. When
prompted say "USB", then follow-up
by saying one of the voice commands.
For a list of voice commands, say
"What can I say?"
3. You will hear the command repeated
back to you and the selected item
will play.
NOTE: Your SYNC voice-activated
communications system with USB does not
include: 911 Assist®, Vehicle Health Report
(VHR), SYNC Services (TDI: Traffic, Directions
& Information) or SYNC AppLink™.
Why You Need a SYNC Owner Account
A SYNC owner account is required to
receive the latest software updates.
U.S. Customers: visit SyncMyRide.com or
call 1-800-392-3673 (select Option 1 or 2
for language, then Option 3 and Option 1).
Canadian Customers: visit SyncMyRide.
ca or call 1-800-565-3763 (select Option
1 or 2 for language, then Option 3 and
Option 1).