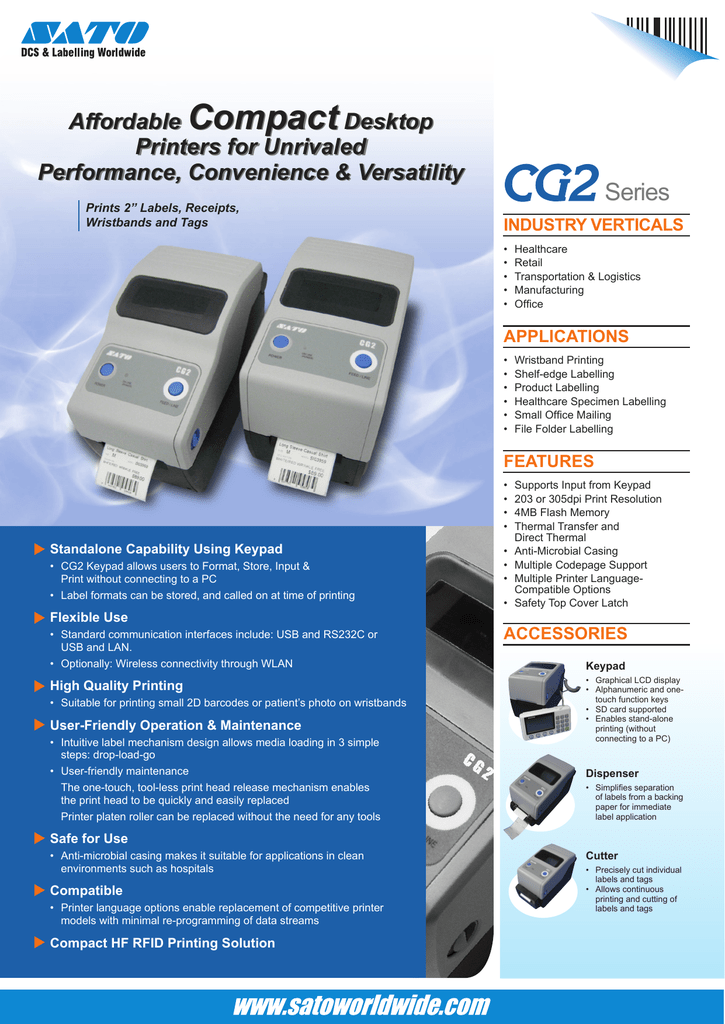 Affordable Compact Desktop
Printers for Unrivaled
Performance, Convenience & Versatility
Prints 2" Labels, Receipts,
Wristbands and Tags
CG2 Series
INDUSTRY VERTICALS
•
•
•
•
•
Healthcare
Retail
Transportation & Logistics
Manufacturing
Office
APPLICATIONS
•
•
•
•
•
•
Wristband Printing
Shelf-edge Labelling
Product Labelling
Healthcare Specimen Labelling
Small Office Mailing File Folder Labelling
FEATURES
Standalone Capability Using Keypad
• CG2 Keypad allows users to Format, Store, Input & Print without connecting to a PC
• Label formats can be stored, and called on at time of printing
Flexible Use
• Standard communication interfaces include: USB and RS232C or USB and LAN.
• Optionally: Wireless connectivity through WLAN
High Quality Printing
• Suitable for printing small 2D barcodes or patient's photo on wristbands
User-Friendly Operation & Maintenance
•
•
Intuitive label mechanism design allows media loading in 3 simple steps: drop-load-go
User-friendly maintenance
The one-touch, tool-less print head release mechanism enables the print head to be quickly and easily replaced
Printer platen roller can be replaced without the need for any tools
•
•
•
•
•
•
•
•
Supports Input from Keypad
203 or 305dpi Print Resolution
4MB Flash Memory
Thermal Transfer and Direct Thermal
Anti-Microbial Casing
Multiple Codepage Support
Multiple Printer Language-
Compatible Options Safety Top Cover Latch
ACCESSORIES
Keypad
•
•
•
•
Graphical LCD display
Alphanumeric and one-
touch function keys
SD card supported
Enables stand-alone printing (without connecting to a PC)
Dispenser
•
Simplifies separation of labels from a backing paper for immediate label application
Safe for Use
• Anti-microbial casing makes it suitable for applications in clean environments such as hospitals
Compatible
• Printer language options enable replacement of competitive printer models with minimal re-programming of data streams
Compact HF RFID Printing Solution
Cutter
•
•
Precisely cut individual labels and tags
Allows continuous printing and cutting of labels and tags
General Specifications
PRINTER MODEL
CG2
CG208
CG212
PRINT SPECIFICATIONS
Print Method
Direct Thermal/Thermal Transfer
Print Resolution 8 dots/mm (203dpi)
12 dots/mm (305dpi)
Max Print Speed 100mm/sec (4ips)
Printable Area (WxP): 56 x 600mm (2.20" x 23.60")
(WxP): 56 x 400mm (2.20" x 15.75")
CPU
32 Bits RISC-CPU
Printer Body Memory
Main Memory (Flash ROM): 4MB, RAM: 8MB
MEDIA SPECIFICATIONS
Sensor Type
I-Mark Sensor (Reflection type), Label Gap Sensor (Transmissive type)
Media
Media Thickness 0.06 to 0.19mm (0.0024" to 0.0075") * Does not apply to wristbands
Media Shape
Roll stock (Face-in, Face-out)
Max outer diameter: 130mm (Paper core: 40mm) / 115mm (Paper core: 26.9mm)
Fan fold paper (Max height: 100mm)
Label Size
Continuous
L: 6 to 600mm (0.23" to 23.62"), L: 6 to 400mm (0.23" to 15.75"),
With backing paper: 9 to 603mm (0.35" to 23.74")
W: 12 to 60 mm (0.47" to 2.36"), W: 12 to 60 mm (0.47" to 2.36"),
With backing paper: 15 to 63 mm (0.59" to 2.48")
With backing paper: 15 to 63 mm (0.59" to 2.48")
Tear-Off
L: 12 to 600mm (0.47" to 2.36"), L: 12 to 400 mm (0.47" to 15.75"),
With backing paper: 15 to 603mm (0.98" to 11.93")
With backing paper: 15 to 403 mm (0.59" to 15.87")
W: 12 to 60 mm (0.47" to 2.36"), W: 12 to 60 mm (0.47" to 2.36"),
With backing paper: 15 to 63 mm (0.59" to 2.48")
With backing paper: 15 to 63 mm (0.59" to 2.48")
Label without Adhesive Continuous
L: 9 to 603mm (0.35" to 23.74")
L: 9 to 403mm (0.35" to 15.87")
W: 15 to 63mm ((0.59" to 2.48")
W: 15 to 63mm ((0.59" to 2.48")
Tear-Off
L: 15 to 603mm (0.59" to 23.74")
L: 15 to 403mm (0.59" to 15.87")
W: 15 to 63mm ((0.59" to 2.48")
W: 15 to 63mm ((0.59" to 2.48")
Ribbon
Size
Width: 59mm (2.32"), Max outer diameter: 38mm (1.50"), Paper core: 12.7mm (0.50")
Specifications
Rolling Directon
Face-Out
FONT/SYMBOLOGIES
Standard Fonts Bitmap Fonts
XU, XS, XM, XB, XL, OCR-B, OCR-A (15x22), OCR-B (20x24), OCR-A (22x33),
OCR-B (30x36), CG Times, CG Triumvirate
Barcode
1D Barcode
UPC-A/UPC-E, JAN/EAN, CODE39, CODE93, CODE128, GS1-128(UCC/EAN128), CODABAR(NW-7), ITF, Industrial 2of5, Matrix 2of5, BOOKLAND, MSI, POSTNET, GS1 DataBar(RSS) barcode
2D Barcode
QR code, MicroQR, PDF417, MicroPDF, MAXI code, GS1 DataMatrix (ECC200)
Composite Symbols
EAN-13 Composite, EAN-8 Composite, UPC-A Composite, UPC-E Composite, GS1 DataBar Composite, GS1 DataBar Truncated Composite, GS1 DataBar Stacked Composite, GS1 DataBar Stacked Omni-
Directional Composite, GS1 DataBar Limited Composite, GS1 DataBar Expanded Composite, GS1 DataBar Expanded Stacked Composite, GS1-128 Composite
Print Direction Character: 0º, 90º, 180º, 270º rotation per each data is available
Barcode: Parallel 1 (0º), Parallel 2 (180º), Serial 1 (190º), Serial 2 (270º)
COMMUNICATION INTERFACES Interface USB + RS-232C model, USB + LAN model
* RS-232C is able to connect to PC or SATO Keypad. Optional: External Wireless LAN
Command
SBPL (Ver 4.2) SATO Barcode Printer Language
OPERATING CHARACTERISTICS Power
AC Adaptor
Input voltage: AC100V-240V±10%, Frequency: 50/60Hz, Output voltage: DC19V±5%, 3A
Requirements Consumption
Input voltage: 100V. At peak: 60VA/40W (at 30% print ratio). During standby: 5.3VA/2.5W
Environment
Operating
0 ~ 35ºC / 30 ~ 80% RH (without condensing)
Storage
-10 ~ 60ºC / 15 ~ 85% RH (without condensing)
Dimension
(WxDxH): 128 x 235 x 173mm (5.04" x 9.25" x 6.81")
Weight
TT model (about 1.6kg/3.5Ibs), DT model (about 1.5kg/3.3Ibs)
MISCELLANEOUS
Regulatory Approvals
USA/CANADA: FCC15B Class B, EUROPE: CE (EN55022, EN55024), CHINA: GB9254-1998,
GB17625.1(2003, SINGAPORE: CISPR22, CISPR24, KOREA: KN22, KN24, Other Standard: RoHs compliant, Electrical Power Saving (International Energy Star Programme, at usage of AC Adaptor)
Antibacterial Finishing
Resin of the enclosure/control panel include an antibacterial substance. This substance is tested
according to JISZ2801: Antimicrobial products - test for antimicrobial activity and efficacy.
OPTIONS
Cutter, Dispenser, RFID HF Kit, Wireless LAN (802.11 b/g auto switching), Keypad, Unwinder, SATO Label Gallery™
Contact
For more information about SATO around the globe, visit www.satoworldwide.com
AMERICAS
ASIA PACIFIC & OCEANIA
EUROPE
10350A Nations Ford Road Charlotte, NC
28273
Tel: (704) 644-1650
Fax: (704) 644-1662
E: satosales@satoamerica.com
438B, Alexandra Road,
#09-01/02, Alexandra Technopark
Singapore 119968
Tel: (65) 6271-5300
Fax: (65) 6273-6011
E: sales@satoasiapacific.com
Lambroekstraat 5A, 1831 Diegem, Belgium
Tel: (32) 2 719 03 90
Fax: (32) 2 719 03 99
E: info@be.satoeurope.com
For sales & general enquiries: sales@satogbs.com or visit www.satoworldwide.com/contact
SGBS/CG2/0710/1.0
© 2010 SATO CORPORATION. All rights reserved.
SATO is a registered trademark of SATO Corporation and its subsidiaries in Japan, the U.S. and other countries. All other trademarks are the property of their respective owners.
StripeStik™ is a trademark of SATO.