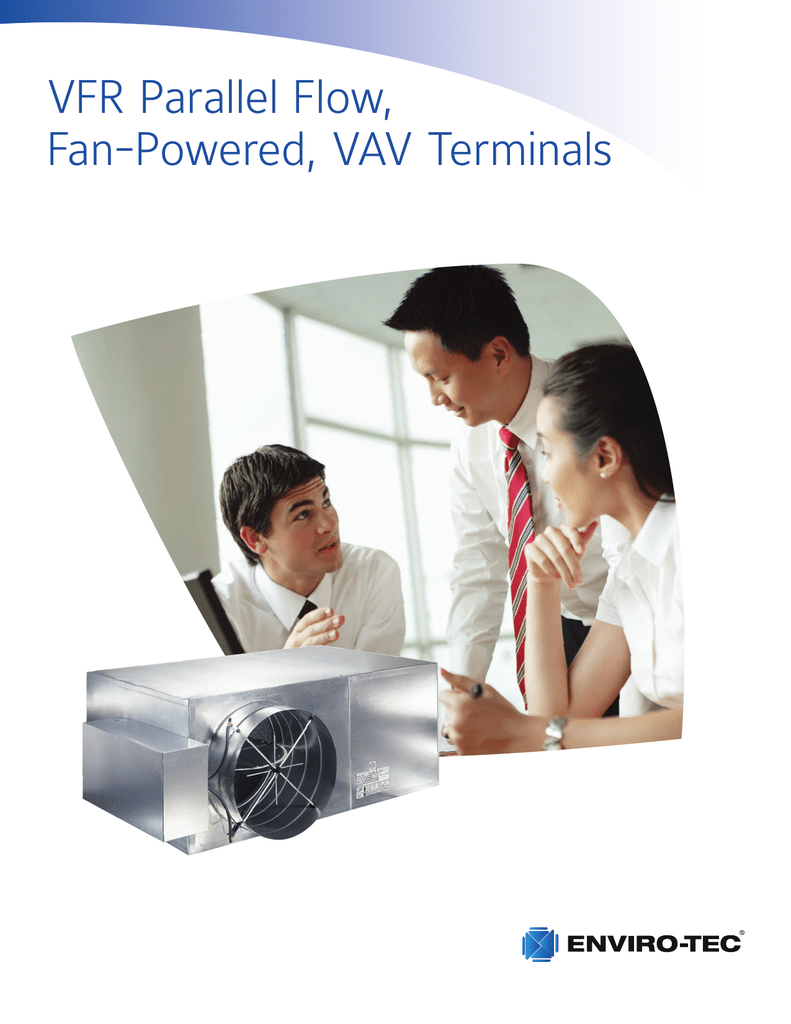 VFR Parallel Flow,
Fan-Powered, VAV Terminals
Model VFR
construction features
Galvanized-steel casing
withstands 125-hour, salt-spray
test per ASTM B-117
All unit configurations listed
with ETL for safety compliance
Electrical devices
installed within a
NEMA 1 enclosure,
with single-pointpower connection
Gasketed fanback-draft damper
Page Trims Short (5/8") Here!
3/4" thick fiberglass insulation
complying with UL 181,
NFPA 90A, and ASTM C1071,
mechanically fastened for
added security
Mechanical-lock
construction ensures lowest
possible casing leakage
Integral discharge collar for
simplified field-installation
Fan assembly utilizes a
forward-curved, dynamicallybalanced, galvanized wheel
with a direct-drive motor
Low-leakage damper
incorporates closedcell-foam gasket
Terminal available with
induction-air filter
Control enclosure
standard with all
electronic control
sequences
Product label includes
tagging, airflow and
electrical information
Patented FlowStar™ airflow
sensor (Patent #5,481,925)
Removable bottom
access panel
Roll-formed inlet collar with
integral stiffening ribs adds
strength and rigidity
VFR Fan-Powered Terminals:
Quiet operation for parallel airflow
Owners
VFR terminals are specifically designed for quiet operation.
They also offer improved space comfort and flexibility for a
wide variety of heating, ventilating and air-conditioning (HVAC)
systems. This is critical in today's buildings where occupants
are placing more emphasis on indoor acoustics.
Occupants benefit from a VFR design that minimizes lowfrequency (125-250 Hz) sound levels that typically dominate
the space sound level.
The terminals can be installed with metal hanging straps.
Hanger brackets, for use with all-thread support rods, or
wire hangers are also available.
A single-point, power connection, and factory-calibrated
controls, minimize installation time. Electronic controls and
electrical components are located on the same side of the
casing for quick access, adjustment, and trouble-shooting.
Finite fan-speed adjustment is accomplished with an
electronic SCR controller.
Superior flow-measuring allows control at lower minimum
cubic-feet-per-minute (CFM) values, which reduces energy
costs and sound levels while maintaining comfort in the
occupied space.
Designers
Due to heightened interest in indoor air quality, many HVAC
system designers are focusing on the effects of particulate
contamination within a building's occupied space. Often,
HVAC system noise is overlooked as a source of occupiedspace contamination. The VFR terminal is specifically designed
to eliminate obtrusive fan noise from reaching the occupants.
The VFR terminal is manufactured and assembled with
a multi-axis, multi-point, center-averaging, airflow sensor.
This sensor provides a signal to the controller enabling
it to quietly and precisely measure airflow.
Applications for VFR terminals include:
• Parallel, Fan-Powered
• Parallel, Fan-Powered with Reheat
VFR-EH offers electric heat and model VFR-WC offers hotwater heat.
Model VFR terminals are available with analog-electronic,
consignment-DDC, and pneumatic controls. The analogelectronic controls are manufactured by Johnson Controls,
and are specifically designed for use with VFR terminals.
Designed by experts in VAV-terminal operation, these controls
can accommodate a multitude of control schemes, from the
most basic to the most sophisticated sequence of operation.
Contractors
All VFR terminals are thoroughly inspected during each step
of the manufacturing process, including a comprehensive
pre-shipment inspection, to assure the highest quality product
available. Each unit is also run-tested, before leaving the
factory, to ensure trouble-free start-up.
FlowStar ™ airflow sensor
VFR terminals utilize three-tap motors that accommodate a broad
range of flow and static-pressure conditions. The FlowStar™
sensor ensures accurate airflow measurement, regardless of the
installation conditions. A calibration label and wiring diagram is
located on the terminal for quick reference during start-up.
VFR terminals require no periodic maintenance other
than optional filter replacement. If component replacement
becomes necessary, the unit is designed to minimize field
labor. The bottom casing panel can be removed to provide
easy access to the fan assembly, and the motor electrical
leads are easily unplugged. Fan access is also provided
through the induction air inlet, except for hot-water coil units.
Complies with National Electric Code (NEC) wiring requirements
and meets Air-Conditioning and Refrigeration Institute (AHRI)
Standard 880.
Model VFR
Unit
Size
A
B
C
I
X
Y
0404
10-1/2" 5"
[254] [127]
7"
[178]
3-7/8"
[98}
8"
7"
[203] [178]
0504
10-1/2" 5"
[254] [127]
7"
[178]
4-7/8"
[124]
8"
7"
[203] [178]
0604 6-1/2" 5"
0606 [165] [127]
7"
[178]
5-7/8"
[149]
8"
7"
[203] [178]
7"
[178]
7-7/8"
[200]
11"
7"
[279] [178]
6-1/2" 7" 8-1/2" 9-7/8"
[165] [178] [216]
[251]
14"
10"
[356] [254]
W
H
L
29"
[737]
14" 23-1/2"
[356] [597]
37"
[940]
17"
[432]
0804
0806
6-1/2" 6"
[165] [152]
0811
1006
1011
1018
PRIMARY-AIR-INLET
1211
1218
6-1/2" 8" 8-1/2" 11-7/8" 16"
10"
[165] [203] [216]
[302] [406] [254]
1221
1411
1418
TOP VIEW
DISCHARGE
COLLAR DETAIL
29-1/2"
[749]
6-1/2" 9" 9-1/2" 13-7/8" 22"
12"
45"
[165] [229] [241]
[352] [559] [305] [1143]
1421
1424
6-1/2" 9" 9-1/2" 13-7/8" 22"
12"
49"
[165] [229] [241]
[352] [559] [305] [1245]
1621
6-1/2" 10" 9-1/2" 15-7/8" 24"
12"
45"
[165] [254] [241] [403] [610] [305] [1143]
1624
6-1/2" 10" 9-1/2" 15-7/8" 24"
12"
49"
[165] [254] [241] [403] [610] [305] [1245]
END VIEW
Model VFR-WC (Hot-Water Coil)
HOT-WATER COIL: STANDARD WATER
CONNECTIONS LOCATED ON
PRIMARY-AIR-INLET SIDE
END VIEW
NOTE: Drawings are not to scale and are not for installation purposes. Refer to www.enviro-tec.com for more information.
All data and dimensions are subject to change without notice.
19"
[483]
Model VFR-EH (Electric Heat)
DISCHARGE
COLLAR DETAIL
ELECTRIC HEATER DETAIL
Model VFR Arrangements
AIR
FLOW
AIR
FLOW
HW COIL
HW COIL
AIR
FLOW
AIR
FLOW
ARRANGEMENT 1
ARRANGEMENT 2
(Left-Hand Control Unit with Left-Hand Coil)
(Left-Hand Control Unit with Right-Hand Coil)
AIR
FLOW
HW COIL
HW COIL
AIR
FLOW
AIR
FLOW
AIR
FLOW
ARRANGEMENT 3
ARRANGEMENT 4
(Right-Hand Control Unit with Right-Hand Coil)
(Right-Hand Control Unit with Left-Hand Coil)
Page Trims Short (5/8") Here!
(TOP VIEW)
VFR Terminal Features
STANDARD FEATURES:
OPTIONAL FEATURES:
Construction
Construction
• AHRI Standard 880-certified and labeled
• 22-gauge, galvanized-steel casing and valve
• 3/4"
thick, fiberglass insulation, mechanically fastened
for added security
Hot-Water Coils
• AHRI Standard 410-certified and labeled
• 1, 2, 3, 4-row coils
• Tested at a minimum of 350 psig under water
Fan Assemblies
•F
orward-curved, dynamically-balanced, direct-drive,
galvanized blower wheel
• 1 15 to 277-volt, single-phase, three-tap, permanent-splitcapacitor (PSC) motor
• SCR fan-speed controller
• Quick-select, motor-speed terminal
• Permanently lubricated motor bearings
• Thermally protected motor
• Vibration-isolation motor mounts
• Single-point wiring
Primary Air Valve
• Embossed rigidity rings
• L ow-thermal-conductance damper shaft with position indicator
• Mechanical stops for open and closed position
• Multi-point, center-averaging, airflow sensor
• Balancing tees
• Plenum-rated sensor tubing
Electrical Components
• 20-gauge, galvanized-steel construction
• 1" insulation
• Scrim-reinforced, foil-faced insulation meeting American
Society for Testing and Materials (ASTM) C1136 for mold,
mildew, and humidity resistance
• Double-wall construction with 22-gauge liner
• Mounting brackets to accept all threaded hanging rods
or wire hangers
• Low-velocity, low-pressure-drop, filter rack
and filters located at induction inlet
• Hot-water, steam, or electric heating coils
Fan Assemblies
• 208, 230, 240 and 480-volt, single-phase, PSC motors
• 220/240-volt, 50 Hz motors
Electrical Components
• Full-unit, toggle disconnect and inline motor fusing
• Primary and secondary transformer fusing
Electric Heat
• Proportional, solid-state-relay (SSR), heater control
• Mercury contactors
• Door-interlocking disconnect switches
Controls
• Factory-provided controls include:
- Pneumatic controls
- Analog-electronic controls
• Consignment-DDC controls (factory-mount
and wire controls provided by others)
• cETL listed for safety compliance
•N
EMA Type 1 wiring enclosure
Electric Heat
• ETL-listed as an assembly for safety compliance
• Integral, electric-heat assembly
• Automatic-reset primary and back-up secondary thermal limits
• Single-point-power connection
• Hinged, electrical-enclosure door
• Fusing per NEC
ENVIRO-TEC is a registered trademark of Johnson Controls, Inc. in the United States of America and other countries. Other
trademarks used herein may be trademarks or registered trademarks of other companies.
PUBL-5523 (415) Supersedes PUBL-5523 (1008)
© 2015 Johnson Controls, Inc. P.O. Box 423, Milwaukee, WI 53201 Printed in USA
www.enviro-tec.com
Visit www.enviro-tec.com for catalog, guide
specifications, submittal drawings, and Web-Select ®
online selection program.