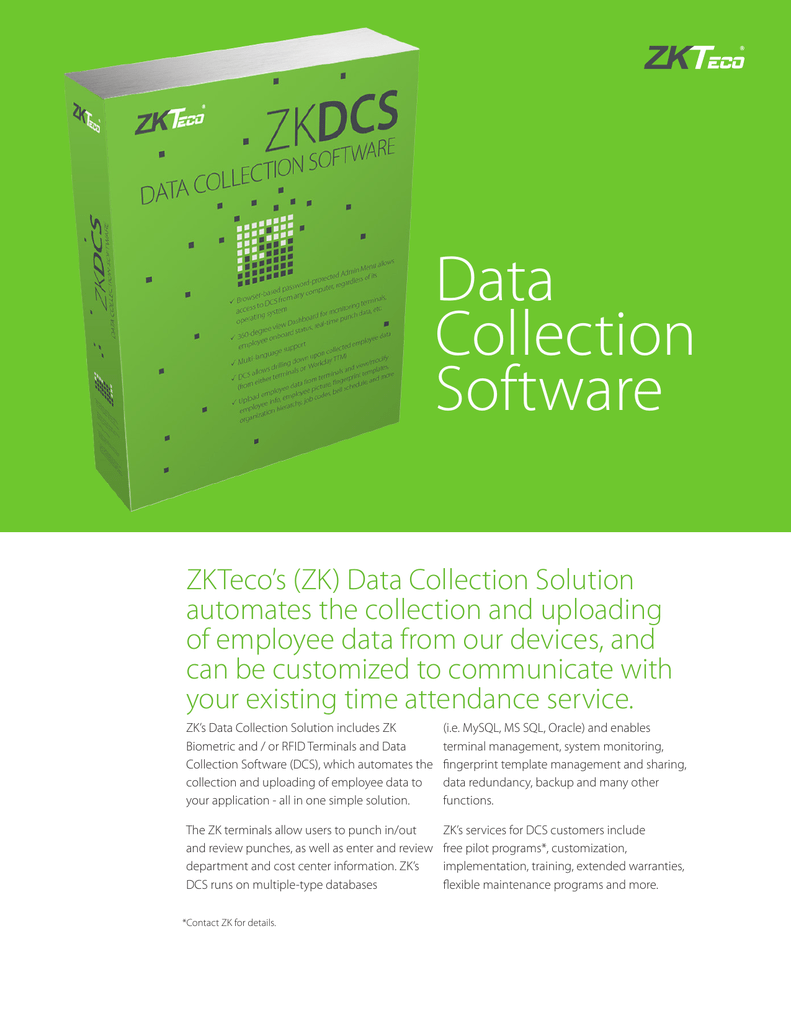 Data
Collection
Software
ZKTeco's (ZK) Data Collection Solution
automates the collection and uploading
of employee data from our devices, and
can be customized to communicate with
your existing time attendance service.
ZK's Data Collection Solution includes ZK
Biometric and / or RFID Terminals and Data
Collection Software (DCS), which automates the
collection and uploading of employee data to
your application - all in one simple solution.
(i.e. MySQL, MS SQL, Oracle) and enables
terminal management, system monitoring,
fingerprint template management and sharing,
data redundancy, backup and many other
functions.
The ZK terminals allow users to punch in/out
and review punches, as well as enter and review
department and cost center information. ZK's
DCS runs on multiple-type databases
ZK's services for DCS customers include
free pilot programs*, customization,
implementation, training, extended warranties,
flexible maintenance programs and more.
*Contact ZK for details.
Specification
System
• Web-based application (Local or in Cloud)
• Supports multiple operating systems (Windows, Linux)
Clock Management
• Easy, online clock registration and configuration
• Real-time Clock status, monitoring and logging.
• Online Clock configuration listing.
• Clock grouping
• Setup, maintain and Backup Clock configuration remotely
• Upgrade Clock firmware remotely.
• Reboot Clock remotely
Operations
• Rule based employee data auto sync process by location, organization and user groups.
• Automatic removal inactive employees from clock.
• Automatic distribution of fingerprint template to assigned clock on enrollment.
• Employee punch verification mode setup and distribution to assigned clocks.
• Online search and review employee time attendance records collected from clock.
• Export employee attendance record to text or Excel® file.
Auto Job Scheduling
• Schedule jobs to load employee related information and data from Your Application to ZK DCS
• Schedule jobs to submit attendance records from ZK DCS to Your Application.
Security:
• Role based user login
• Supports SSL/HTTPS communication
• Clock to DCS communication auditing
• Your Application to DCS communication auditing
• Clock operation auditing
© Copyright 2015. ZKTeco Inc. ZKTeco Logo is a registered trademark of ZKTeco or a related company. All other product and company names mentioned are used for
identification purposes only and may be the trademarks of their respective owners. All specifications are subject to change without notice. All rights reserved.

* Your assessment is very important for improving the work of artificial intelligence, which forms the content of this project